Cinnamon.  It's a constant in my cupboard.
Cinnamon is that spice that instantly makes baked goods feel extra warm and extra comforting.
The smell from the oven?  Pretty much perfect.
It feels like Autumn is trying to sneak up on us.  Cinnamon just makes sense these days.  Let me show you some things I've shown you before.  This seems like a good weekend for some baking.
Pear Spice Cake with Walnut Praline Topping. Rich.  Spiced.  Delicate.  Caution:  you will want to eat the praline topping by the fistful.  You'll have to stop yourself.  Good luck.
Vegan Coconut Pineapple Banana Bread.
That's a lot of words…. and there's cinnamon in it too.
This is one of my favorite breads over.  I make it when there's nothing left in my fridge but dying bananas.
Yea…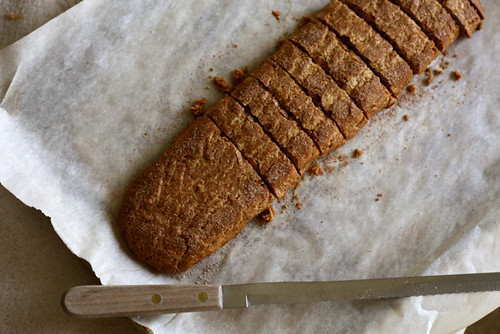 Cinnamon Sugar Biscotti… like toast became a cookie.  Awesome.
Ohmygosh.  This Spiced Apple Cake is so crazy yummy.  Maybe I'm just a sucker for baked apples and cinnamon.
Duh.
It's vegan.  It's pumpkin.  It's walnut. It's cinnamon.  It's maple syrup.  It's super dang good.
If you've been here for a while and you haven't yet made this Apple Crisp, I don't know what to tell you… this recipe is a game changer.  Trust me.  Please.  Go.  Do.  Go.  Do.  Go.  Do.  Go.  Do!
I swear… cooking rice in sugar and milk has got to be one of the best things man has ever created.  Well…that and mouth breathing.  You know that feels good.
And!
Tea inspired, Chai Spice Pancakes.  Because I will find any and every excuse to make up a new pancake recipe.