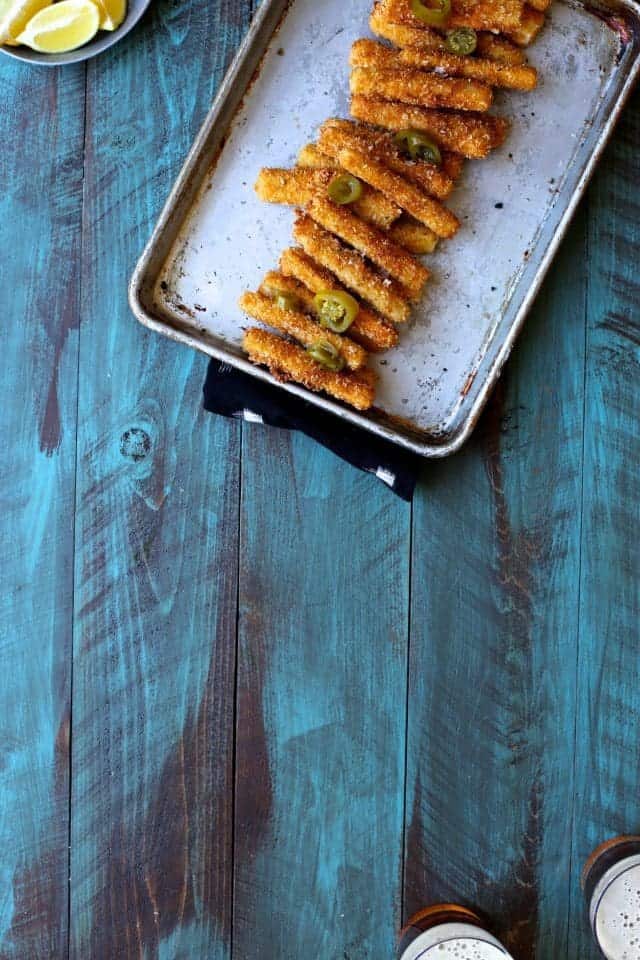 [T]he old dip-and-fry. It's like the bait-and switch but much less tricky and much more delicious.
I'll dip and fry just about anything. Onion rings, dipped and fried. Raised donut dough, fried and dipped (preferably in sugar).
This week Hearts of palm meet the fryer. They're tender and lightly pickled, made warm and crispy and spicy. Have you ever had Heart of palm? They come in a can, they're slightly salty and soft… like canned artichoke hearts, but completely different. They make very fine salads and fried bites… and that's why we're here.
I also want you to know that I have Mardi Gras King Cake on my mind… I just have to get all of these salty fry things off my mind first. King Cake is in our future.
I tell you now, we're going to use a lot of bowls. I promise it's worth it.
In one bowl we have all-purpose flour, black pepper and a lot of Old Bay seasoning because YES to Old Bay.
In another bowl bread crumbs. I had a rag-tag combination of breadcrumbs in my pantry: some panko, some fine-ground and seasoned. Let's just toss them together with, again, black pepper and lots of Old Bay. We have a theme. It's delicious.
Canned hearts of palm are the tender, lightly pickled centers of budding palm trees. Soft and delicious. For our fry preparation, the round hearts of palm are sliced into quarters.
Eggs are beaten with buttermilk and hot sauce. This will be our batter glue. Essential and delicious.
The hearts are coated lightly in the seasoned flour.
Floured hearts are then dipped in the egg mixture. This is messy business and it's best to use your fingers. Pro tip: just use one hand. Keep the other clean for sanity's sake.
From flour to eggs and then to breadcrumbs.
A good coating and a good fry in canola oil until golden brown. I used a small saucepan with about 2-inches of oil. You won't need a whole bottle of oil to make these fries a reality. I find that it is best to use a fry thermometer just so you know how hot your oil is, keeping the fries golden and not overly burnt or soggy.
These fries are crisp and crunchy on the outside, and warm and soft on the inside. Lightly pickled. Lightly salty. Drizzled with tart lemon and spicy jalapeños. Have one, sure… but don't go too far, you're going to want to eat the whole tray. I only speak from experience.
Print
Hearts of Palm Fries
Author:

Prep Time:

15

Cook Time:

15

Total Time:

30 minutes
---
3 cups

bread crumbs (I used a mixture of fine bread crumbs and panko bread crumbs)

1 teaspoon

Old Bay seasoning, divided
scant

1 teaspoon

coarsely cracked black pepper, divided

1 cup

all-purpose flour

2

large eggs

1/2 cup

buttermilk

1 teaspoon

hot sauce

2

(28-ounce) cans hearts of palm, cut into quarters
canola oil, for frying
lemon wedges
sliced pickled jalapeños
coarse sea salt, for topping
---
Instructions
Heat canola oil in a medium saucepan over medium heat. Clip a fry thermometer to the edge of the pan to ensure and heat the oil to 350 degrees F. Line a sheet pan with paper towels and set aside.
In a medium bowl, toss together bread crumbs, 1/2 teaspoon Old Bay seasoning and 1/2 teaspoon black pepper. Set aside.
In another bowl toss together flour, remaining Old Bay, and remaining black pepper. Set aside
In yet another bowl, beat eggs, buttermilk, and hot sauce.
Coat each heart of palm spear in the flour mixture. Lightly coat in the buttermilk egg wash. Coat in the breadcrumb mixture.
Fry 4 to 6 spears at a time, but be sure not to overcrowd the pan. Fry for 2 to 3 minutes until golden brown on all sides. Remove from the oil and allow to rest on the paper towel. Bring the oil back up to 350 degrees F before frying another batch. Continue until all of the hearts of palm are fried.
Serve with lemon wedges and pickled jalapeños and coarse sea salt. Serve immediately.
---
---