Joy Wilson
Founder + Chief Sweet Tooth
Joy Wilson is well known for her daily dabbles in butter and sugar as her blogging alter ego, Joy the Baker. A California girl now living in New Orleans, Joy is a 100% taste buds taught baker obsessed with butter, sugar, cream, and dark chocolate. Since 2008, Joy has shared her indulgent and comforting yet approachable recipes in this little corner of the internet, inspiring home cooks of all ages every step of the way.
Joy is also a three-time cookbook author, editor-in-chief of Joy the Baker magazine, and baking instructor.  Through it all, Joy proves baking is not about all the latest gadgets and high-tech gizmos; it's about stepping into the kitchen with a monster sweet tooth and coaxing something beautiful out of the oven.
Six years ago, Joy moved from Los Angeles to New Orleans where she transformed her home into a kitchen studio called The Bakehouse where she tests recipes and holds in-person and virtual baking workshops for students from around the country.
Joy has won numerous awards for her online work including Savuer's Best Baking Blog and being named one of the Top 50 Food Blogs by The London Times.  Joy has been featured on Food52, NYMag, TheKitchn, Better Homes and Gardens, Sunset Magazine, and Country Living to name a few.  Joy has spoken at Cherry Bombe Jubilee and been seen on The TODAY Show.
You can keep up with joy on Instagram @joythebaker and her cake-based passion project @drakeoncake. Get your hands on Joy's popular line of cake mixes with Williams Sonoma!   On any given day she can be found with a bag of cookies and a pound of butter in her purse. It's a vibe.
For partnership inquiries please contact Megan Brown at Underscore Talent.
For press inquiries please contact Julianna Pesavento.
We'd love to hear from you! xo
Abby Mallett, Editor
Abby Mallett is a freelance writer, editor, and ice cream enthusiast from Chicago. You can always find her tucked in her house, surrounded by too many plants and crystals. Her writing contributions include Saveur Magazine, Cup of Jo, and Psychology Today. Currently, she's obsessed with her newly adopted cat, Wylie.
Follow Abby's ice cream reviews and general merriment on Instagram 
@abbyblujay
.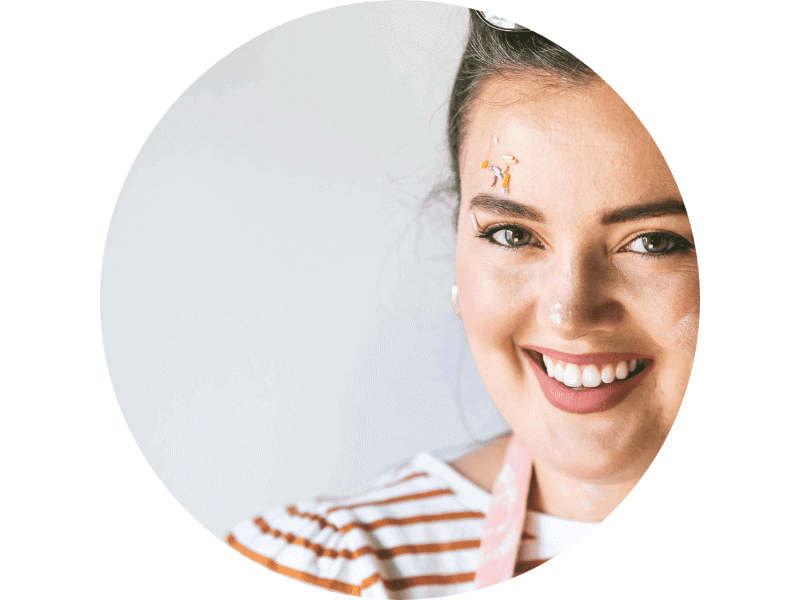 Karlee Flores, Photographer
Karlee Flores is the award-winning photographer and creator behind the popular food blog Olive and Artisan that focuses on comforting bakes and joyful living. If she's not in her Oregon kitchen with her cats baking incredible treats and beautiful dishes, you'll find her with her fingers in the garden.
Find her food, treats, and cats, Bruce Wayne and Kiwi, on Instagram @oliveandartisan.
Kim Baldwin, Contributor
Kim Baldwin is a writer living in Nashville, Tennessee. She is also the new Digital Editor for the Nashville Scene. An OG blogger, Kim started The Blonde Mule in 2006 and turned her popular interview series into a podcast. On Ladyland, Kim interviews women like the one and only Joy the Baker, as well as Samantha Irby and Mary Laura Philpott. Kim is an avid reader, pop culture devotee, and renowned cat mom.
Follow Kim on Instagram and Twitter @theblondemule and at TheBlondeMule.
Toby Rose, Contributor
Toby Rose is a writer, mother, and beginner baker. She's lived in Seattle, New York, and LA, and recently moved back to her hometown of Nashville. A contributor to What's Up Moms, Cup of Jo, and Real Simple, she also sends the occasional meal planning newsletter, Dinner in 20. She's been puttering around the Internet since the LiveJournal days, has a varied background in digital marketing, and is a pop culture junkie.
Follow Toby's daily musings on Instagram @Tobyfels. 
Amy Estes, Contributor
Amy Estes is a writer, storyteller, and educator from Sacramento, CA, and a dual-genre MFA candidate in fiction and non-fiction at the Vermont College of Fine Arts. Amy's essay writing has been featured on The Rumpus, Huffington Post, Catapult, and elsewhere. In 2022, she was a curated writer for Corporeal Khôra and her piece, "Won't Someone Think Of The Women?" was nominated for Best American Essays. Amy's humor writing has been featured on McSweeney's, Slackjaw, The Belladonna, Weekly Humorist, and others. In 2022, Amy was selected for the Kenyon Review's Summer Residential Writers Workshops in the category of non-fiction, and is grateful to serve as a Peter Taylor Fellow at the 2023 Kenyon Review Summer Writer's Workshop. Amy was also selected as a 2023 Lambda Literary Fellow in non-fiction.
Amy regularly takes the stage as part of "Mortified," and her story-telling has been featured on SoulPancake.
When she's not teaching middle school English or online satire writing for Second City, Amy enjoys reading, vying for Genius status on the NYT Spelling Bee, drinking vanilla lattes, and spending time with her spouse (also named Amy!) and their two dogs, Hank and Olive.
Follow Amy's daily musings on Instagram @amymelissaestes.