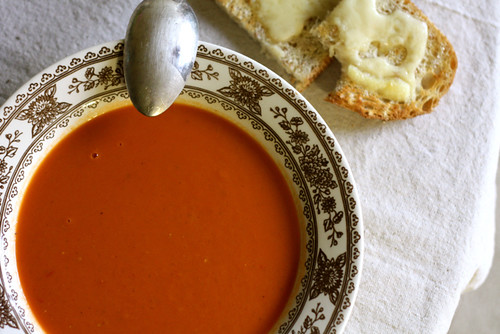 This big old bowl of tomatoes and cream is the best thing to ever come out of my kitchen.
So good.  So right. I'm thinking of retiring.  I'm thinking of hanging up the apron strings and ending on a high note.  You know, like Seinfeld did in the 90's.
But it's just tomato soup?  What could be so special about it?  Let me explain.
Tomatoes.  Top quality canned Italian tomatoes make all the difference in this soup.  I got my hands on two giant cans of whole San Marzano tomatoes and they made this soup absolutely irresistable.
But they're just tomatoes.  Yes they're just tomatoes… just the best canned tomatoes EVER!
San Marzano Tomatoes are a type of plum tomato with a thin skin, fewer seeds and an oh so sweet and less acidic tomato flavor.  They're like tomato bombs from heaven, except they don't really explode and they're  from Naples, Italy where they're grown at the base of Mount Vesuvius.  For real… this actually happens.  Tomatoes at the base of a volcano.  Amazing.  It's the volcanic soil that filters out any water impurieties before they reach the plant.  Rad.  Want to make some kickass soup?  Get your paws on these tomatoes, and I mean now!
Creamy Tomato Soup
adapted from Martha Stewart
serves 6
4 Tablespoons (1/2 stick) unsalted butter
2 Tablespoons olive oil
1 medium onion, chopped
1 medium carrot, finely diced
course sea salt and fresh black pepper
splash of red wine vinegar (just over 1 Tablespoon)
1/4 cup all-purpose flour
3 Tablespoons tomato paste
1 dried bay leaf
2 cans (14 1/2-ounces each) low sodium chicken broth
2 cans (28-ounces each) whole peeled tomatoes in juice  (with basil if available)
1/2- 3/4 cup whole milk or cream
In a large saucepan or Dutch oven melt butter over medium heat.  Add oil, carrot and onion and season with salt and pepper.  Cook until the onion is translucent and the carrots are well on their way to softening, about 7 to 8 minutes.   Add the splash of vinegar at stir until cooked off.
Turn flame to low and add flour.  Incorporate into the onion and carrots.  Add tomato paste and cook for 1 minute to distribute the paste and cook off the flour taste.
Add chicken broth and bay leaf.
With clean hands add the tomatoes to the pot, breaking the whole tomatoes up with your hands as you add the tomatoes and the juice.   Bring to a boil and reduce heat to a simmer for 30 minutes, stirring occasionally.
Remove from heat.  Using an emulsion blender, puree soup in pot until you've reached the desired consistency.  Maybe you like more chunks than some folks!  If you don't have an emulsion blender, let the soup cool for about 30 minutes and, working in two or three batches, puree some of the soup in a conventional blender until smooth.  Place pureed soup in a bowl and puree the remainder in the pot.
Return pureed soup to the pot and stir in milk or cream.  Season with salt and pepper to taste.
Let cool to room temperature before dividing among airtight containers or jars (leaving 1 inch of space at the top) and freeze.