So….. what do you do when you forget to call your grandmother on her 80th birthday?
Well… obviously you yell at your little sister who remembered to call your grandmother on her 80th birthday, and didn't remind you to call your grandmother on her 80th birthday.  Some nerve.
See… forgetting to call your grandmother on her 80th birthday is just about as bad as kicking your dear and darling 80 year old grandmother in the shin.  It's not cool.  There's no going back.  You're a real jerk if you don't call your grandmother on her 80th birthday.
Ok.  Here's the deal universe.  I hope I live to be 80.  Please.  That would be great.  I think…. I hope.
On May 25, 2061 Universe, I want you to break my phone.  See to it that no one calls to wish me a happy birthday.  I'll remember why.  I'll remember that I deserve it.  For real.  Yeeesh!
Also… biscotti.  I made some delicious biscotti.  This is me, sharing.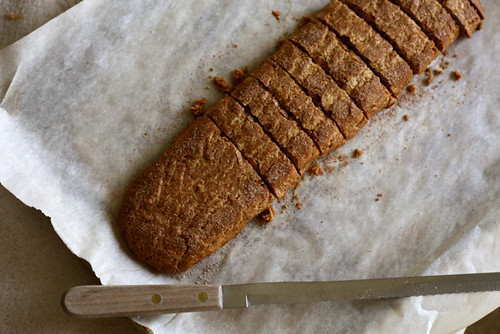 Cinnamon toast was the first thing I taught myself to make in the kitchen.  White bread.  Inconceivable amounts of softened and salted butter, too much sugar and lots and lots of cinnamon.  Starch?  Sugar and spice!?  It's perfect.  God bless it.
Cinnamon Sugar Biscotti are the crisp version of cinnamon sugar toast.  Crunchy, loads of sweet cinnamon flavor.  Perfect with a cup of coffee or tea.  And!  These are nut free biscotti!  That's exciting for me… I don't really like giant almonds in my cookie.  So… success!
Cinnamon Sugar Biscotti
recipe found on epicurious.com
makes about 24 cookies
2 cups flour
1 1/2 teaspoons ground cinnamon
1 teaspoon baking powder
1/4 teaspoon salt
1 cup granulated sugar
6 Tablespoons (3/4 stick) unsalted butter, at room temperature
1 egg
1 egg yolk
1 teaspoon vanilla
For Topping:
1/4 cup granulated sugar
1 teaspoon ground cinnamon
1 beaten egg (for brushing biscotti before baking)
Preheat oven to 325 degrees F and arrange two baking racks in the upper portion of the oven.  Line two baking sheets with parchment paper and set aside.
In a medium bowl, whisk together flour, cinnamon, baking powder and salt.  Set aside.
Also whisk together the cinnamon and sugar for the topping and set aside.
In the bowl of a stand mixer, fit with a paddle attachment, cream the butter and sugar until light and fluffy, about 4 minutes.  Scrape down the down and beat in the egg followed by the egg yolk.  Beat in the vanilla extract.
Add the dry ingredients to the creamed butter all at once.  With the mixer or just with a spatula, bring all of the ingredients together until a somewhat stiff dough is formed.
Divide the dough in two on the two making sheets.  Shape each half of dough into a 9-inch long and 1 1/2-inch wide log.  Brush with the beaten egg and sprinkle very generously with cinnamon sugar.  Bake the two sheets on two different racks in the oven for 20 minutes.  Rotate the cookie sheets for even baking and bake for 20-25 more minutes until golden and firm to the touch.
Remove from the oven but keep the oven on.  Let biscotti cool until able to handle.  Using a serrated knife, cut logs into 1/2-inch wide diagonal slices.  Place biscotti cut side down on baking sheet and sprinkle with more cinnamon sugar.  Bake again until pale golden, about 10-15 minutes.
Store in an airtight container for up to one week.