Holy Smokes!  Would you look at that!  A finished wedding cake.
You've been here from the very beginning.  You've been here for the clay and the extracts.  You've seen the baking.  And now!?  Well dang…. I'm going to show you how I put the whole thing together.
It's a long story.  I'm glad you're here.
First things first:  cake and frosting recipes for this three tiered 14-inch, 10-inch and 6-inch monster.
Chocolate Cake Recipe multiplied by four.
     *note*  Next time I'll use a different chocolate cake recipe.  This cake, because it's egg-less, didn't have a firm enough crumb and was a little fussy to work with.
Vanilla Butter Cake Recipe multiplied by four.
     *note*  This cake baked up perfectly even and flat and was durable enough to hold up to flipping, flopping and frosting.
Whipped Vanilla Buttercream Recipe multiplied by a million (no… I think about twelve).  I needed a lot of frosting.
     *note*  I love this frosting recipe because it's not too sweet.  It can, however, be a little funny to work with.  I had a batch seize up and break… so look out for that.  It's also not the best frosting to use in super hot weather and does not hold food coloring.  Diva frosting.
     *note*  The old stand-by.  Butter.  Powdered Sugar.  Milk and vanilla extract.  This frosting holds food coloring and can be further stabilized for hotter weather by substituting some vegetable shortening for some of the butter.
White frosting.   Red frosting and two shades of willow green frosting.
These are plastic dowels.  These little suckers are important.  They allow the heavy cakes to be stacked on top of one another.
Plastic dowels are cut to a height just slightly taller than the layered and frosted cake.  They'll help disperse the weight of the cake layers.  Don't try to stack cakes without them.  Disaster.
More on dowel measuring and cutting.
I took a dowel and carefully shoved in down into the two layered frosted cake.  Easy, right?
Sort of.  There are two hard parts about doweling a cake:  cutting the dowel evenly and…. shoving a big plastic tube into your neatly frosted cake in the first place.  I kinda hate that part.
I marked the dowel just above the frosting line with a Sharpie.  Not so tough.
I removed the dowel from the cake.  Yes… there's cake in there.  That's ok.
I used a serrated knife to cut most of the way through the plastic dowel.  I used kitchen sheers to cut the rest of the way through and to even out the dowel as much as possible.
Use the dowel you just measured to cut the rest of the dowels for this cake layer….
then shove them all into the center of the cake so that the weight of the two cakes that will go on top of this guy will be evenly distributed.
For this 14-inch base cake I used five dowels.
This is the 10-inch, center cake layer.  It has four dowels.  Yep.  On top of those four dowels will sit the top 6-inch cake tier.
Cakes are layer and frosted.  I stuck dowels in them.  Cakes won't be collapsing onto other cakes.
Now… decorating frosting.
I like to add two similar colors to the same piping bag.  It's the hippie in me.  The two colors give whatever I'm piping a little more interest… and little more pizzazz.  That's a lot of z.
Using Nicole's wedding invitation as inspiration… I practiced my decorating on the kitchen counter.
And just like that we've gone from my kitchen counter to the wedding location.  That was easy, right?
What this picture doesn't show you is how neurotically and carefully I boxed up the cakes, and:
a)  how slowly I was driving on the 101 freeway.
b)  how I tried to turn my car into a refrigerator by blasting the heck out of the air conditioning…. freezing my toes in the process.
c)  how I cranked up the hip hop to calm my nerves.
d)  how that didn't work.
e)  how much I wanted a beer.  No… two beers.  And a shot of tequila.  And a taco.
But I got there.  I did.  And I unboxed the cakes.
I laid out my piping bags, some cleaning supplies and the spatula I used to stack the tiers on top of one another.
I would loved to have shown you how I stacked this middle layer on the cake base… but I was using the two hands that God gave me and all of the luck and good wishes I could muster.
Let me just tell you that I shoved the (very sturdy) spatula under the middle later… said a prayer… let the middle cake tier hover over the larger cake bast… centered it over the dowels… and slowly lowered it down.  I then thanked Jesus and went about my business.
See that space in between the first and second tiers?  I want that there.  Not to worry… I'm going to cover it with a frosting border… but that little space will keep the frosting from the base layer from sticking to the bottom of the second tier.
I put the third tier onto the cake using the same spatula and prayers I used for the middle tier.  I brought extra frosting along for a few touch-ups.  Handy.
Are you still here?  Is this still fun?
Here I am 15 minutes before the ceremony… my hands shaking… trying to put the finishing touches on the cake.
Why didn't I just do all of this decorating at home well before the ceremony?
Well… what if the design got futzed in the boxes on the way to the location site?  No good.  I didn't want to have to deal with the corrections so I just did it all onsite… now you know.
Two toned green trees.  Red hearts.  Precious.
Almost too precious…. but don't fight it.
With the trees done, it's time for the border.  Quickly please… it's almost wedding time.
Ps-  The top I'm wearing is too low cut for a funeral but somehow not inappropriate for a wedding.  I did the research.  It's all good.
Here's a peak of what was going on outside as I was finishing up the cake….  and I did finish up the cake….
duh.
This is my dear and darling friend Asher. He helped me unpack the cake, took all sorts of pictures and helped me calm my shaky hands.  I'm there in his glasses.
Weddings are always so pretty.  How does that happen?
I love weddings for scenes like this.  Love and beauty… for everyone.
Everyone takes pictures because everyone wants to remember all the love and beauty…
and the picture perfect couple.
Geez, I love you two.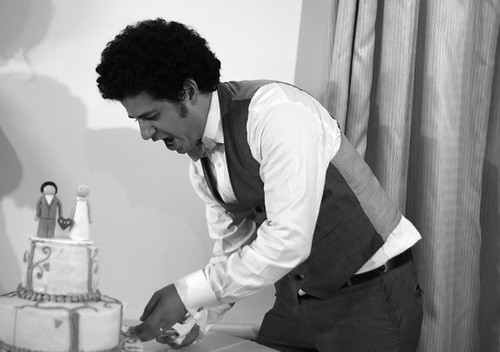 And it's all love and beauty…
even when it's blurry and cake smashy…
because there's cake kissing in the end.
And that's the story of how I made a wedding cake for two people in love.
The End.