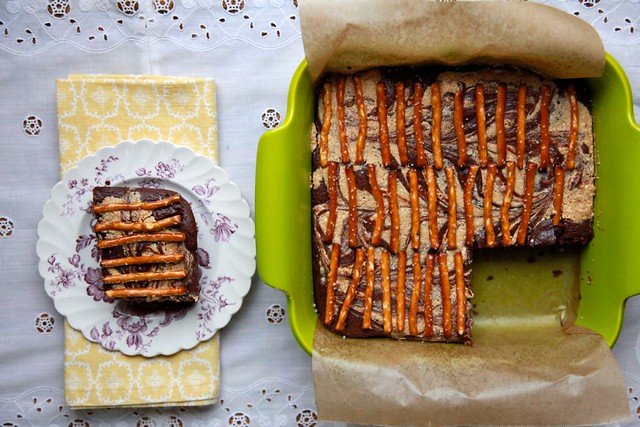 Yesterday I got an email letter.  It went a little something like this.
Dear Ms. the Baker,
Hi there… blah blah blaaah.  I often feel the urge to eat like a trucker.  Blah blah blaaaah.  I always want french fries and hot dogs and meat loaf and steak.  Blaah blaah blaaaaah.  Today I almost ate at a place called Burgers and Pie for lunch. Blaah blaah.  Instead of burgers and pie, I just dreamt up my fantasy dessert.  This bring me to my point.  Will you please, please, please make me some peanut butter brownies with pretzels?  I'll be your best friend.
Blaah blah,
Rachel
Ironically, this email letter was from my real life best friend, Rachel.
Rachel is prettier than me.  I'm ok with that… mostly because I can't do anything about it.
Because I want to honor and maintain the best friendship between Rachel and I… I made her these brownies.  Good Lordy Almighty!  These might be the best thing to ever happen to me.
Listen…
Rachel was on to something when she dreamt up these brownies.
Dense chocolate fudge brownie swirled with sweet and salty peanut butter, topped with crunchy pretzel sticks and sprinkled with coarse sea salt.
Come on…
If you don't have an instant desire to make these… I don't know what the heck you're doing here.
Lord have mercy on our midsections.
Chocolate Peanut Butter Pretzel Brownies
makes 9 large brownies
adapted from Martha Stewart
For the Brownie:
8 tablespoons (1 stick) unsalted butter
2 ounces unsweetened chocolate, coarsely chopped
4 ounces semi-sweet chocolate, coarsely chopped
1 teaspoon instant coffee (optional)
3/4 cup granulated sugar
3 large eggs
1 teaspoon pure vanilla extract
2/3 cups all-purpose flour
1/2 teaspoon baking powder
1/4 teaspoon  salt
coarse sea salt for topping
For the Peanut Butter Filling:
4 tablespoons unsalted butter, melted
1/2 cup powdered sugar
3/4 cup smooth peanut butter, I prefer natural peanut butter
1/4 teaspoon salt
1/2 teaspoon vanilla extract
large handful of pretzel sticks
Place a rack in the upper third of the oven and preheat to 325 degrees F.  Grease an 8×8-inch baking pan.  Line with parchment paper so that it overhangs on two sides and grease the parchment paper as well.
Boil two inches of water in a medium saucepan.  Combine butter, unsweetened chocolate, semi-sweet chocolate and coffee powder in a heat proof bowl and place over the simmering water.  Stir until chocolate and butter are melted.  Use a pot holder to remove the bowl from the double boiler and let mixture cool slightly.  Stir in the vanilla extract.
In a small bowl, whisk together flour, baking powder and salt.
Whisk granulated sugar into the chocolate and butter mixture.  Make sure the chocolate mixture isn't too hot and whisk the eggs in the mixture one at a time.
Fold in the flour mixture into the chocolate mixture and spoon into prepared pan.
To make the Peanut Butter Filling, whisk together peanut butter, melted butter, powdered sugar, salt and vanilla extract until smooth.
Pour the peanut butter mixture on top of the brownie batter and use a butter knife to swirl the two together.  Arrange pretzel sticks on top of the brownie batter in whatever pattern makes you happy.  Top with a few sprinkles of coarse sea salt.  Bake for 40 to 45 minutes until a skewer inserted in the center comes our mostly clean… maybe with just a few crumbs.
Let cool for about 30 minutes before slicing and enjoying.