Good morning!
I made us breakfast.
There's not an ounce of butter in it.  Clearly I'm not feeling myself.
Grains and applesauce and fruit and nuts.  Delicious.  Wholesome.  True.
We'll eat it and feel utterly contented.  Then we'll have butter for lunch.  Let's be real.
My new friend Natalie came to my house for wine and cobbler.  No biggie.
Among the many side-splitting words that came out of her mouth that evening were "breakfast" and "quinoa".  Yes.  Perfect.
That Natalie mixes applesauce into her breakfast quinoa is only further evidence that she is rad, and I have excellent taste in new friends.
Don't you love quinoa?  Quinoa is a grain  a seed full of magic.  It's a complete protein… and it's a plant!  Quinoa is full of amino acids and proteins… the sorts of things that our bodies love.  For breakfast with nuts and fruit?  Amazing.  So healthy.
Look at us putting our healthy pants on.  Just supreme.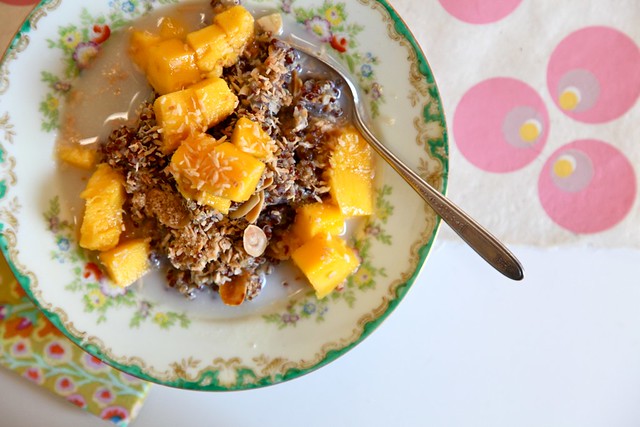 Consider this post as more of a suggestion.
Sure, there's a recipe to follow, but you can load this quinoa up with any fruit, nut, or milk you like.
It's your breakfast… I certainly don't mean to impose.
Breakfast Quinoa with toasted coconut, almonds and fresh mango
Thanks, Natalie.  You're a gemstone.
Makes enough for 2 breakfasts
1 cup red or yellow quinoa (or a mix!)
2 cups water
pinch of salt
2 tablespoons applesauce
2 tablespoons shredded coconut (sweetened or unsweetened)
4 tablespoons slivered almonds
1/2 to 1 cup fresh mango chunks
milk to taste
brown sugar to taste
Place a rack in the center of the oven and preheat to 375 degrees F.  Line a baking sheet with parchment paper and spread coconut in a single layer across the sheet.  Toast the coconut.  Keep a close eye on the coconut, it could burn quickly.  Coconut will be browned and fragrant after about 6 minutes.  Remove from the oven and place in a small bowl.  Place almonds on the baking sheet.  Toast almonds for about 6 to 10 minutes, until browned and fragrant.  Remove from the oven and allow to cool in a small bowl.
Rinse dry quinoa.  Place quinoa, salt, and water in a medium pot.  Bring to a boil over medium heat.   Simmer the quinoa until all of the water is absorbed.  Stir occasionally.  Turn off the flame and allow quinoa to cool slightly.
In a bowl, combine a heaping spoonful of quinoa, applesauce,  a sprinkling of almonds and coconut, a generous helping of fresh mango, a sprinkling of sugar and a splash of milk.  Enjoy.  It's breakfast.