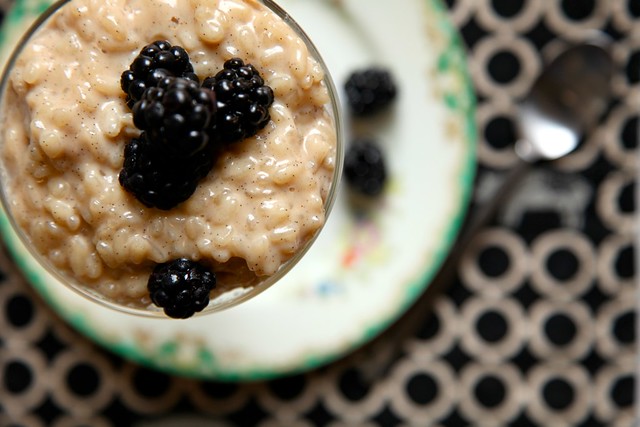 hi.
hello.  hey.
so.  i made this rice pudding, then i stood in my kitchen and ate it from the pot with a tiny spoon.  a really tiny spoon.
i just stood there and ate half the batch.
i discovered then, that this recipe should just be called The Milk and Stir.
or What To Make When You're Having a Weird Day and You Need to Eat Something Warm, and Sweet, and Starchy… and You Wish You Could Just Sit Around All Day, But You Can't…. So You Just Stand in Your Kitchen and Eat This Pudding Like It's Nobody's Business… Cause It's Totally Nobody's Business.
Ok.  The Milk and Stir is catchier.
Have you ever made rice pudding with risotto rice?
It's luxurious.  Risotto (Arborio) rice is different from long grain, white rice.  It's more starchy and cooks into a creamy texture.  The cooking method is different too!  Instead of simmering rice in water, small amounts of liquid are added too cooking rice.  The rice slowly absorbs the liquid as you stand over the stove and stir.  Stir Stir Stir… for about fifteen minutes.  It's actually the perfect amount of time to zone out and solve the problems that have caused you to stress out and make rice pudding in the first place… but maybe that's just me.
I like to cook this rice pudding up into a looser texture by adding more milk.  The rice is so starchy that it really thickens, especially when cold.
Oh!  This dessert also has brown sugar, cinnamon, allspice, and vanilla bean.  It's sweet, starchy, and the rice has just the slightest toothsome bite.
You best believe I've made rice pudding before.  If you don't have Arborio rice, how about Jasmine Rice Pudding or Brown Rice Pudding?  I've got you covered.
Oh.  I almost forgot.  I love you.  I mean that.
Risotto Rice Pudding with brown sugar and vanilla
makes about 4 cups, and 4 servings.. unless you're me… then it's only one serving.
2 tablespoon unsalted butter
1 cup Arborio rice
3 1/2 to 4 cups milk (I used 2%milk)
1/4 cup brown sugar
1/4 teaspoon salt
1/4 teaspoon ground cinnamon
large pinch allspice
1 vanilla bean, split and scraped (we use the seeds only for this dish) (or 1 tablespoon pure vanilla extract)
blackberries (or any berries) for topping
In a medium saucepan, over low heat, scald 4 cups of milk.  Bring the milk to just under boiling, turn off the flame and let it rest.
In a large saucepan, over low heat, melt the butter.  Add the rice grains and stir to coat.  Ladle in just enough hot milk to cover the rice.  Stir (with an awesome wooden spoon, if you have one) over the low flame.  The rice will begin to absorb the milk.  When the milk is almost fully absorbed, ladle in more hot milk.  Stir until absorbed.  Continue this process, standing over the stove, stirring milky rice.  Taste the rice as you near the end of the milk.  You may only need 3 1/2 cups instead of 4.   As you add the last bit of milk, also incorporate the sugar, salt, spices, and scraped vanilla beans.  Stir well to combine.
Stir over low heat until the milk is gone and the rice is tender, with just a hint of a toothsome bite.  This took me about 15 minutes.
I like this rice pudding slightly loose.  If you want it thicker, continue to cook it for a bit longer.  Serve warm or cold, with fresh berries or without.
Rice pudding will last, in an airtight container in the refrigerator, for up to 4 days.  Good luck with that.