Biscuits.  I love.  You know this to be true because I'm forever trying to stuff them with caramelized mushrooms  or chocolate chunks.  We could talk about biscuits all day and all night… and that would feel totally reasonable to me.
I have, however, neglected another Southern-bred carbohydrate:  cornbread.  How has this slipped by me?  Criminal, really.  In an effort to right this egregious wrong, I bring you cornbread with extras… totally major/bonkers-awesome extras like browned butter, orange, and rosemary.  It's like cornbread gets a zippy kick in the pants.
The extra butter and honey drip added to the cornbread… that's just showing off, which is totally allowed.
I love the simplicity of cornbread.  Actually… I like that cornbread can be made in a regular old kitchen bowl with a big silver spoon.  It feels simple… like something that's in my cooking bones from generations past.
A few things make this recipe different/better/more delicious/more bonkers-awesome than regular cornbread.
Fresh orange juice and beautifully fragrant orange zest add a beautiful bright flavor and comforting scent to the bread.
Rosemary adds a fragrant savory element and pairs really well with citrus.
The orange zest and fresh chopped rosemary are rubbed together in granulated sugar.  It's a secret tip to really bring out the flavorful oils or citrus and herbs.
Butter is browned… yea, I went there.  Adding a nutty, caramel colored butter brings an extra rich flavor to the cornbread.
I use a coarse, stone-ground cornmeal for my cornbread.  I like the bite that the stone-ground cornmeal provides.
I actually use the same cornmeal for my Baked Polenta.  Same Same.
When buttermilk combines with the baking soda and cornmeal, the batter really thickens.  It's almost fluffy.
Working.
This bread bakes up moist and crisp around the edges.
It's dense in the sense that cornbread is more bread-like than cake-like.  It's in its nature.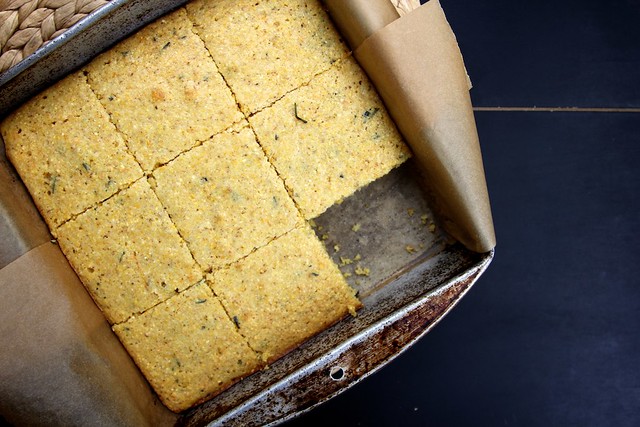 I want the middle slice.  How obnoxious is that?  There's only one middle slice and I called dibs.
This cornbread is an intriguing combination of sweet and savory.  There is a bit more sugar that may be traditionally found in cornbread recipes… of course, I'm Joy the Baker.  The orange juice and zest help this cornbread feel more sweet, but the rosemary makes it bend towards the savory end.
It's best served warm with extra butter and honey… as are most things in the world.
Brown Butter Rosemary Orange Cornbread
makes 1 8×8-inch pan
1/2 cup (1 stick) plus 1 tablespoon unsalted butter
2 large eggs
1 cup buttermilk
2 tablespoons fresh orange juice
1 cup all-purpose flour
1 cup coarse ground cornmeal
1 teaspoon salt
3/4 teaspoon baking soda
1/3 cup granulated sugar
1 tablespoon grated orange zest
2 tablespoons chopped fresh rosemary
Place a rack in the upper third of the oven and preheat oven to 350 degrees F.  Grease and 8×8-inch square baking pan.  Line with parchment paper and grease and flour the baking pan.  Set aside.
In a light-colored small saucepan, melt the butter over medium-low heat.  Melt and cook butter down completely.  It will sizzle and crackle.  That's the butter cooking out of the butter.  Keep an eye on the butter and you'll see brown bits begin to form at the bottom of the pan.  Swirl pan and cook until browned bits are a chestnut color and the butter smells nutty.  Remove from the pan and immediately transfer butter (browned bits and all) to a small bowl to cool.
In a medium bowl, whisk together eggs, buttermilk, orange juice, and browned butter.  Set aside.
In a large bowl, blend together sugar, orange zest, and chopped rosemary.  Blend with the back of a spoon working the orange and rosemary flavors into the sugar.
Add flour, cornmeal, salt, and baking soda to the large bowl with the flavored sugar.  Whisk to combine.
Add the wet ingredients all at once to the dry ingredients.  Stir to combine, ensuring that all of the dry ingredients are moistened and incorporated into the batter.  Pour batter into prepared pan and smooth to the edges.  Bake for 20 to 25 minutes, or until a skewer inserted in the center comes out clean.
Remove from the oven and allow to cool for 10 minutes before slicing and serving.  Bread is best served warm and will last, well wrapped, at room temperature for up to three days.