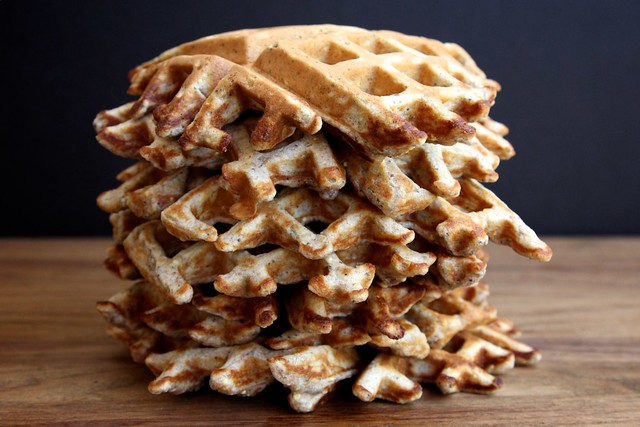 I have this favorite pair of jeans that feel like magic.  They're a vintage pair of Levi's with worn wallet cellphone marks in the back pocket and holes in the knees that I've actually earned and not overpaid for.   I can dress them up.  I can wear them with beat up Converse.  I've even slept in these things.
 I've lived in these pants for years and… realtalk:  I can't fit into them anymore.  It feels like a shame.  It feels unjust… but I know it's just life (and butter).  It also feels too hard to let them go.  So I won't.  Maybe I'll fit into them again.  Maybe I just need to find the perfect pair of jeans for me to embrace my thirties.  I'm not stressing it… everything will work itself out in the land of pants.
Why am I talking about jeans?
These waffles feel as classic as my favorite pair of jeans.  They're waffles so they're inherently fancy and homey.  They can be dressed up with sliced fruit and pure maple syrup… or they can be dressed down with spicy mustard and sliced ham.  They're an any-which-way situation.  I've also packed these waffles with a major amount of seeds.  Accessories are always nice.  Let's discuss.
I like this lot of goodness.
These waffles are based in whole wheat flour.  I haven't used nearly enough whole wheat in recent months.  This Whole Wheat and Millet Banana Bread was made far too long ago.
I love the full nuttiness the whole wheat flour adds to the waffles.
I added all sorts of health and crunch to the whole wheat base:  poppy seeds, roasted and salted sunflower seeds, uncooked millet for, and flax seeds whole and ground.
These waffles are stacked with health and goodness… but you best believe there's a good dose of butter added too.
Balance friends… balance (and butter).
Waffles are a celebration of odd shapes.  I embrace it.
These waffles are hearty:  whole grain flavor with some serious support from seeds and millet.  Standing in the kitchen with an open jar of spicy mustard and a few slices of ham, these waffles are country rustic.  On vintage china with sliced berries and maple syrup, these waffles are classic health.  They're exactly what they need to be… whatever that may be.
Perfect jeans can't last forever.  A perfect waffle recipe stands the test of time.
(Right?)(Right…)
Whole Grain Waffles with Millet, Poppy, Sunflower, and Flax
recipe adapted from King Arthur Flour
makes four small, or two large portions
1 1/2 cups whole wheat flour
2 teaspoons baking powder
1/2 teaspoon salt
2 tablespoons granulated sugar
1 large egg
1 3/4 cups lukewarm milk (I used 2% milk)
5 tablespoons unsalted butter, melted and cooled
1 teaspoon pure vanilla extract
3 tablespoons dry millet
3 tablespoons shelled roasted sunflower seeds (salted or unsalted)
2 tablespoons poppy seeds
2 tablespoons flax seed meal
1 tablespoons whole flax seeds
In a medium bowl, whisk together flour, baking powder, salt, and sugar.  In a small bowl, whisk together egg, milk, melted butter, and vanilla extract.
Add the wet ingredients, all at once, to the dry ingredients.  Stir until all of the dry ingredients are moistened.  The batter may be lumpy.  That's ok.  Add millet, sunflower seeds, poppy seeds, flax seed meal, and whole flax seeds.  Whisk to combine and try to beat most of the lumps out of the batter.  Allow batter to rest for 10 minutes while the waffle iron preheats.
Cook waffles according to your waffle makers instructions.  I like to make these as small waffles since they're dense and seedy.  These waffles are great fresh from the waffle maker, but they're also great individually frozen and reheated in a toaster oven.  I like to serve the fresh waffles with fruit and maple syrup.  I like to serve the reheated waffles with peanut butter and jelly or ham and mustard.