I haven't been feeling at home lately.  I don't think it's an issue of physical location… I spend a hearty amount of time sitting at my desk.  I think this might be more of a brain-space problem… my brain is everywhere but in my head doing its job.
I'm not certain how to coax my brain back into the world of now.  I've been busying my poor brain with future work, future deadlines, and future anxieties.  The now is certainly suffering in a way that feels annoyingly paralyzing.
Making these cookies came to mind more as a meditation than a treat.  The act of melting butter down into a fragrant amber-colored fat, and creaming it with brown sugar feels like it could lead me home.  Toasted pecans and dark chocolate chunks stud the path.  The smell that fills the kitchen?… Yep, I think it's working.  I'm finding my way home.
Thank you for being here with me.  Here is home, right?
Editor's Note (it's just me, Joy):

–  There's no way I could mention chocolate chip cookies without mentioning the dad who taught me how to make cookies:  Dad the Baker.  Father's Day is right around the corner, which makes this week a wonderful time the reminisce about Dad Lessons.  Oh how I need these every single day.

–  If you follow me on Instagram (and I'm super glad that you do!) you may be have seen that this weekend I'm part of a Pop-Up Bake Sale and Shop in Los Angeles.  Just sayin'.  Stay in the know!  
Here is a collection of ingredients I feel at home in.  Butter is browned and nutty.  Brown sugar is sticky and moist.  Chocolate is dark.  Pecans are chopped.  I live in this space.  Home, Sweet (literally) Home.
This cookie dough is creative with butter.  We use softened unsalted butter like traditional cookie dough… but we also use melted and browned butter.  Yea… brown butter is the magic ingredient to everything delicious.  That's not an exaggeration.
Proof:  Brown Butter Strawberry Banana Bread
Now would be a good time to grab a spoon.
I'm at home, but sometimes it takes the smell of baking cooking to actually make me feel at home with everything around me.
Cookie dough is patient and kind.
Cookie dough burrito.
(I'm a poet.)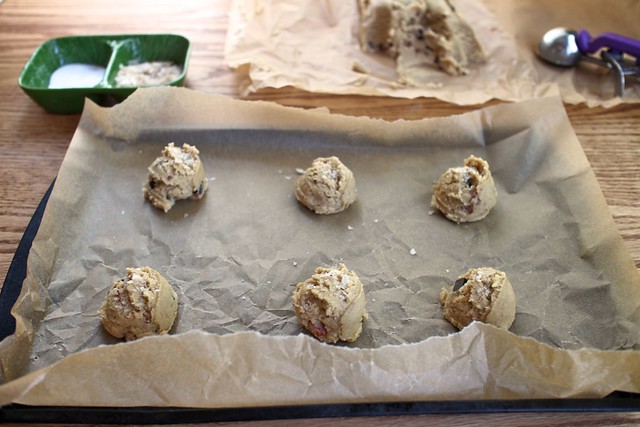 Cookie dough is scooped and, because I have a salt-tooth, I like to top these cookies with a pinch of smoked sea salt.
I mean…
Yea!
You can taste the butter from here, can't you?
Brown butter + chocolate + pecans.
Chewy, crisp, and buttery.  There's not much more to say.  We're all  the way home.
Brown Butter Chocolate Chip Cookies with Pecans
from the Joy the Baker Cookbook
makes 24 cookies
2 1/4 cups all-purpose flour
1 teaspoon salt
1 teaspoon baking soda
1 cup (2 sticks) unsalted butter, softened to room temperature
1 cup packed light brown sugar
2 teaspoons pure vanilla extract
1 teaspoon molasses
1/2 cup granulated sugar
1 large egg
1 large egg yolk
1/2 cup coarsely chopped pecans
1 cup bittersweet chocolate chips
coarse sea salt for sprinkling
In a medium bowl, whisk together flour, salt and baking soda.  Set aside.
Start by browning 1/2 cup (1 stick) butter.  In a medium skillet, melt butter over medium heat.  Once the butter has melted completely, it will begin to foam and froth as it cooks.  The butter will also crackle and pop.  That's the water cooking out of the butter.  Swirl the pan occasionally, and keep an eye on the melted butter.  The butter will become very fragrant and brown bits will begin to form at the bottom of the pan.  Once the bits are an amber brown, immediately remove pan from the heat and pour browned butter (bits and all) into a small bowl.  Leaving the butter in the pan will burn it.  Allow butter to cool for 20 minutes.
In the bowl of a stand mixer fitted with a paddle attachment, cream remaining 1/2 cup of butter with brown sugar.  Cream on medium speed until light and fluffy, about 3 to 5 minutes.  Add the vanilla extract and molasses and beat until incorporated.
Once the brown butter has cooled slightly, pour the butter (brown bits and all) into the creamed butter and sugar mixture.  Add the granulated sugar and cream for 2 minutes, until well incorporated.  Add the egg and egg yolk and beat for 1 minute more.
Stop the mixer and scrape the bottom of the bowl to ensure that everything is evenly mixed.  Add the flour mixture, all at once to the butter mixture and beat on low speed until the flour is just incorporated.  Remove the bowl from the stand mixer and use a spatula to fold in pecans and chocolate chips.
Spoon batter onto a piece or parchment paper or plastic wrap and wrap into a disk or cylinder and seal at both ends.  Allow to rest in the fridge for at least 30 minutes.
Place racks in the center and upper third of the oven and preheat oven to 350 degrees f.  Line two baking sheets with parchment paper.  Scoop dough by the two tablespoonful onto prepared sheets.  Sprinkle with sea salt.  Be sure to leave about 2-inches of space between each cookie.
Bake for 12 to 14 minutes of until cookies are golden brown.  Remove from the oven and allow to rest on the baking sheet for 5 minutes.  Serve warm or allow to cool completely.  Cookies are best enjoyed within a few days.  Duh.