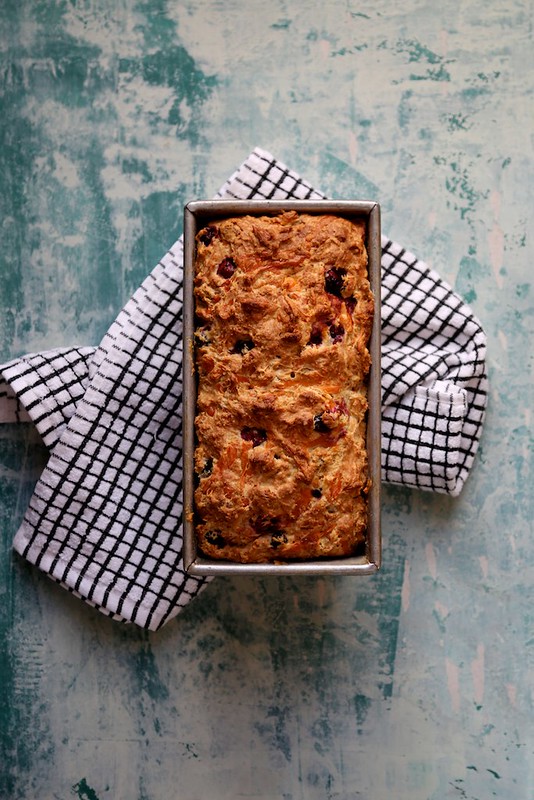 I usually enter the colder months with a hint of bitterness.  It has everything to do with wearing uncomfortable tights and missing fresh strawberries in the market.  And I live in California so surely a real winter would send me into a tailspin.
Thank goodness for cranberries.  I'm so thankful for these little ruby-red gems!  They're tart.  They've got gumption.  They're super pretty.  They make tights tolerable.  They drastically improve Thanksgiving.  They belong on every turkey sandwich from now until the end of time.
Don't even get me started on how many sweet cranberry scented candles I sold when I worked at The Body Shop.  Pro-status.
Original photography shot with the Canon EOS 5D Mark III digital SLR. The filmmaker's camera.
I usually pair fresh cranberries with sweets.
Last year I made this Cranberry Orange and Pecan Coffee Cake and I can honestly say it's one of the best things the cold months have to offer.  I'm totally biased but it's totally true.
This year I've swapped orange fruit for sharp orange cheddar cheese.  We're going savory for this cranberry situation.  Soda bread studded with tart cranberries, salty cheddar, and crunchy nuts!  Crazy, right?
Now… can I sell you a candle?
This bread incorporates cheddar in two ways.
We grate a generous two cups of cheddar and fold it right into the batter.
We're also using a cheddar powder!  Get all the way into it!
King Arthur Flour has an incredible Vermont Cheddar Cheese Powder that adds a lush cheesiness to this bread.  You'll also definitely want this powder on-hand for popcorn nights and quick mac and cheese dinners.
This is a super simple dough.  No mixer necessary.
Cold butter is broken down into the dry ingredients just like a good biscuit dough. Pecans and cranberries are tossed in before the buttermilk.
Oh, let's get all this cheddar in there too!  Very important.
The egg is whisked with the buttermilk,
and the whole lot is added to the flour, cheesy cranberry mixture.
The batter will be thick and moist.
Spread the batter evenly into the prepared baking pan.  Press the batter in with the back of a spoon.  Not with a heavy hand, just enough to make sure that there are no air pockets in the baking pan.
If you have any stray grated cheese strands, sprinkle them on top.  This will keep your cat from trying to eat them. (Personal problem.)
This bread is much like baking savory scone dough in a loaf pan, and slicing it as bread.  The recipe is adapted from King Arthur Flour, and I'm totally smitten.
Tart cranberries pair wonderfully with sharp cheddar.  Such a happy surprise.  I added a bit of sugar to the batter, but it's still definitely a savory bread. If you don't have fresh cranberries on hand, dried cranberries would also be wonderful and add another sweet element to the bread.
As I mentioned above, this recipe has an unusual ingredient in it:  Vermont Cheddar Cheese Powder.  Can this bread be made without the cheese powder?  Possibly… but why on earth would we want to do that?  The recipe I tested involved the all-natural cheese powder, so I can not vouch for the bread sans powder.
Living on the savory side.  We're doing it.
Savory Cheddar and Fresh Cranberry Soda Bread
adapted from King Arthur Flour
2 1/2 cups all-purpose flour
1/2 cup Vermont Cheese Powder
2 teaspoons baking powder
1 teaspoon baking soda
1/2 teaspoon salt
3 tablespoons granulated sugar
1/4 cup (2 ounces) cold unsalted butter, cut into 1/2-inch cubes
2 cups grated sharp cheddar cheese
1 cup fresh cranberries
3/4 cup coarsely chopped pecans
1 1/4 cup buttermilk
1 large egg
Place a rack in the upper third of the oven and preheat oven to 375 degrees F.  Lightly grease and flour an 8 1/2″ x 4 1/2″ loaf pan.
In a large bowl, combine flour, cheese powder, baking powder, baking soda, salt, and sugar.  Work cold butter into the dry ingredients until the mixture is crumbly.  Toss in the cheese, cranberries, and pecans.
In a small bowl, whisk together buttermilk and egg.  Add the wet ingredients to the dry ingredients and gently stir until thoroughly combined.
Spoon the dough into the prepared pan and spread evenly.
Bake for 55 to 65 minutes or until a skewer inserted in the center comes out with just a few moist crumbs.  Create a foil tent to cover the bread if it should brown too much during baking.
Remove from the oven and allow to rest for 10 minutes before inverting onto a wire rack.  Allow to cool before slicing or the brad will crumble.
Bread will last, well wrapped at room temperature, for up to 3 days.