In my house as a kid, where there was pie, there were cookies.  It was a really fortunate, really delicious rule.
My dad would make a pie crust from scratch, roll it out just so, drape it into a pie plate, and trim the edges to help the pie crust fit perfectly.   My sister and I would sit around dad's work table just itchin' to snack on the raw pie crust scraps.
The raw pie dough was dough-y, salty, and buttery.  Good… definitely good, but just a bit bland.
We knew that if we just waited a few minutes longer, dad's pie crust scraps would be sprinkled with cinnamon sugar, and baked to a golden crisp. Pie scrap cookies!  Just like that.  Pie and cookies.  That's real love.  Waste not a bit of butter.
I turned my dad's pie crust cookies into something heart-shaped and grand.  Skip the actual pie and make pie-like cookies.  Heart-shaped for love.
This is our ingredient list!
Buttermilk Pie Crust- lots of butter, chilled, floured, and easy to roll.
Raspberries- frozen and thawed since they're out of season these days.  Drained, mostly… then drained again.
Sugar for sweets.  Cornstarch of thickening.
Spices- cinnamon, freshly grated nutmeg, and lemon zest… which isn't a spice, but it's cool.
Lemon Juice- just a squeeze.
Egg- for browning.
Turbinado Sugar- for extra credit.
The filling is a simple stirring situation.  We gently stir together the raspberries with sugar, cornstarch, spices, lemon, and a pinch of salt. The frozen raspberries break down more than fresh raspberries so it's best to go easy.
While the filling rests, we roll out the pie crust.
Here are my two-cent tricks to rolling out a pie crust:  make sure your pie crust is well-chilled, rolled out on a well-floured surface, and quickly… there's no time to dilly dally when working with cold butter.
It's Valentine's Day so let's play along with hearts.  It feels good!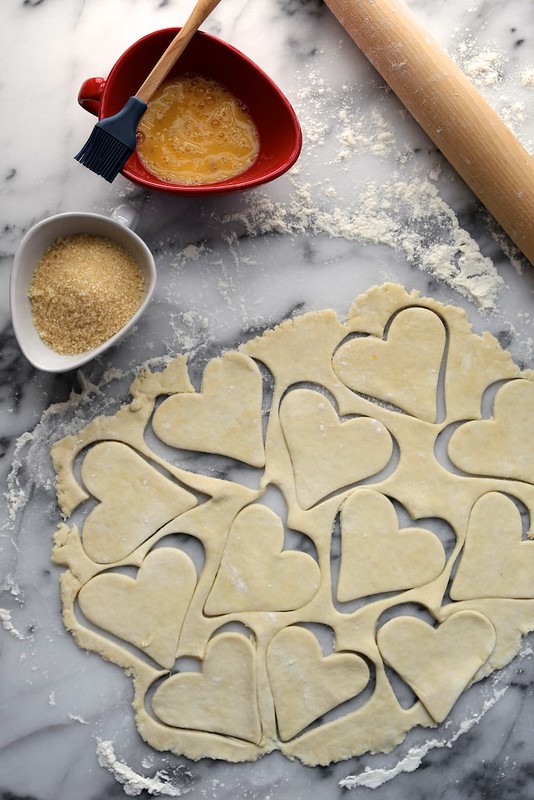 Hearts and more hearts.
I like to let the pie crust hearts rest in the refrigerator while I roll out all of the crust.  It helps to keep the dough chilled when these pretty pies are assembled.
Feel free to gather and re-roll the pie crust.  It's just that the more you work the dough the more tough it gets.  The first hearts will be the most tender.
Just a dash of raspberry filling for each heart pairing.  The frozen raspberries make the filling juicier than fresh raspberries.  That's ok!
A little sweet raspberry juice never hurt anyone.  It's ok if it seeps out of the edge a bit.
The hearts are pressed together with the tines of a fork and a few vent holes are added for decoration and function.
The pie crust hearts are brushed with beaten egg, sprinkled extra extra with turbinado sugar and baked until golden brown (or baked until you almost forget them in the oven… whichever comes first).
These cookies are thick and flakey.  The raspberry center is bright and sweet.
Because it's pie it tastes like love!
Lemon Raspberry Pie Crust Hearts
makes about 16 hearts
For the Crust:
2 1/2 cups all-purpose flour
2 tablespoons sugar
1 teaspoon salt
1 cup unsalted butter
1/2 cup plus 1 tablespoon buttermilk
For the Filling:
2 cups frozen raspberries, thawed and thoroughly drained
3 tablespoons granulated sugar
3 tablespoons cornstarch
2 teaspoons lemon zest
1 teaspoon fresh lemon juice
1/4 teaspoon ground cinnamon
pinch of freshly grated nutmeg
pinch of salt
1 large egg, beaten
turbinado sugar, for topping
To make the crust:
In a medium bowl, whisk together flour, sugar and salt. Add cold, cubed butter and, using your fingers, work the butter into the flour mixture. Quickly break the butter down into the flour mixture. Some butter pieces will be the size of oat flakes; some will be the size of peas. Create a well in the mixture and pour in the cold buttermilk. Use a fork to bring the dough together. Try to moisten all of the flour bits. On a lightly floured work surface, dump out the dough mixture. It will be moist and shaggy. That's perfect. Divide the dough in two and gently knead into two disks. Wrap each disk in plastic wrap and refrigerate for 1 hour. Allowing the dough to rest in the refrigerator will help rechill the butter and distribute the moisture.
To make the filling:
In a medium bowl, gently stir together thawed and drained berries, sugar, cornstarch, lemon zest, lemon juice, spices, and salt. Stir until just combined.
In a small bowl, beat the egg and set aside. In another small bowl place about 1/3 cup of turbinado sugar.
To roll out the pie crust and make the hearts:
On a well-floured surface, roll one of the disks out to a 1/8″-thickness. Use a 3-inch heart-shaped cookie cutter to cut about 10 to 12 hearts out of the rolled crust. Place the hearts on a plate and place in the refrigerator while you roll out and cut heart shapes from of the second pie crust disk.
You can re-roll the scraps of pie crust if you'd like. The more you work the crust the tougher it will become.
After rolling and cutting all of the hearts, you should have 28 to 32 hearts. Brush half (14 to 16) of the hearts lightly with the beaten egg. Place about 1 heaping teaspoon of raspberry filling in the center of each heart. Get as much fruit and go easy on the juice.
Lightly stretch the remaining hearts with your fingers. Place the slightly stretched hearts over the fruit-studded hearts. Press the ends together with your fingers. A bit of raspberry juice might seep out of the sides. That's ok! Use the tines of a fork to seal the edges. Use a small knife to create a few small vent holes on the top heart.
Lightly brush the the tops of each heart pairing with beaten egg. Sprinkle generously with turbinado sugar. Allow cookies to chill in the refrigerator while the oven preheats.
Place racks in the center and upper third of the oven and preheat oven to 400 degrees F. Line two baking sheets with parchment paper.
Place prepared hearts on a parchment lined baking sheet about 1-inch apart. Bake for about 12 minutes, or until golden brown and bubbling.
Remove from the oven and allow to cool on the pan for 10 minutes before placing on a wire rack to cool completely.
Cookies are best served within 3 days of baking.