I've never been one to fall into a fancy food category, whether by desire or dietary need. I think there was a brief period in the early 00s when I was a vegetarian until I forgot due to chili cheese fries (really… that could happen to anyone). I'm gluten-free only so far as the hard pretzels are concerned (because they're definitely better than gluten-full pretzels). I'm vegetarian until I want to put bacon in something, and vegan until I reach for the butter. I'm a cupcake enthusiast exactly when the mood strikes, and paleo only by accident.
I felt like I should explain some of those details in introducing this cream-filled, butter-laden, vegetarian faux 'meat'ball recipe. It's vegetarian and creamy and indulgent with very few (actually no) apologies. If you were looking for paleo,vegan, vegetarian dinner ideas… you know by now I believe in the powers of butter and that's 100% that.
Shall we?
We have a few options when it comes to choosing alternatives to meat for these 'meat'balls.
I'm not a fan of seitan because I find the texture to be 100% appalling… likely because I'm doing something wrong in its preparation and I'm just fine to leave it at that. Firm tofu has its charm until you're bored to tears of it. Bread is too bready for a ball. Legumes are just the ticket.
I simmer green lentils to soft in a saucepan. Lentils and sautéed mushroom will be the no-meaty protein base for our balls.
To turn our beans to balls we're also using eggs and ricotta for binding, onions and garlic for flavor, fresh herbs for pep, and fennel seeds, vegetarian Worcestershire and mustard for layers of flavor. Breadcrumbs too, for binding. We've got a lot going on. It's all worth it.
Cooked lentils and sautéed mushrooms go into the bowl of a food processor to get whirled and finagled into a coarse meal. No liquid is added to the food processor so the mixture will stay rather rough. Don't worry, you're doing it right.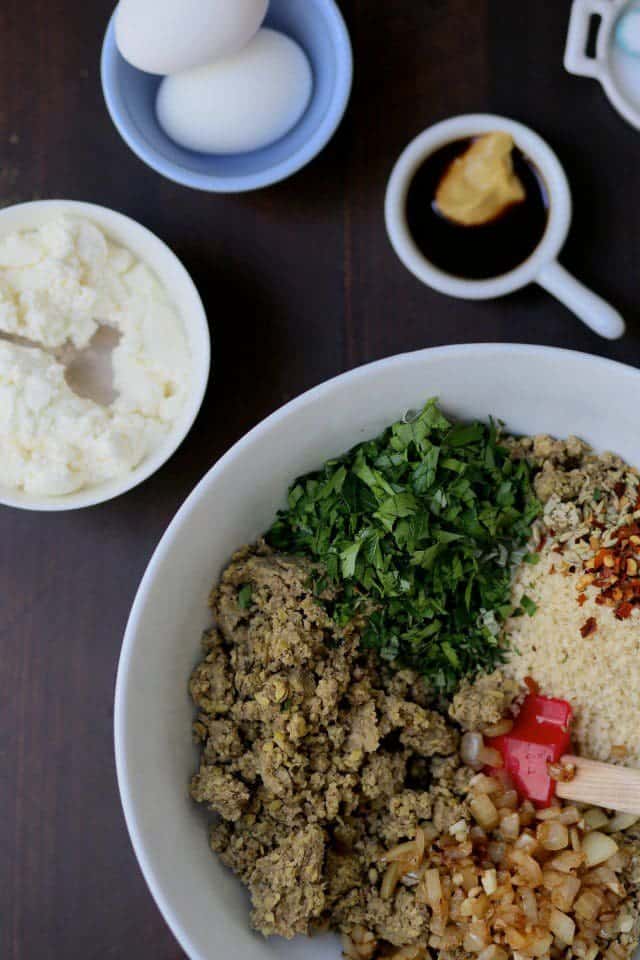 The lentil mixture is transferred to a large bowl and all the ingredients that make you want to slow-clap are added:
Sautéed onions and garlic.
Fresh parsley, thyme, and sage.
Fennel, chili flakes, and breadcrumbs.
Best of all: egg, ricotta cheese, mustard, and Worcestershire.
And we mix. We mix and we mix. Until all of the ingredients are well combined.
I always use a small cookie scoop (this one) to scoop everything from cookie dough to meat balls. It saves a mess and makes everything uniform. It's as close to Martha Stewart moves as I'll ever get.
Lentil balls make their way, lined up and all, onto a parchment-lined baking sheet where they're drizzled with olive oil and baked for 20 to 25 minutes.
While the balls bake, we make the gravy.
I should mention now that the gravy has heavy cream and sautéed mushroom in it, so basically everything is going to be juuuust fine.
Butter is melted and onions are softened. Flour is added to the butter to make a roux to thicken the vegetable stock. Vegetable stock is added, simmered, and cooked to thick with herbs and mushrooms. Cream too, because we're civilized. Boom. Gravy. (I should write recipe descriptions like these for a living.)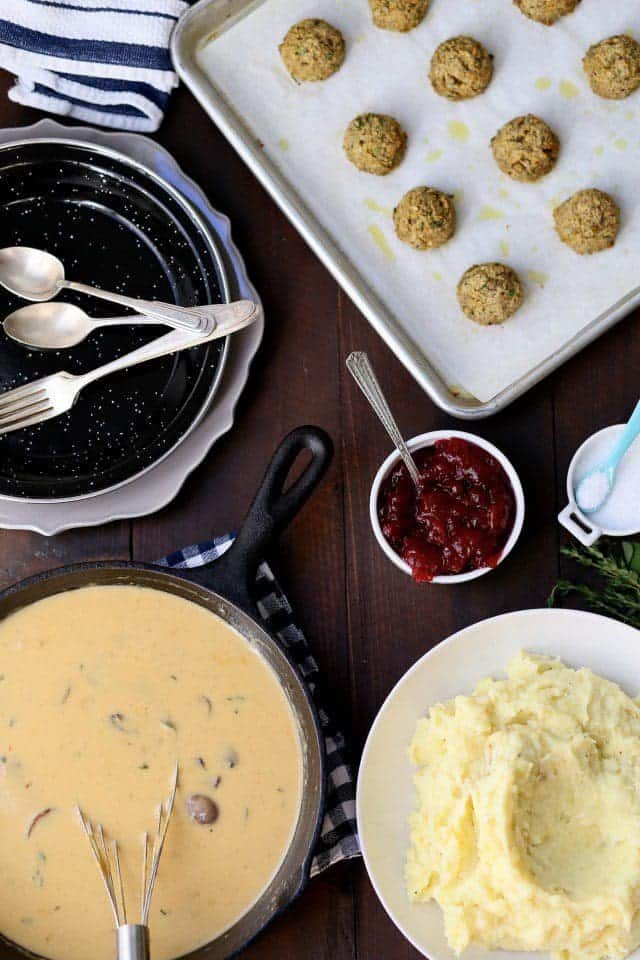 Smashed potatoes (boiled potatoes with added fat and a good mashing), and cranberry sauce (the Thanksgiving kind cooked with fresh cranberries, sugar, and water) to round out our Swedish-inspired meat-inspired ball meal.
To serve, I coated the toasted lentil balls in gravy, topped them in more gravy and served them alongside mashed potatoes and chilled cranberry sauce. The balls are filling, to be sure… and I wouldn't go so far as to call them light and airy. They're lentils and mushrooms, after all. What is delightful is their savory flavor, and moisture. This is a solid meal for solid people who have their two feet on the ground and a grumbling belly.
Did I mention there's cream in the gravy. Yea… so.
Print
Vegetarian Swedish Meatballs
Author:

Prep Time:

45

Cook Time:

20

Total Time:

1 hour 5 minutes
---
For the Meatballs
3 cups

cooked lentils (I used green lentils because they told their shape after being cooked)

1/4

cup sautéed mushrooms

1/4 cup

onion, finely diced

1

garlic clove, minced

1/4 cup

finely chopped fresh parsley

2 teaspoons

finely chopped fresh thyme

1 teaspoon

finely chopped fresh sage

1/2 teaspoon

whole fennel seeds

1/2 teaspoon

crushed red pepper flakes

1/2 teaspoon

salt and 1/2 teaspoon fresh cracked black pepper, plus MORE to taste

1 cup

panko breadcrumbs

2

large eggs

1 cup

part-skim ricotta

1 tablespoon

vegetarian Worcestershire sauce

1 teaspoon

dijon mustard
olive oil, for topping
For the Gravy
4 tablespoons

unsalted butter

3 tablespoon

finely diced onions

1/4 cup

all-purpose flour

3 1/2 cups

vegetable stock

3 tablespoons

soy sauce (or tamari)

1/3 cup

heavy cream
salt and fresh cracked black pepper to taste

1 teaspoon

finely chopped fresh thyme and/or fresh sage

1 cup

sautéed mushrooms
For the Mashed Potatoes
4

large Yukon gold potatoes, peeled and cut into large cubes

3 tablespoons

unsalted butter

1/4 cup

heavy cream

1/3 cup

vegetable broth
salt and fresh cracked black pepper, to taste
For the Cranberry Sauce
1 cup

water

1 cup

granulated sugar

1

(12-ounce) bag fresh or frozen cranberries
---
Instructions
*To make the lentils, in a large saucepan bring 6 cups water to a simmer. Add salt (like you're salting pasta water), crushed garlic clove, wedge of a yellow onion, and a bay leaf to the simmering water. Add 2 cups dried lentils and cook for 25-30 minutes until tender and cooked through. Strain through a colander and discard the garlic, onion, and bay leaf. This method will leave you with extra cooked lentils for salads of dinner.
To make the meatballs, in the bowl of a food processor fitted with a blade attachment, add lentils and mushrooms. Blend and pulse until relatively smooth, about 2 minutes. Mixture will be slightly dry and still a bit chunky. That's right! Transfer to a large bowl.
To the pureed lentil mixture add onion, garlic, fresh herbs, spices, salt, pepper and breadcrumbs.
In a medium bowl whisk eggs until well combined. Whisk in the ricotta cheese, Worcestershire sauce, and mustard. Add the wet ingredients to the lentil mixture and use a wooden spoon to combine all the ingredients. Stir until all the ingredients are evenly combined.
Place racks in the center and upper third of the oven and preheat oven to 350 degrees F. Line two rimmed baking sheets with parchment paper.
Use a large tablespoon scoop to meatballs onto the prepared baking sheet, leaving 1-inch between each meatball. Drizzle literally with olive oil and bake for 20 to 22 minutes until cooked through and lightly golden on the bottom. Remove from the oven and allow to rest while the rest of the ingredients come together.
To make the gravy, in a large skillet melt butter over medium heat. Add onions and saute until softened, about 3 to 5 minutes. Add the flour and whisk immediately, allowing the butter to absorb the flour and whisking constantly for 1 minute. Slowly stream in the vegetable broth, whisking constantly. The mixture will thicken and then appear thin again once all of the vegetable stock is added. Add the soy sauce. Reduce to medium-low heat and simmer until thickened, about 5 minutes. Whisk in the cream, salt, pepper, thyme, and mushrooms. Simmer until thickened again, about 4 minutes more. Keep the gravy warm over very low heat.
To make the potatoes, add potatoes to a large pot of cold water and boil until completely softened through. Drain in a colander, return to the boiling pot, add butter, cream, stock, salt and pepper and mash to smooth. Taste and season according to your taste.
To make the cranberry sauce, bring water, sugar, and cranberry to a simmer in a medium pot. Simmer until most of the cranberries have burst and the mixture begins to thicken, about 15 minutes over medium-low heat. Remove from heat and allow to cool before serving.
To serve, just before serving, toss lentil balls in warm gravy. Place on a plate alongside mashed potatoes and cranberry sauce. Top the mashed potatoes with cranberry sauce as well. Enjoy warm.
---
Notes
I find that it's easiest to make the potatoes and cranberry sauce before the lentil balls and the gravy.
---