There are some things you can't get back. The thrill of hunting for those plastic Easter eggs filled with jelly beans, occasionally quarters, sometimes peanut butter cups. The absolute joy of finding an egg filled with treats… before you sister… and you don't even have to share. I remember once finding an old, well-hidden, forgotten plastic Easter egg in my grandfather's workshop well after Easter… we're talking mid July… and I thought I had won the lottery. Nothing was better. I think I'd literally have to win the lottery to create that feeling these days.
Then again, some feelings you can get back (without winning the lottery) . A slight vinegar smell reminds me of dying Easter eggs with my sisters and… WHY did we need so much newspaper on the kitchen table… did we really spill that much (probably).
The excitement, adventure, and nerves of baking something new. The familiar smell of brioche type bread in the oven.
It's all happening. Italian Easter bread, though traditionally it's also Greek Easter Bread. I added chocolate, because… chocolate.
First: dye six raw eggs. Yes, raw. Be careful not to bounce them around. We're keeping them raw so they baking in the oven with the bread.
I stumbled upon a Paas Easter dying kit that had some modern / mod colors. I've also found that using brown eggs creates a richer color. You might also try more natural dyes like The Kitchn, but I didn't have the best luck with this route. Likely more my mistakes than anything else.
I dyed my eggs the night before making this rich Easter bread. The think-ahead moves makes assembling the bread a bit easier.
Yeast in warm milk with a sprinkle of sugar gets us on our way. We're baking!
The milky yeast mixture is given time, just five minutes or so, to activate.
Into the mixing bowl with the milky yeast, beaten eggs, softened butter, brown sugar, salt and most of the flour.
I find it helpful to bring the dough together, off of the stand mixer, with a spatula just to get things going with intention. Then it's five minutes on the mixer with a dough hook to knead and knead. Do you need need need to have a stand mixer to bring this dough together? Mostly yes. Because it's a softer, more wet dough… a mixer really is helpful.
The dough will be fairly wet to start. I added about 5 cups of flour total creating a slightly tacky but still soft dough.
Chocolate chips are added towards the end of the dough-hook kneading.
The dough is scraped from the sides of the bowl, sprinkled lightly with flour and covered to rest and rise.
Look at this madness!
We're really on to something.
Risen, punched (not really punched though deflated), kneaded slightly, roughly divided in 12 mostly equal parts.
Twelve: 1-inch thick, 14-inch long dough ropes. For twisting.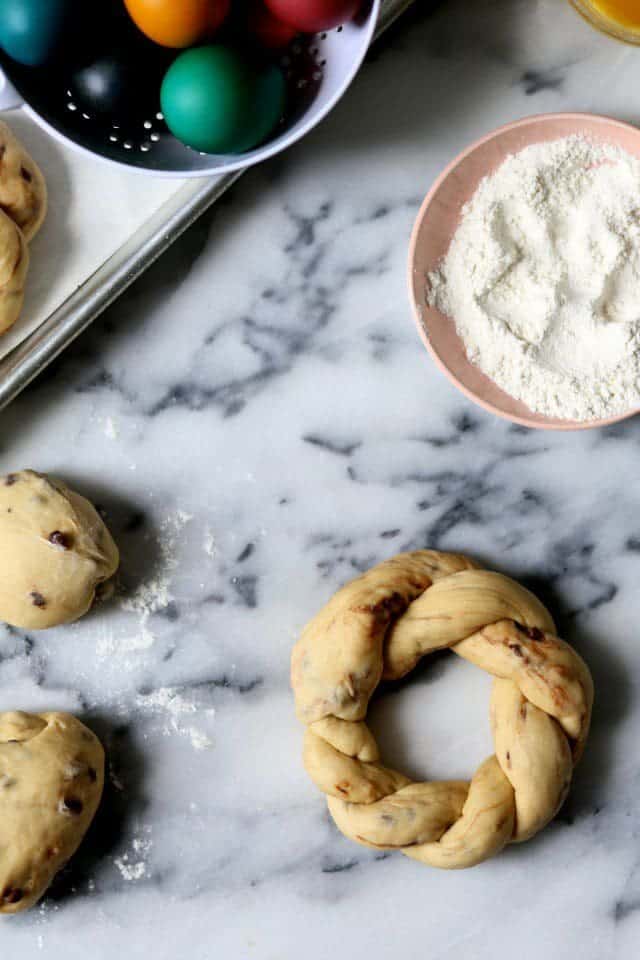 Twisting and rounding into a wreath aka, egg nest.
Twisted
Circled into wreathes
Transferred to a lined baking sheet
Nestled with a raw, dyed egg
Brushed lightly with egg wash
Sprinkled with sugar or colored sprinkles
Time to BAKE!
Stretchy, doughy bread. Studded with chocolate. Festive as ever with a perfectly cooked boiled egg in the center.
It's Easter! We're doing it right!
Print
Chocolate Marbled Italian Easter Bread
Author:

Prep Time:

120

Cook Time:

25

Total Time:

145

Yield:

6

1

x
---
1 1/4 cups

warm 2% or whole milk (about

100

degrees F)
pinch of brown sugar

2 1/2 teaspoons

active dry yeast

1/3 cup

unsalted butter, softened

2

large eggs, beaten lightly

1/2 cup

packed light sugar

1/2 teaspoon

salt
about4 1/2 to 5 cups all-purpose flour, plus more for dusting

1/2 cup

mini chocolate chips

1

large beaten egg, for egg wash

6

dyed and dry Easter eggs
sprinkles
---
Instructions
Stir a pinch of brown sugar and all of the yeast into the warm milk and let sit for 5 minutes, allowing the yeast to bloom and bubble.
In the bowl of a stand mixer fitted with a bread hook, add the milky yeast mixture, butter, beaten eggs, brown sugar, salt, and about 3 1/2 cups of flour. First use a spatula to stir the ingredients until just combined.
Beat the mixture (it will still be fairly wet) on medium speed using the mixer and dough hook. Add the final 1 to 11/2 cups flour creating a cohesive, though still slightly sticky dough. Beat for 4 to 5 minutes on the mixer. Add the chocolate chips in the last minute of kneading.
Remove the bowl from the mixer and scrape the dough to the center of the bowl. Dust lightly with flour and cover the bowl with plastic wrap. Allow to rest in a warm place until doubled in size, about 1 hour.
After rising, dump the dough onto a clean counter lightly dusted with flour. Line a large rimmed baking sheet with parchment paper. Set aside.
Divide the dough into 12 equal pieces. Roll each piece piece into a 14-inch long, 1-inch thick ropes of dough. I found this easiest to do without much flour on the counter. Attach two ropes at their ends, and twist over one another, Pull the ends together to form a round wreath and gently lift onto the prepared baking sheet. Place the raw dyed egg into the center of the wreath.
Repeat with all of the dough, creating six dough wreaths with nestled eggs. Cover lightly with plastic wrap and allow to rest and rise for 30 minutes.
While the bread rises, place a rack in the center of the oven and preheat to 350 degrees F.
After the second rise, lightly brush the bread with egg wash, being careful to avoid the dyed egg. Sprinkle with sprinkles or coarse sugar.
Bake for 25 to 28 minutes, until golden brown and baked through.
Remove from the oven and allow to cool to room temperature before serving.
Bread will last up to three days, well wrapped at room temperature.
---