There is always a case for chocolate cake.  It's as simple as that.
When I set out to make a chocolate cake, I'll freely admit I use a perhaps unexpected recipe straight from Hershey because… well, the proportions are spot on and it makes for the most straight-forward delicious chocolate cake.  It's exactly what I want it to be.
But… since there's always a case for chocolate cake – there's also always a case for trying something new.
This, with much excitement, is the most lovely, decadent, GRAIN-FREE cake I've come across – brought to us by the new Sweet Laurel cookbook.  It's earnest, surprisingly, and incredibly simple and delicious.  Please. Get in this with me!
Sweet Laurel is filled with gluten-free, whole food recipes.  What that means to me is that, it's wholesome and gluten-free and uses truly simple ingredients like almond flour, maple syrup, and coconut oil.  No gums or flour combinations and that's such a relief to me.
Sweet Laurel is how I want to bake, made grain-free.  And the recipes (I've made few now) are solid! This cake is such a game changer!  Get this book!  I feel like it will change the way you bake grain-free, too!
We'll start by making the cake base – no stand mixer needed, just a few bowls.
Almond flour is whisked together with unsweetened cocoa powder, baking soda, and sea salt. That's it for the dry ingredients!
The sweetener used in this cake and frosting is maple syrup, an unrefined natural sugar.  It's said to have more nutrients that refined white sugar.
Listen… I'm never going to come here and tell you that white sugar is a monster.  Moderation, ya feel me?
Moderation, less sugar, and natural sweeteners. It's all balance and maple syrup add sweetness, depth of flavor, and moisture to this cake.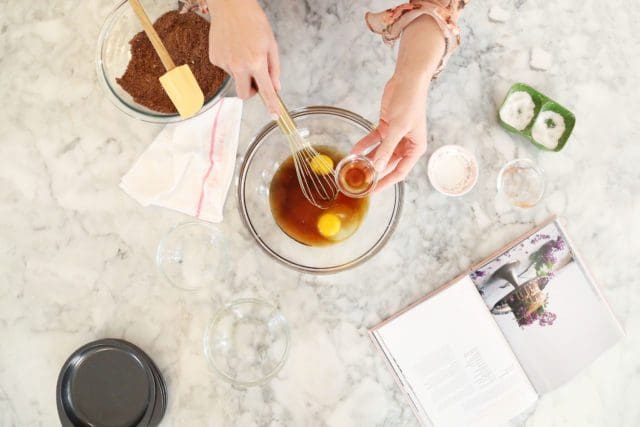 Two large eggs, maple syrup, and pure vanilla extract (Sweet Laurel makes their own with tequila as the base!).
Whisk the wet ingredients together until the eggs are fully blended into the maple syrup.  The mixture will be just slightly frothy.
Add the dry ingredients a few spoonfuls at a time.
Whisk a bit at a time until a lightly gritty (from the almond flour) batter emerges.
My mom calls this moment, using your elbow grease.
We've got it, let's use it.  Give the final batter a good, firm whisk.
There are a few ways you can make up this cake.  Here's the deal:  it's a very rich cake so we're making a small cake because the slices will be petite.
I used these thin 5-layer, 6-inch cake pans from Wilton.  I love these little pans.  They make a small but tall cake.  The layers are thin and bake up quickly and they make for a cute exposed edge cake.
You might also bake up two thicker 6-inch layers or one single 8-inch layer.  We aren't make a whole lotta cake but it is deliciously rich.
Into the oven to bake!  These thin layers will bake for 12 minutes or so.
The thicker cakes will bake for 20 to 25 minutes.  But, as always – the toothpick test will letcha know when the cake is done.
Cool the cakes in the pan until mostly cooled but lightly warm.  About 15 to 20 minutes.  I find that this is the sweet spot to getting layers out of their baking pans successfully.
The cakes are cooled completely.  You know by now there's no way around that.  Cool layers make for successful cakes.
The frosting is make with unsweetened baking cocoa, coconut oil, maple syrup, and ALMOND BUTTER! It's tremendous!  In essence, to make it fluffy and spreadable to fill this cake is we'll make a loose-ish chocolate ganache type mixture, chill it, and then WHIP it to fluffy making it spreadable.
It's very exciting!
Starting from the base layer, spread a thin layer of frosting (it's rich, remember!) as well as a thin layer of raspberry sauce.
The cake layers can be tender. It's not a bad idea to have them well chilled in the refrigerator or freezer before frosting.
Chocolate frosting and raspberry sauce dripping down the sides in just perfect.  We're keeping the sides naked to see all the delicious layers.
Sweet Laurel's signature is decorating with botanicals.  Here are a few non-toxic plants you might consider popping atop your cake:
Mint  // Nasturtiums // Pansies // Rosemary  // Roses //  Sage  //  Violets  // Marigolds  //  Lilac  //  Jasmine  //  Fruit Blossoms  //  Chrysanthemums
This cake really is so special. The crumb is light and tender, the frosting completely decadent, and the bits of sweetened raspberry so unifying.  It's undeniably one of the best cakes I've made in ages and I'm just glad there are loads more cake recipes I can try from Sweet Laurel.  It's a sweet, resourceful, beautiful, and fantastically functional recipe book.
Eat this cake!
Photos with the dude: Jon Melendez.
Print
Sweet Laurel's Chocolate Raspberry Cake
Prep Time:

0 hours

Cook Time:

0 hours

Total Time:

0 hours
---
For the Cake:
coconut oil for greasing the pans

2 1/2 cups

almond flour

1/4 cup

unsweetened cocoa powder

1 teaspoon

baking soda

1/2 teaspoon

Himalayan pink sea salt

2

large eggs

3/4 cup

maple syrup

1 tablespoon

pure vanilla extract
For the Frosting:
4 ounces

unsweetened baking chocolate, roughly chopped

1/4 cup

coconut oil, solid

1/4 cup

maple syrup

1/2 cup

almond butter

1/4 cup

almond milk or fun-fat coconut milk
For the Raspberry Sauce:
2 cups

frozen raspberries

3 tablespoons

maple syrup

1 tablespoon

lemon juice
---
Instructions
To make the cake, place an oven rack in the upper third of the oven and preheat oven to 350 degrees F. Line two 6-inch, one 8-inch, or five thin 6-inch pans with parchment paper, and grease the sides of the pan with coconut oil. (The parchment will really help the cakes not to stick to the bottom of the pan. If you skip this step for some reason and just grease the pans, be sure to remove the cakes from the pan when they're still juuuust slightly warm.)
In a medium bowl, whisk together the flour, cocoa powder, baking soda, and salt in a large bowl.
In a large bowl, whisk together the eggs, maple syrup, and vanilla. A little at a time, add the dry ingredients to the wet, stirring until a batter forms.
Divide the batter evenly between the prepared pans and bake for 12 to 24 minutes (depending on which pan you use) or until a toothpick inserted into the center comes out clean or with just a few moist crumbs. Remove cakes from the oven and allow to rest and cool slightly. Invert cakes onto wire racks and allow to cool completely.
To make the frosting, in a small heavy saucepan, over medium heat, melt the chocolate and coconut oil, stirring constantly. Remove the pan from the heat. Slowly add the maple syrup and stir to incorporate. All to cool completely. Really though… all the mixture to cool – there's no cheating here.
Transfer the chocolate mixture to a medium bowl and, using an electric mixer, neat in the almond butter until a thick frosting forms. Add the almond or coconut milk and beat with the mixer until smooth.
For a creamy, almost pourable frosting, use immediately. For a fluffy frosting, refrigerate the frosting for 8 hours, then bring to room temperature and beat with an electric mixer until spreadable. (I refrigerated the frosting mixture for 4 hours and beat if from cold with the mixer until warmed to room temperature, fluffy and spreadable.)
To make the raspberry sauce, in a medium saucepan over medium heat, combine the raspberries, ,maple syrup, and lemon juice. Cook, stirring and mashing the berries for 8 to 10 minutes until the juices have released and thickened. Remove the pan from the heat and allow the mixture to cool.
Transfer the jam to a glass jar. Refrigerate until ready to use, or up to 5 days.
To assemble toe cake, place one layer on a cake plate and top with chocolate frosting. Spoon over a thin layer of raspberry sauce. Top with the next layer cake and continue until you reach the last layer. We'll leaves the sides bare. Top with flower if you'd like. A list of edible flowers is in the blog post.
Store cake in the refrigerator before serving but allow to rest outside of the fridge to get the big chill off just before serving.
---