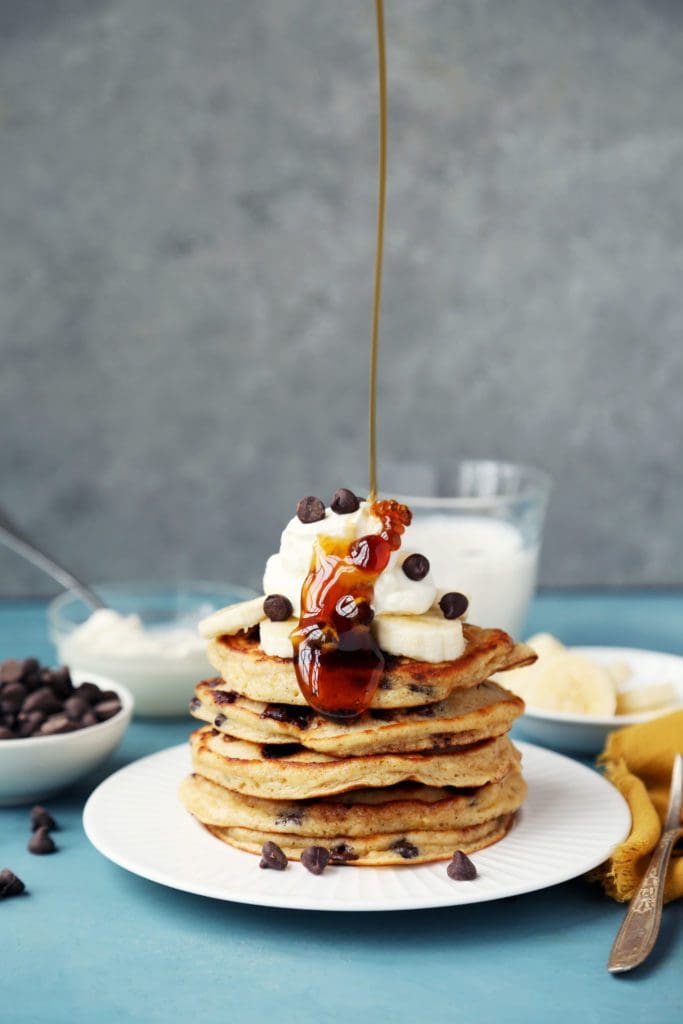 Hello friends – how are you holding up?
I'm spending even more time than I usually spend futzing around in the kitchen. It's both that I have a hard time focusing as the days start to melt together, and that I actually want to languish in the kitchen making the fanciest coffee I can with my dwindling beans. There's always comfort there.
I've also just left my yoga mat unrolled in the middle of my living room in hopes that I'll trip over its corners enough times that it will call me to do actual home-yoga. We'll see how that shakes out.
I've been making a lot of small-batch recipes these past few weeks. Lord knows I have no business being home alone with an entire cake, but I'm also trying to be conscious of the ingredients I use so I can, ya know… stay home (our new mantra).
Maybe you're in the same boat – don't worry, it's a 6-foot canoe we can be in it together.
If you have more than one mouth to feed, these single-serving recipes can be easily multiplied to accommodate. The offering today is: pancakes. A stack of five littles just for you or a double stack of littles for you and your boo.
I hope you're well. I hope there's sunshine and fresh air in your weekend!
Here's what you'll need for these sweet little pancakes. As with all things these days, we can be flexible with this recipe:
• just under a cup of all-purpose flour though a gluten-free 1-to-1 mix will also work well!
• an egg and buttermilk to bind and moisten. There are also substitutes for both eggs and buttermilk, linked.
• a bit of sugar, granulated or brown.
• melted butter though coconut oil or canola oil will also be just fine.
• cinnamon, nutmeg, and a splash of vanilla extract.
• a banana – half to mash into the batter, the other half to slice atop the pancake stack.
• chocolate chips if you have them!
• heavy cream and powdered sugar to make whipped cream if you're feeling fancy.
We'll use two bowls – one for dry ingredients, one for wet ingredients.
In a medium bowl whisk together the flour, sugar, baking powder, baking soda, spices, and salt.
In a small bowl whisk together egg, buttermilk, melted butter, banana, and vanilla extract. Is that everything?
Pour the wet ingredients into the dry and whip it good.
Sweet little cake batter. Try to work out any lumps rom the dry ingredients though the batter will rightfully have a few lumpy banana bits throughout.
Add the chocolate chips or chunks if you have them on hand. Stir to just incorporate.
Here's the key to great pancakes: let the batter sit for 10 minutes before pan-frying. Allowing the batter to rest will help the flour absorb the moisture and thicken. It will help the pancakes cook up nice and fluffy instead of the batter running over the skillet.
The skillet is important too. Choose a non-stick skillet if you have one. Heat it over medium heat and add a dash vegetable oil. I like a little vegetable oil as opposed to butter to cook the pancakes because the oil won't burn whereas the milk solids in the butter might scorch a bit.
I made one pancake at a time because I didn't want to crowd the pan. Do what feels right for you. It probably depends very much on how hungry you are and if you have a little one demand pancakes on the quick.
While the pancakes cook, I sure did whip a bit of cream. This is absolutely extra but feels really special.
Slice the rest of the banana and hold onto a few chocolate chips to scatter over top the pancake.
Stack the warm pancake, top them elaborately, and drizzle generously with maple syrup.
Ya did good. You made a really special breakfast moment. If that's all you do today, I'd say you did very well.
Please let the record also show that a small stack of pancakes make a perfectly suitable dinner.
Photos with Jon Melendez.
Print
Single-Serving Banana Chocolate Chip Pancakes
Prep Time:

0 hours

Cook Time:

0 hours

Total Time:

0 hours
---
2/3 cup

all-purpose flour

1 tablespoon

granulated sugar

1/2 teaspoon

baking powder

1/2 teaspoon

baking soda

1/4 teaspoon

ground cinnamon
good pinch fresh grated nutmeg
good pinch of salt

1

large egg

1/4 cup

buttermilk

1

banana (1/2 mashed for the batter, 1/2 sliced for the top)

1 tablespoon

unsalted butter, melted
dash of pure vanilla extract

3 tablespoons

chocolate chips

1/3 cup

heavy cream (optional)

1 1/2 teaspoon

powdered sugar (optional)
maple syrup (optional)

1 tablespoon

(or so) canola oil, for cooking the pancakes
---
Instructions
In a medium bowl, whisk together flour, granulated sugar, baking powder, baking soda, spices, and salt.
In a small bowl, whisk together the egg, buttermilk, butter, mashed banana and vanilla extract. Pour the whole mixture into the flour mixture and whisk until the wet and dry ingredients are fully incorporated. Let rest for 10 minute.
If you're making a bit of whipped cream to top the pancake, now is the time! In a small bowl whisk the heavy cream and powdered sugar together by hand for 5 minutes or so, until the cream reaches very soft peaks. Set aside.
In a medium nonstick skillet over medium heat, warm a few teaspoon of oil. Spoon 2 heaping tablespoons of batter into the hot skillet. (You can use a cookie scoop to make the process easier.) Cook until browned around the edges, about 2 minutes. Flip the pancake and cook until browned on both sides, another 2 minutes. Transfer to a plate and repeat with the remaining batter, adding a small splash of oil to the pan as you cook pancakes in batches. You should have 5 or 6 small pancakes.
Stack pancakes on a plate. Top with banana slices, chocolate chips, whipped cream, and maple syrup. What a party! Enjoy warm with coffee.
---