Hi hi! It's your old friend Joy waving excitedly with another gluten-free recipe for you! It's not that every recipe on Joy the Baker is now going to be free of all the gluten, sugar, and diary we love (and we love it, we really do). But this is a place I get to play. This little space is a reflection of my kitchen and it just so happens that my kitchen is currently stacked and stocked with rice flours, coconut sugar, flax seeds, and ghee. I'm ok. You're ok.
I'll be transparent about all this gluten-free baking. I thrown away more terrible gluten and sugar free baked experiments in the last few months that I care to admit. Just yesterday I baked and ate a monkfruit sugar cooking thinking WHY DOES THIS COOKIE TASTE…. COLD? How did monkfruit manage to make cold a taste? Woof. Rude if you ask me. The learning curve is not always delicious.
Trust that, if a recipe lands on these pages – it's a good one and I'm proud of it…. and I ate it standing at the kitchen counter, and came back for more (and it probably doesn't have a bunch of monkfruit sweetener in it).
Today's offering is a riff on an oldie. I made these Carrot Cake Cinnamon Rolls while living in a tiny closet of an apartment in the Irish Channel neighborhood of New Orleans. The neighborhood has nothing to do with the rolls but the images make me remember when Tron lived in a tiny house with me and had a little porch to call his own.
All that to say, if you'd like a glutenFULL version of these beauties, I've got you covered. Let the good times, if you will… ROLL. (Sorry I had to.)
Here's what you'll need on hand to make these soft, sweet little rolls:
• a gluten-free flour blend. I've found myself using King Arthur's Gluten-Free Flour with happy results.
• a binder to assist the gluten-free flour. Xanthan gum is an option though I prefer ground flax seed meal soaked in a few teaspoons of water.
• a few tablespoons of sugar for the dough. The recipe calls for 3 tablespoons though you can reduce it to 1 tablespoon if you'd like.
• salt and vanilla extract for a balance of flavor.
• butter, oil, eggs, and whole milk to enrich our cinnamon roll dough. You're welcome to use a non-dairy milk if you prefer. I found the egg to be important for binding.
• instant yeast or active dry yeast activated in the warm milk.
• to carrot cake our rolls: warming spices like cinnamon, ginger, nutmeg and allspice along with finely grated fresh carrots.
Cinnamon rolls are actually easier than you might think. Really – it's everything going into a bowl for a good long mix. Let's get started.
You can make this recipe in either a stand mixer or with an electric hand mixer using a dough hook. You really do need the power of a mixer to bring this together.
In a medium bowl combine the flour, sugar, spices, and salt. If you're using instant yeast, add it here with the dry ingredients. If you're using active dry yeast, add the yeast to the warm milk mixture to activate.
Add the softened butter, oil, warm milk, egg, vanilla and shredded carrots. The whole kit and caboodle.
Mix using the dough hook on your stand mixer or hand mixer for 3 to 5 minutes. Don't skimp on the time. We really want to work the dough and incorporate the yeast.
This dough is obviously going to behave very differently than a yeasted dough with stretchy gluten. You'll find as you mix the dough that it will feel very sticky, will cling to the sides and bottom of the bowl, will feel like a thick and bready cake batter.
Take heart. You're on the right track.
After a serious mixing, scrape the bottom and sides on the bowl into the center, creating a dough ball in the center of the dough. Cover with plastic wrap and allow to rest and rise at room temperature for 1 to 1 1/2 hours.
While the dough rests, mix together the filling.
We're bringing in the carrot cake vibes with ground cinnamon and ginger, as well as raisins.
I know raisins are controversial. I love them but maybe you don't. If you're not in camp raisin, of course you can just leave them out.
After about an hour, the dough should be noticeably larger and puffy in texture.
It's time to roll the dough out but this will look a little different. Grab a sheet pan and a piece of parchment paper. Grease the parchment paper with nonstick cooking spray before turning out the risen dough atop the baking sheet.
No kneading here, just wet your fingers and gently press the dough into a roughly 10×12-inch rectangle. You'll need to stop and moisten your hands every once in a while. Press the dough to an even 1/2-inch thickness.
Top the dough with little pats of softened butter. I used my fingers to tear little butter bites onto the dough. I found this to be easier than spreading butter across the very soft dough.
Sprinkle generously with the cinnamon sugar mixture and sprinkle with raisins if you're keen.
Here's the tricky bit (though I know you can do it). Starting at the longest side of the paper and dough, lift the paper, letting the dough coil into a roll. The greased paper will do most of the work, you'll just need to take a few deep breaths.
Once coiled, place the roll (uncovered) in the freezer (yep) to set. It's easiest if you can fit the whole sheet pan in your freezer but that might be asking a lot. Just keep in mind the dough is pretty fragile when you move it around.
A chill does wonders in making this dough sliceable after 30 minutes. Slice into 9 rolls and place in a greased and parchment- lined square baking dish.
The rolls will rise for another 45 minutes to an hour before baking.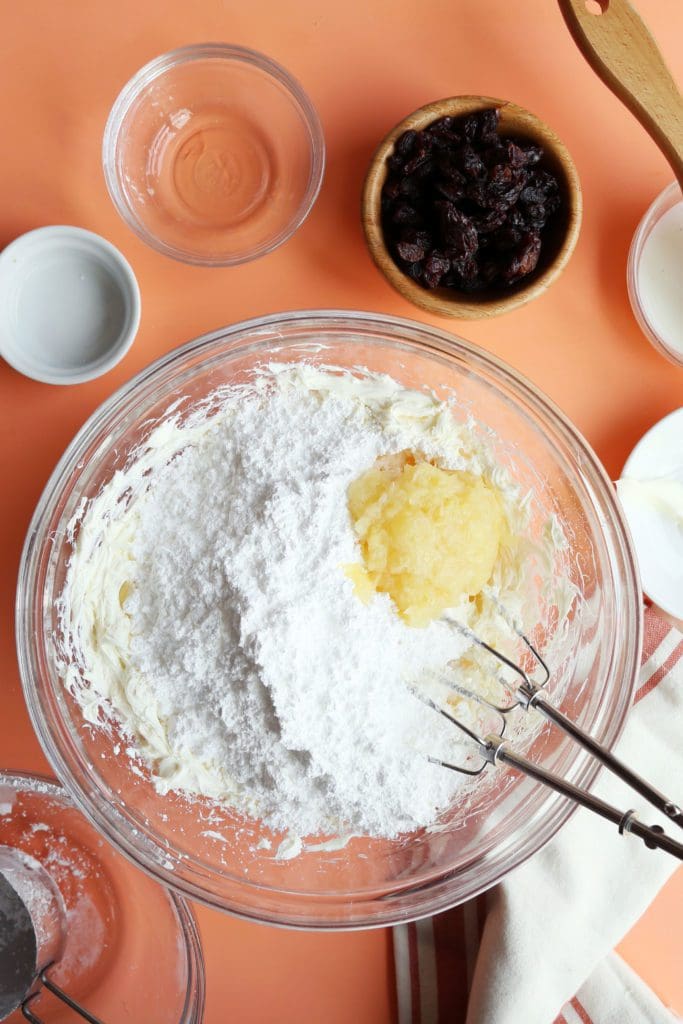 While the rolls rise (I know… again), there's time to make the cream cheese frosting.
Because I love to see a theme all the way through, we're carrot caking our frosting with a few tablespoons of crushed pineapple. (I think pineapple is my favorite part of carrot cake, so I added a few extra spoonfuls thankyouverymuch.)
Rolls risen and sweet little rolls baked.
These rolls are quite tender and brown pretty evenly while baking. I noticed that it's a bit tricky to tell when they're completely baked. A toothpick in the center roll should come out with a few moist crumbs and certainly not wet batter. A thermometer will read about 205 degrees F. That's a fully cooked batch.
Allow to cool for a few minutes before frosting generously and enjoying warm.
The texture is like… cake soft. Super flavorful. Super comforting. It's not like a stretchy cinnamon roll but we don't need to it be! It hits all the cinnamon roll spots. I hope you bake these and love them as much as I did! Let me know how your rolls turned out below!
xo
Print
Gluten-Free Carrot Cake Cinnamon Rolls
Author:

Prep Time:

3 hours 30 minutes

Cook Time:

20-25 minutes

Total Time:

about 4 hours

Yield:

9

rolls

1

x
---
For the Dough:
2 1/2 cups

(

335 grams

) King Arthur Gluten-Free All-Purpose Flour

3 tablespoons

(

35 grams

) granulated sugar

1 teaspoon

(

6 grams

) kosher salt

1 1/4 teaspoon

(

3 grams

) ground flax seed meal + 2 teaspoons water

1/2 teaspoon

ground cinnamon

1/2 teaspoon

ground ginger

1/4 teaspoon

fresh ground nutmeg

1/4 teaspoon

all spice

2 teaspoons

instant yeast (activate if using active dry yeast)

4 tablespoons

(

1/4 cup

or half a stick,

57 grams

) unsalted butter, softened to room temperature

2 tablespoons

(

25 grams

) vegetable oil

1 cup

(

227 grams

) warm milk, plus extra for brushing on the dough

1

large egg

2/3 cup

(

60 grams

) finely shredded carrots
For the Filling:
4 tablespoons

(

1/4 cup

or half a stick,

57 grams

) unsalted butter, softened

1 cup

(about

200 grams

) lightly packed light brown sugar

2 teaspoons

ground cinnamon

1/2 teaspoon

ground ginger
Pinch of salt

1/3 cup

raisins (optional)
For the Frosting:
4 ounces

(

half a

block) cream cheese, softened

1 cup

(

125 grams

) powdered sugar
Pinch of salt

2 tablespoons

crushed or finely chopped pineapple
Splash of milk
---
Instructions
To make the dough, combine all the ingredients in the bowl of a stand mixer. Use a rubber spatula to mix the dough into a shaggy mixture. Place the bowl on the mixer fitted with the dough hook and mix on low speed for 1 to 2 minutes. Stop the mixer, scraping down the sides of the bowl once or twice.
Turn the mixer back to medium-high speed and beat the dough for 3 minutes. Don't take a shortcut – beat for the full 3 minutes. Scrape the bowl down again. Cover the bowl in plastic wrap and let the dough rise in a warm place for about 1 to 1 1/2 hours, or until visibly puffy.
Make the filling while the dough is rising. In a small bowl stir together brown sugar, spices, salt, and raisins.
To assemble the rolls, line a baking sheet with parchment or waxed paper and grease the paper with nonstick cooking spray.
Turn the risen dough out onto the prepared baking sheet. It will deflate and that's ok. Wet your fingers and gently press the dough into a 10 x 12-inch rectangle about 1/2-inch thick
Top the dough with little pats of softened butter and sprinkle the filling over the dough, covering all but a 1/2" strip along the long side farthest from you.
Starting with the long edge of the parchment closest to you, roll the dough forward, allowing the paper to do the work for you. The dough should release from the paper as you roll but will feel very soft – that's right! Roll into a log seam side down.
Put the log in the freezer (no need to cover it) for 20 to 30 minutes, to firm it up before slicing.
Remove the log from the freezer and transfer it to a cutting surface. Using a sharp serrated knife to cut the log into 9 slices.
Grease a 9×9-inch baking pan, line with parchment and lightly grease the parchment. Allow the rolls to rise for about 1 hour until lightly puffy.
Toward the end of the rising time, place a rack in the upper third of the oven and preheat the oven to 350 degrees F.
Bake the rolls for 20 to 25 minutes, until they're golden brown on top. You'll want to make sure the center is cooked through. The internal temp will be about 205 degrees F or you could insert a toothpick and make sure it doesn't come out with raw dough.
Remove the rolls from the oven and let the rolls cool for 10 to 15 minutes before icing.
To make the icing: In a medium bowl using electric hand beaters beat cream cheese to soften. Add powdered sugar, salt, and crushed pineapple. Whip together. Add a splash of milk if necessary.
Ice the rolls and serve immediately. If you're planning to serve the rolls later, wait to ice them until just before serving. Store icing at room temperature, tightly covered, until you're ready to use it.
Store completely cooled rolls, un-iced and well wrapped, for a couple of days at room temperature; or freeze for up to 1 month.
---
Notes
Recipe adapted from King Arthur Flour.
Photos with my friend Jon Melendez!