Let me tell you a little secret.  When I worked in the bakery department at The Cheesecake Factory (back when the uniform was a sadistic white pants, white shirt and white apron), my favorite thing on the mind bogglingly large menu was the carrot cake.  This cake was a behemoth with thick layers of the richest cream cheese frosting and even thicker layers of cake. I would take a slice home more nights a week than I care to admit, and sneak bites on my bus ride home.  This was enough of a habit that now every carrot cake recipe makes me think of rainy late night bus rides in Seattle.
My love of carrot cake runs deep, not just in me, but in my whole family.  My parent's had a WEDDING carrot cake in 1979.  Not to brag but yea, I'm bragging on their behalf.
So here's my best and my favorite carrot cake.  Three layers. Yes to pineapple.  Yes to raisins. No to coconut. Yes to walnuts. No to pecans.  But listen – carrot cake is very personal and I leave enough room in this recipe for your preferences.
And if you're in the mood for Carrot Cake but don't want to turn on the oven, this No-Bake Carrot Cake is made with graham crackers, sweetened condensed milk, and whipped cream. The graham crackers soften to actual cake – it's a wonder!
Here's what you'll need for this carrot cake recipe:
•  grated carrots – and don't go buying the pre-grated carrots at the grocery store. Whole carrots, peeled and grated on the large side of a box grater will lend the most flavor and moisture.
•  ground cinnamon, ground ginger, and ground nutmeg to balance the sweetness of the carrots with spices.
•  4 large eggs
•  I use vegetable oil over butter for my carrot cake because I love the moisture and tenderness it adds to the cake.  If you insist on butter – that's totally fine! Just melt it and cool it slightly before adding to the wet ingredients.
•  all purpose flour
•  kosher salt
•  baking powder and baking soda
•  walnuts or pecans – choose whatever nut you prefer, or no nuts at all.  I'm Team Walnut.
•  raisins – polarizing but they have my vote.
•  vanilla extract
•  crushed pineapple – but no one is twisting your arm, it's optional but encouraged.
•  powdered sugar
•  cream cheese
First, grab a large bowl and whisk together the dry ingredients (saving the sugars for the wet ingredients).  
This might feel like an extra clunky dish in the sink, but whisking the dry ingredients will ensure that the important stuff (baking soda, salt, and spices) are evenly distributed through the flour.  A little extra insurance when we mix the dry ingredients with the wet ingredients.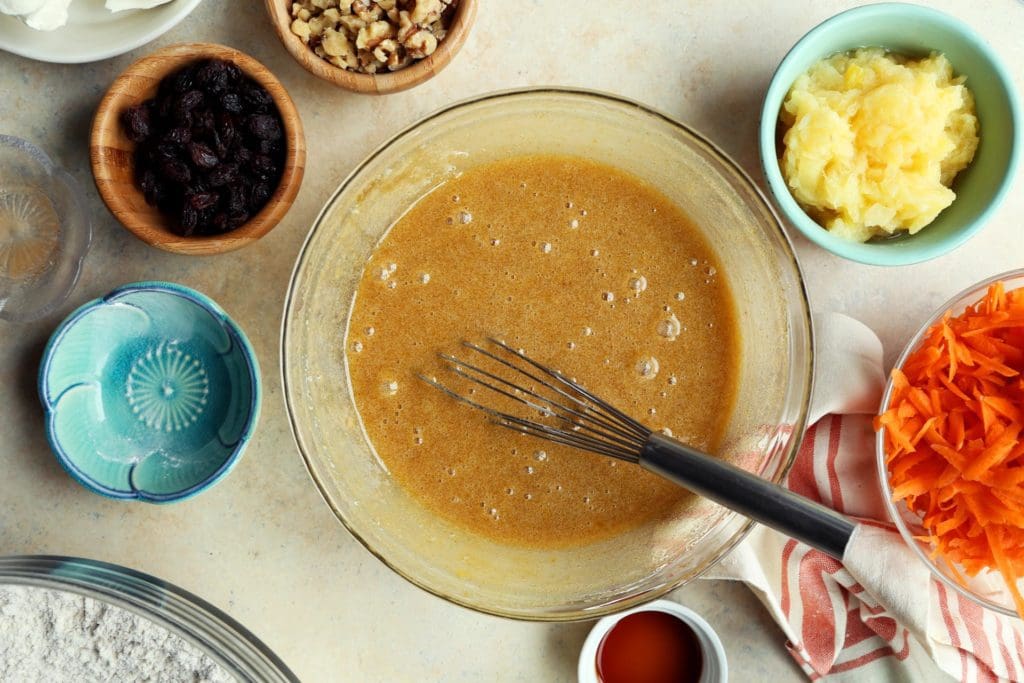 Continue with the other half of the batter – the wet ingredients.
Whisk together sugars, eggs, oil, and vanilla extract until well combined.  
Next we'll add shredded carrots and pineapple and all the flavor that comes with them. 
Ditch the whisk for a rubber spatula and fold the wet ingredients into the flour mixture until a smooth (well there will still be carrot and pineapple bits) batter forms.
Carrot cake is very person. Feel free to add or subtract to your taste!
Add-ins + extras for this carrot cake recipe:
• chopped walnuts
• plump purple or golden raisins
• chopped pecans
• dried cranberries
• sweetened or unsweetened shredded coconut
Prepping the cake pans is key to this carrot cake recipe.  Grease each cake pan with vegetable shortening or nonstick baking spray.  Line each pan with a 9-inch circle of parchment paper and lightly grease the parchment paper as well.  The extra step of lining the pans with parchment paper will ensure that the sticky cake bottoms will come out of the cake pan cleanly after baked.
Divide the batter between three 9 inch round cake pans.  
Place in the upper third and center of the oven to bake.  
You could also turn this cake batter into two dozen carrot cake cupcakes.
While the cakes bake, make the cream cheese frosting.  
Sift powdered sugar if you suspect the sugar may be a bit old or extra clumpy.
In a large bowl whip the softened cream cheese on its own to ensure its soft and pliable.  Add the softened butter and whip until smooth and well combined.  Add a pinch of salt, the powdered sugar, and vanilla extract and beat until completely combined.  The icing will feel stretchy.
When the cakes appear baked through, test with toothpick in the center of the cake. The toothpick may come out with a few moist crumbs but not wet cake batter. Remove the cakes from the oven and allow to cool in the pan until they're just warm to the touch, about 10 -15 minutes.  Invert onto a wire rack to cool completely.
My Tips for Freezing Carrot Cake Layers After Baking:
•  wrap the cake rounds in plastic wrap while they're warm to the touch out of the cake pans.  This will lock the moisture into the cake.
•  double wrap the cakes or single wrap + seal in a freezer safe bag if you're going to freeze the cake for more than a week.
•  freeze the cakes resting on a sheet pan to ensure they are frozen completely level.
•  freeze for up to 3 weeks to ensure the cakes still taste fresh.
•  frost the cake layers while frozen and allow the cake to thaw in the refrigerator overnight!
To assemble the cake, place one cake layer, top side down on a cake plate or wooden board.  Top with about 3/4 cup cream cheese frosting.
Add additional layers with more cream cheese frosting.
Here's how to frost a cake if you'd like a step-by-step! 
Frost the sides of the cake layers with a very thin, transparent layer of cream cheese frosting.
If you'd like to complete the cake with a more opaque finish here's a trick:  TWO COATS!
Place the cake, with its thin layer of frosting, in the refrigerator for 20 minutes.  Remove it from the fridge and add the second layer of frosting.  It will be much easier to frost on top of the first layer of frosting if it is chilled and locked in place.
Top with walnuts or sprinkles, pineapple or raisins – whatever suits you!
This carrot cake guarantees a mega amount of flavor, a moist crumb, and tangy sweet cream cheese frosting.  There's a lot going on but that's what we want from best carrot cake! Every bite is chocked full of carrots, pineapple, and spice cake. If there's a birthday to be had it's either THIS RIGHT HERE or Everybody's Chocolate Birthday Cake.  This carrot cake definitely get added to the list of My 12 Best Birthday Cake Recipes.
Here's 5 Tips To Making The Best Cream Cheese Frosting which you might find helpful!
Leave any questions below and please rate the recipe if you've tried it!  Happy Baking, friends!
Print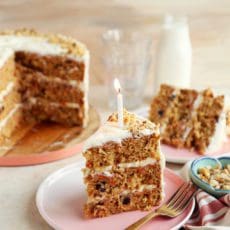 The Perfect Carrot Cake Recipe
Author:

Prep Time:

30 minutes

Cook Time:

24 minutes

Total Time:

54 minutes - 1 hour

Yield:

1

9-inch cake

1

x

Category:

dessert, cake, birthday

Cuisine:

dessert
---
For the Cake:
3 cups

(

375 grams

) all-purpose flour

2 teaspoons

baking powder

1 teaspoon

baking soda

1 teaspoon

kosher salt

1 1/2 teaspoon

ground cinnamon

3/4 teaspoon

ground ginger

1/2 teaspoon

fresh grated nutmeg

4

large eggs

1 cup

(

200 grams

) granulated sugar

1 cup

(

200 grams

) lightly packed light brown sugar

1 cup

vegetable oil

1 teaspoon

vanilla extract

3/4 cup

drained crushed pineapple

2 cups

(

260 grams

) finely grated peeled carrots
Optional:
1/4 cup

raisins

1/2 cup

finely chopped walnuts

1/2 cup

sweetened shredded coconut
For the Frosting:
2

blocks (16 ounces) cream cheese, very well softened

1/2 cup

unsalted butter, softened
Pinch of kosher salt

4 cups

(

480 grams

) powdered sugar, sifted if lumpy

1 teaspoon

vanilla extract
---
Instructions
Place a rack in the upper third of the oven and preheat oven to 350 degrees F. Grease three 9-inch round cake pans with butter, vegetable shortening, or nonstick baking spray. Line the bottom of the pans with a parchment paper round for extra security the cake will come out of the pan after it's baked. Lightly grease the paper too.
In a large bowl whisk together flour, baking powder, baking soda, salt, and spices. Set aside.
In a medium bowl, whisk the eggs to combine. Add the sugars and whisk to thick. Carefully whisk in the oil and vanilla followed by the pineapple and carrots.
Add the wet ingredients all at once to the dry ingredients and use a rubber spatula to fold together until well incorporated.  Add any of the optional ingredients you'd like like raisins, walnuts, and coconut.
Divide between the pans and bake until cooked through, 22-24 minutes.  You'll know the cake is done when a toothpick inserted in the center comes out with moist crumbs not wet batter. Allow to rest in the pan until the pans are cool enough to handle, about 15 minutes. Invert onto wire racks to cool completely.
While the cakes cool, make the frosting. In the bowl of a stand mixer or in a large bowl with electric hand beaters, beat cream cheese around the bowl to soften and smooth. Add the softened butter and beat the two until well incorporated. Add the salt, powdered sugar and vanilla extract and beat to smooth and thick.
To assemble the cake, use a serrated knife to cut a thing layer off the top of any uneven cake layers. This may not be necessary. Place the first cake layer on a serving platter, cake stand, or round cardboard top side down. Top with a thick layer of frosting. Repeat with the remaining one or two layers of cake. Spread remaining frosting across the sides. Refrigerate the cake for 20 minutes to allow the frosting to chill before frosting again to completely cover the sides if you'd like. Refrigerate the cake for an hour before serving. Cake is best served cold.
Store any leftovers wrapped in the refrigerator for up to 5 days.
---
Notes
This cake batter can also be baked in a 9×13-inch cake pan for 30-36 minutes.*
This cake batter can also be baked in a 12-cup bundt pan for 50-60 minutes (maybe more). *
When experimenting with different baking pans, don't fill the batter more than 3/4 of the way up the pan, leaving room for the cake to rise without it spilling over the sides during baking.
Photos with Jon Melendez!