I want the best for you, and that sentiment extends all the way to your birthday cake.  Growing up, my favorite birthday cake was a boxed cake mix – Funfetti Cake. For all the homemade baked wonders my family produced there was literally nothing better than that sweet, slightly metallic tasting, rainbow sheet cake.  Now that we know better we can do better with this big ol', rainbow- speckled BUNDT.
This cake is actually a secret weapon passed down from my grandmother. It's a grandmother style pound cake  (you know all our grandmother's had the same pound cake recipe, right?) that I can turn into absolutely anything. See: Gingerbread Swirl Cake. The secret to this cake is the shortening (yea… for real) that keeps the cake moist and tender for days.  This cake is super versatile and can even stand a little over-baking in the oven and still be great.
I'll very quickly be adding this to the growing list of My 12 Best Birthday Cake Recipes, now let's get baking!
Here's the ingredients you'll need for this Funfetti Birthday Bundt Cake from scratch:
•  all-purpose flour
•  granulated sugar
•  kosher salt
•  baking powder
•  vegetable shortening and unsalted butter
•  large eggs – we'll use the whole egg, not separating the egg yolks from egg whites.
•  vanilla extract
• a tiny splash of almond extract is optional but encouraged
•  whole milk or buttermilk
•  sprinkles or jimmies
•  food coloring – I chose pink but yellow, lavender and baby blue are also sweet!
In a medium bowl whisk together the dry ingredients.  We want our flour, baking soda, and salt evenly combined.
You can use either a stand mixer with paddle attachment or electric beaters to whip the batter together. An electric mixer of some sort is going to be instrumental in aerating the batter.
In a large bowl cream together shortening, sugar and butter until pale and fluffy – about 5 minutes.
Add room temperature eggs, one at a time.
Whip the batter for one minute after each egg is added.  We're counting on aerating the eggs into the dough to help create a soft and tender batter.
After each egg is incorporated, whip in the vanilla extract (and that splash of almond extract if you're keen).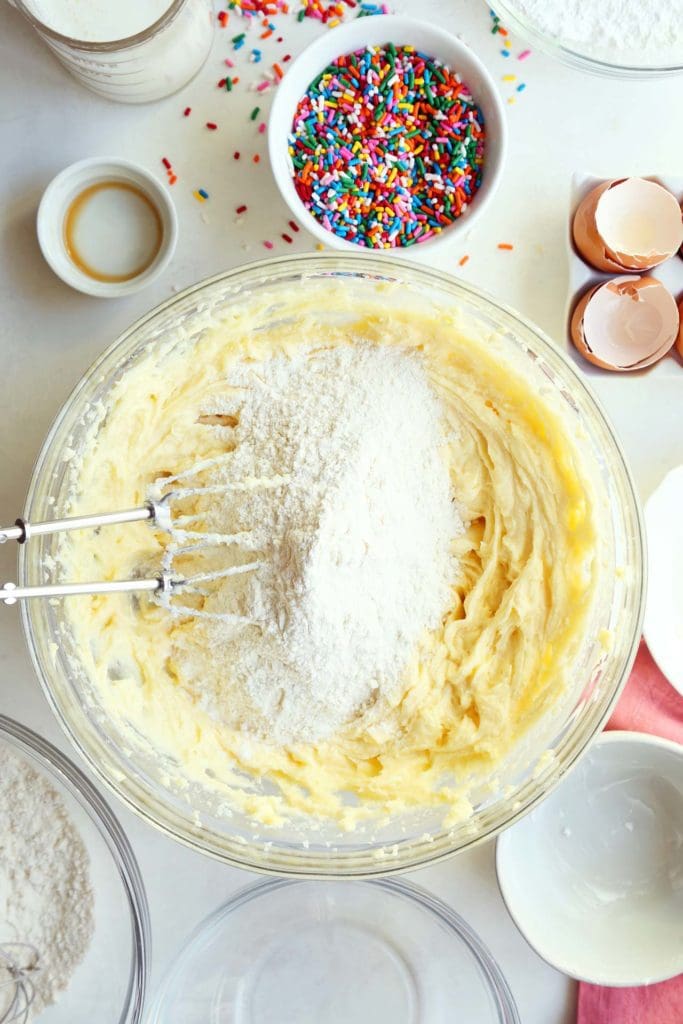 Add the flour mixture to butter and egg mixture, alternating with milk.
Stop the mixer and be sure to scrape the bottom of the bowl to thoroughly mix any wet or dry patches that might be hiding down there.
The end result is a thick, nearly pourable, golden and silky smooth vanilla cake batter.  I like to whip the batter for just a minute on high speed to ensure that the batter is well fluffed.
Now it's time to add the FUN to our funfetti confetti cake!
I like to tint 1/3 of the cake batter with food coloring. Stir a few drops of food coloring into a small portion of the batter and fold rainbow sprinkles into everything.  
Let's talk about our cake pan.  I recommend a 12-cup or 10-cup bundt pan (Nordic Ware pans are the absolute best!)
To be honest, this isn't my favorite layer cake recipe – it's a sturdy pound cake and makes for an overwhelming layer cake.
Grease the bundt pan well with vegetable shortening and a dusting of flour OR a generous spray on non-stick baking spray.  Dollop the batters into the pan, alternating with the colored batter.  Use a butterknife to swirl the batters together.
Bake the cake in the middle of the oven, letting it bake undisturbed for the first 30-35 minutes of baking.  Later in its baking time you can rotate the cake if need be.
This is a long-bake cake.  It could take up to an hour in the oven (sometimes a few minutes more).  You'll know the cake is done when a toothpick inserted in the top of the cake comes out with just a few moist crumbs, not wet cake batter.
The texture of this white cake is tender but dense.  It's both light and sturdy.  She's a little wonder of a pound cake. Our grandmother's were correct, as if there were any real doubt.
Allow the cake to cool completely on a wire rack.  Add a vanilla buttercream or quick glaze for an even more festive cake.
The flavor is sweet and mild. The sprinkles make the cake taste like FUN – and that's just facts.  This cake pairs well with birthday candles and your favorite ice cream (strawberry ice cream for me, please).
See recipe instructions below to turn this cake batter into other cake shapes: loaf cake, cupcakes, or a sheet cake.  
Cover any leftovers with plastic wrap but leave the knife on the cake plate – this is a cake to sneak slices from.
If you make this funfetti cake recipe please rate and comment below!  Leave any baking questions you have about this cake in the comments below and I'll do my best to answer them!
Print
Funfetti Birthday Bundt Cake
Author:

Prep Time:

20 minutes

Cook Time:

60 minutes +

Total Time:

1 hour 20 minutes

Yield:

1

10-cup bundt cake

1

x

Category:

birthday, cake, dessert
---
Description
A bundt-sized swirled and sprinkled birthday cake!
---
3 cups

(

375 grams

) all-purpose flour, plus more for dusting the pan

1 teaspoon

kosher salt

3/4 teaspoon

baking powder

2

sticks (8 ounces/226 grams) unsalted butter, well softened

½ cup

(

93 grams

) vegetable shortening, plus more for greasing the pan

2 1/2 cups

(

500 grams

) granulated sugar

5

large eggs, at room temperature

2 teaspoons

vanilla extract
a splash of almond extract, optional

1 cup

whole milk, at room temperature

3/4 cup

sprinkles (jimmies), plus more for topping
Pink food coloring, or any color you'd like

1 1/2 cups

powdered sugar + whole milk for a thick glaze
---
Instructions
Preheat the oven to 350 degrees; position the rack in the center of the oven.
Thoroughly spray one 10 or 12-cup bundt pan and set aside.
In a medium bowl thoroughly whisk together the flour, salt and baking powder.
Place the shortening in the bowl of a stand mixer fitted with a paddle attachment or place in a large bowl and, using an electric hand mixer, beat the shortening until softened and spread around. Add the butter and sugars and beat together on low speed until the mixture looks fluffy,  3 to 5 minutes. Increase the speed to medium and beat the ingredients until well combined, 1 minutes more.
With the mixer running, add the eggs, one at a time, beating for 1 minute between each addition. After the last egg, the batter may look slightly curdled. That's ok!
Beat in the vanilla extract (and almond extract if using).
Add half of the dry ingredients to the butter and egg mixture. Beat on low speed until just combined and a few flour streaks remain. With the mixer motor running, add milk and beat until just combined. Add the remaining flour and beat until combined. Using a silicone spatula, scoop batter from the bottom and sides of the bowl to the top for any hidden pockets of flour. Beat on medium speed for 1 minute. Transfer 1/3 of the batter to a small dough and add pink food coloring. Stir until the desired color of pink. Stir in the sprinkles to both batters.
Spoon the batter into the prepared pan, alternating with the pink batter. Smooth the top and swirl lightly lightly with a butter knife.
Bake for 1 hour to 1 hour 8 minutes.  Bake until the cake is golden brown, has risen, and cracked across the top. Insert a toothpick to test the doneness of the cake; it should come out clean or with a few moist crumbs. If not, bake the cake for 5 more minutes and test again.
Let the cake cool in the pan on a wire rack for 20 minutes. Gently invert the cake on a wire rack to cool completely. For a quick glaze whisk together 1 ½ cups of powdered sugar a splash of milk until smooth and thick. Add pink food coloring if desired. Drizzle over cooled cake and sprinkle with jimmies. Store, wrapped well at room temperature for up to 5 days.
---
Notes
This cake batter also bakes into:
about 24 cupcakes, bake for 18-22 minutes
2 – 9×5-inch loaf pans, bake for 40-50 minutes
1 – 9×13-inch cake, bake for 26-30 minutes
When baking in an alternate baking pan, be sure not to fill the pan more that 3/4 of the way full. Keep an eye on the baking times as to not overbake.