I love a recipe that comes as folklore.  Legendary with a sprinkle of drama.  A great story even if it's only half true.   My favorite are the recipes that, as legend would have it, are SO GOOD they'll inspire a marriage proposal.  Has a chicken alone ever carried so much weight?  This is likely how our favorite Aunt Ina bagged our favorite Uncle Jeffrey, with a roasted chicken,  good quality olive oils and tomatoes picked from the garden, amen amen. I can humbly say that if marriage proposals were based on chicken alone you'd best believe I'd be knockin' down men on their knees a few times a week.  Maybe it's not just one great dish that inspires the knee, but a hot simmering dinner pot and all the love therein, seals the deal.  Ahead of Valentine's Day, friends:  Marry Me Chicken.
Full disclosure, this might be a TikTok recipe though it's certainly not a TikTok concept. I made a few essential changes to this commitment chicken. I opted for boneless skinless chicken thighs, roasted tomatoes instead of sun-dried tomatoes, I added olives, and doubled the amount of sauce in order to serve the dish over rice or pasta and not be stingy.  Stingy is not sexy – that's what we know.
My hope is that you pull this one-pot wonder out of the oven this Valentine's weekend.  Do it for just you.  Do it for someone you love, whatever your chosen level of commitment.  It's lowkey legendary.
Here are the ingredients you'll need for this Marry Me Chicken recipe:
•  chicken thighs or chicken breast, just try to avoid large chicken breasts (slice them to make them thinner)
•  olive oil
•  3 cloves garlic, minced
•  heavy cream
•  a splash or red or white wine, optional
•  chicken broth
•  kosher salt and fresh cracked black pepper
•  red pepper flakes
•  dried oregano or thyme
•  fresh basil or fresh parsley to top
We'll start this recipe in large oven-safe skillet or pan.  This dish goes from oven to stovetop, and back to the oven.  I used a 10-inch enameled large cast iron skillet.
Add cherry tomatoes (mostly halved) to a large skillet.  Drizzle with olive oil and sprinkle with salt and pepper.  We'll roast the tomatoes until the burst and sizzling.
This Marry Me Chicken recipe originally calls for sun-dried tomatoes.  I've been hard pressed to find a sun-dried tomato that I enjoy but it's possible that I was just forced to eat too many of them in the 90's and I don't care for them anymore.  If you prefer sun-dried tomatoes, you can skip this whole tomato roasting step and simply add finely chopped sundried tomatoes to the cream sauce.
After the tomatoes roast, remove the pan from the oven.  Remove the tomatoes from the pan and (without washing the pan), we'll sear the chicken pieces.
*NOTE!  I do not want you to burn your hand!
Taking a skillet from the oven to the stovetop is a sure fire way to forget the handle is OVEN HOT and thoughtlessly reach for it.  I've done this more times than I'd like to admit.  KEEP A TOWEL OR POTHOLDER OVER THE SKILLET HANDLE. Just do it even if you think you'll remember that the handle is a scorcher, please.
Generously season chicken thighs or chicken breasts with salt and fresh cracked black pepper.
Heat oil in the skillet and sear the chicken pieces, in batches, over medium-high heat on both sides.
One trick to properly searing chicken: don't fuss with the chicken pieces for several minutes as it sears.  You really want to leave the meat alone to let it caramelize and brown.  The meat will stick to the pan as it sears but will become easier to loosen and flip once it's seared to a crusted golden brown.
Remove the seared chicken pieces from the skillet.  We're not expecting the chicken to be completely cooked through – just browned well. The pan should have all sorts of crusty browned bits stuck to the bottom.  That's perfect.  That's delicious.
Add a tiny splash more oil (only if you need it), reduce the heat under the pan, wait a few moments for the pan to cool a bit, and quick stir in the garlic. Stir constantly for 1 minute to soften the garlic without burning it. Add the oregano and red pepper flakes.
Now it's time to feel like a fancy chef and deglaze the pan.  Stir in the wine, scraping the bottom of the pan as the wine cooks down.  Add the cup of chicken broth and roasted tomatoes.
Add a scant cup chicken broth (I prefer low sodium here) along with the heavy cream and bring to a simmer over medium heat.
Just as the sauce begins to simmer, return chicken pieces to the pan.
Nestle the chicken pieces in a single layer in the pan, cozy in the sauce. Almost like you're tucking them in to bed.
Place the pan, uncovered, into a 375 degree oven to bake for 20 minutes. The chicken will cook through and tenderize and the sauce will bubble and thicken just slightly.  It's perfect, really.
After a 20 minute bake, remove the chicken from the oven and AGAIN!! Keep a pot holder or towel around the handle of the pan. It's all too easy to forget that handle is scorching hot! 
If you'd like to thicken the sauce, transfer chicken to a plate, place the pot on the stovetop over medium heat and stir in a slurry of cornstarch or a potato starch paste.  Let simmer to thicken for just a few minutes, turn off the heat and slide the chicken back into the pan.
Garnish this chicken dish with chopped fresh parsley and torn green olives for a zippy bright bite.  Parmesan cheese is also nice!
Serve Marry Me Chicken with rice or pasta, couscous or roasted potatoes.  Choose your starch.  I also like it with a side of roasted green beans, or blanched broccoli or asparagus.
It's a perfect dinner busy weeknights and any leftovers can be stored in an airtight container in the fridge for midnight snacking.
Print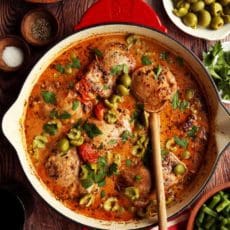 One-Pot Marry Me Chicken
Author:

Prep Time:

20 minutes

Cook Time:

20 minutes

Total Time:

40 minutes

Yield:

Serves

2

with lefotvers or

4

without leftovers

1

x

Category:

dinner
---
Description
A creamy, salty, saucy chicken dinner made with chicken thighs or chicken breast. Serve with rice, pasta, or potatoes – it's DELICIOUS! Just… please don't burn your hand.
---
2 tablespoon

olive oil, plus a little more
A pint of cherry tomatoes (or a few less), most of them cut in half
Sea salt and fresh cracked black pepper, a few times throughout the recipe

2

pounds boneless skinless chicken thighs

3

cloves minced garlic

2 teaspoons

dried oregano (fresh and chopped is also nice if you have it)

1 teaspoon

crushed red pepper flakes
A splash (3 tablespoons or so) red or white wine, (water or chicken stock if you don't want the booze)

1 cup

chicken stock

3/4 cup

heavy cream
Optional to thicken the sauce: 2 teaspoons cornstarch or potato starch + 1 tablespoon water
Caselveltrano olives, torn in half to garnish (or regular green olives or capers)
Fresh parsley, torn to garnish
---
Instructions
Place a rack in the upper third of the oven and preheat oven to 400 degrees F. Grab a large 12-inch skillet that can go from the stovetop to the oven. If you don't have a big skillet a big oven-friendly pot will also work!
Place tomato halves in the skillet and drizzle with two tablespoons olive oil. Add a few pinches of salt and pepper and toss it all together to combine. Place in the oven to roast for 15-20 minutes, stirring once. Roast until the tomatoes have sizzled off some of their water and begin to brown slightly. Remove from the skillet from the oven and reduce the oven temperature to 375 degrees F. Tansfer all of the tomatoes to a small bowl. We'll incorporate them later. *** Leave a pot holder or towel on the skillet handle so you don't forget it's OVEN HOT and reach for it bare handed. Trust me on this one!
While the tomatoes roast, season the chicken on both sides with salt and pepper.
Sear the chicken in the same pan the tomatoes roasted in (no need to clean it). Add an additional few tablespoons of olive oil to the pan and place over medium-high heat. Sear the chicken (I had to do this in two batches) until golden brown on both sides. Don't worry about cooking the chicken all the way through. It will spend more time in the oven to cook through and tenderize. Place the seared chicken in a bowl or plate with a lip and set aside.
Reduce the heat to low. By this time there should be some nice browned bits across the pan. That's fantastic. That's flavor! Add chopped garlic to the pan and stir constantly around the pan for 1 minute. Stir in the oregano and red pepper flakes. Return the tomatoes to the pan along with a splash of wine, water, or stock. Use a wooden spoon to scrape all those browned bits off the bottom of the pan as the wine cooks off.
Stir in chicken stock and heavy cream and bring to a low simmer.
Return the chicken pieces to the pan, nestling them in the sauce. Place the skillet in the oven and bake for 18-20 minutes.
Remove from the oven (keep that pot holder on the handle!). If you'd like to thicken the sauce here's what you do. Remove the cooked chicken pieces to a clean plate. In a small bowl whisk together cornstarch or potato starch and water and whisk it into the hot sauce in the skillet. If the sauce doesn't thicken, place it over a low burner and whisk until thick, just a few minutes.
Return the chicken to the sauce and top with torn olives and fresh parsley.
Serve over rice, pasta, couscous or potatoes. Serve next to roasted green beans. It's up to you!
---