I had a few guests in town for Mardi Gras a few weeks back and I wouldn't be me if I didn't have a fridge packed with prepared food and snacks JUST IN CASE someone should so much as thiiiiiink they might be hungry.  Feeding you is my love language and if I can't feed you directly, then willing you to feed yourself with my recipes is my other love language.  Today: a quiche recipe. Not just any quiche recipe (because why would we bother with that around here?) but a double carb, extra creamy quiche made with roasted potatoes and leeks that is perfect for brunch, dinner, and that noshy place in between.
My Mardi Gras houseguests wondered how I made my quiche custard so creamy. There is a secret, but I'm not much at keeping them.  The secret: heavy cream.  There's no way around it. Heavy cream makes the best quiche and yes, you can certainly make a less good quiche with whole milk but just know that good good sweet spot is when we reach for that cream.
I've played with quiche more than a few times here.  The early days saw this Quiche Lorraine made with a puff pastry crust.  I went wild and made a Supreme Pizza Quiche a few years back.  And in the category of crustless quiche, the best news I have for you is this Sausage Cheddar and Grits variety that is also a frittata… because that's what crustless quiche is.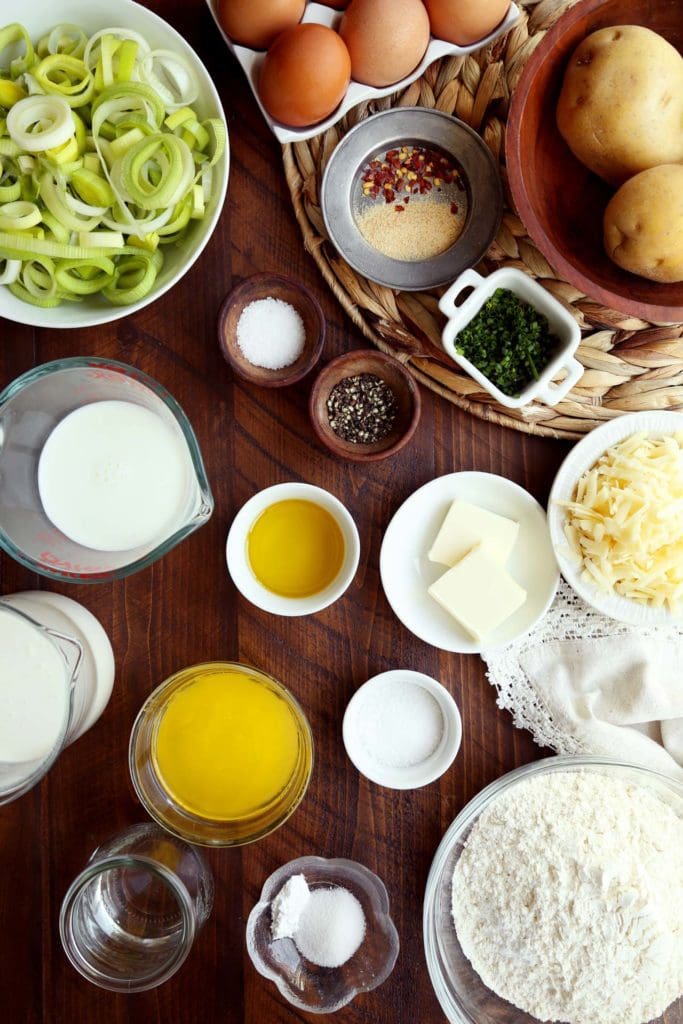 Here are the ingredients you'll need for this Potato Leek Quiche recipe:
•  all-purpose flour, granulated sugar, salt, and baking powder for the crust. If you'd like to make a gluten-free quiche, I have your pie dough recipe right here: GF Asparagus Quiche.
•  cold water and olive oil or melted butter for the crust.  Either fat is delicious thought you cold also use ghee or coconut oil as you'd like.
•  potatoes – I especially like Yukon Gold potatoes for their thin skin and how they roast and bake to a creamy starch texture.
•  a bunch of leeks – trimmed, rinsed, and sliced thin.  I use the tender whites and light greens of the leek.
•  whole milk and heavy cream – the heavy cream really makes all the difference.
•  large eggs
•  garlic powder, salt, and crushed red pepper flakes
•  gruyere cheese or goat cheese
•  chives or green onions
Other ingredient add-ins:
Say you don't much care for roasted potatoes and sautéed leeks aren't your jam, here some ingredients you can add to your quiche custard to make a quiche that pleases you.
•  crisp cooked bacon cut into bits •  cubed ham  •  crisp cooked and crumbled Italian sausage  •  roasted tomatoes  •  sautéed mushrooms  •  cheddar cheese (I like a white cheddar personally) •  sautéed bell pepper (it's nice to cook some of the liquid out)  blanched and salted asparagus  •  blanched and salted broccoli •  swiss cheese  •
Let's start this quiche recipe by mixing together the no-roll pie crust.
If the mere thought of rolling out a pie crusts intimidates or exhausts you – this is the pie crust for you.  I hesitate to say it's fool proof because we are no fools… but it is very easy, approachable, and delicious!
In a medium bowl or large bowl, whisk together flour, salt, sugar, and baking powder.  Create a well in the center of the dry ingredients and add cold water and melted butter (or olive oil).  Stir the wet into the dry to create a shaggy dough.
Transfer that shaggy dough to a standard 9-inch pie dish and use your fingers to press the dough into an even layer along the bottom and sides of the pie plate.  Use the bottom of a measuring cup to press the crust onto the bottom of the pie dish to create a smooth surface.
If your pie dish is larger than a 9-inch standard pie pan, see the note in the recipe below.  You'll want more pie crust.
I had enough pie crust dough to create a 1/4-inch pie crust that was flush with the pie dish. If your pie dish is slightly smaller you'll have enough crust to create a pinched border.  Both are great!
Set the pie crust in the refrigerator to chill while you roast the potatoes and assemble the quiche filling.
Start by roasting the potatoes.
I like to roast the potatoes before the go into the quiche filling to ensure that they're super tender when they meet my fork on the plate.  Also – roasting the potatoes is a great opportunity to add flavor.
Coat the thickly sliced new potatoes  in olive oil, salt, fresh cracked black pepper and a good sprinkle of smoky paprika.  Roast until golden brown and softened.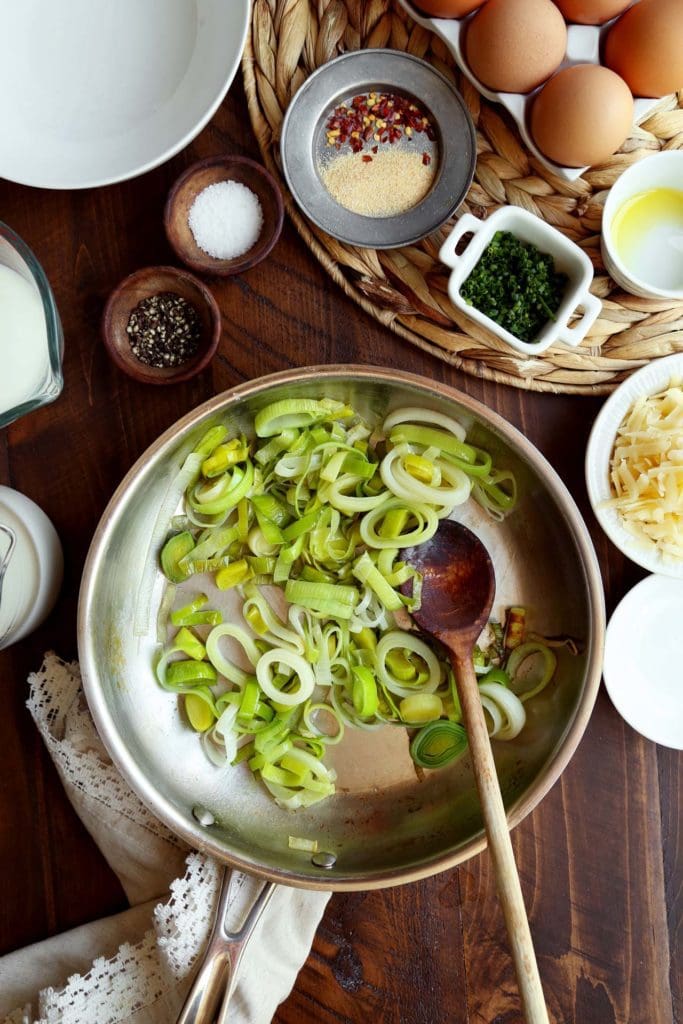 While the potatoes roast, rinse and slice the leeks.  I like the use the tender white and pale green ends of the leeks.  The more fibrous dark green bits of the leek I stash in a bag in the freezer for chicken or vegetable stock.
Saute the sliced leeks in a skillet until softened and fragrant.
Layer softened leeks and roasted potato slices into the prepared pie crust.  This is getting delicious, right!?
In a large liquid measuring cup (or medium bowl) whisk together the quiche custard ingredients: eggs, heavy cream, whole milk, garlic powder, salt and red pepper flakes.
I love gruyere cheese on this quiche but goat cheese or white cheddar is also lovely in the egg mixture.
Fill the unbaked quiche crust, leaving about 1/2-inch of the crust revealed.  We'll use our steadiest hands to transfer the quiche to the oven.
PRO TIP: Preheat the oven with a rimmed baking sheet inside the oven. Place the quiche atop the hot baking sheet to bake in case there are any spills.
Now here's the tricky bit –
How do you know when your quiche is done baking?
You'll know your quiche is oven set when it's golden brown and slightly puffed across the top.  Quiches usually puff and rise from the outside towards the inside.  You might peek in the oven and see a rise on the outside of the quiche and a valley towards the center. That typically means the center is not yet set and the quiche recipe needs more time in the oven. A quiche is done baking when it's evenly puffed across the surface and a jiggle of the pan creates a solid Jell-O like jiggle and NOT a wave-like motion.  A wave jiggle means the quiche needs more time.
The quiche will continue to set and settle as it cools outside of the oven and is best served after it's been allowed to rest for 20-30 minutes or overnight in the refrigerator.
Top with fresh herbs and serve with a fresh green salad.
Print
Potato Leek Quiche with No-Roll Crust
Author:

Prep Time:

45 minutes

Cook Time:

45 minutes

Total Time:

1 hour 30 minutes

Yield:

1

9-inch quiche

1

x

Category:

breakfast, brunch
---
Description
A deliciously decadent quiche made in an easy no-roll pie crust.
---
*For the Crust: see note below if you're using a pie dish larger or deeper than the standard 9-inch pie plate
2 cups

(

256 grams

) all-purpose flour

3/4 teaspoon

kosher salt

1 teaspoon

granulated sugar

1/2 teaspoon

baking powder

7 tablespoons

melted butter or olive oil

1/4 cup

cold water
For the Filling:
2 tablespoons

unsalted butter

2

leeks, trimmed, rinsed and thinly sliced (about

1 1/2 cups

) (fibrous green parts saved for stock)

3

–

4

small Yukon gold potatoes, sliced 1/2 inch thick

2 tablespoon

olive oil
Pinch of salt and a few grinds of fresh cracked black pepper or a sprinkle of smoky paprika

6

large eggs

1 cup

heavy cream

1/2 cup

whole milk

1/4 teaspoon

garlic powder

1/2 teaspoon

kosher salt
Pinch of crushed red pepper flakes

3/4 cup

grated gruyere cheese or goat cheese crumbles
A few tablespoons finely chopped chives for serving
---
Instructions
To make the crust, in a medium bowl whisk together flour salt, sugar, and baking powder. In a small bowl whisk together melted butter or oil and water. Pour the wet ingredients into the dry and toss together with a fork until the dry ingredients are moistened. Transfer the shaggy mixture to the bottom of a standard 9-inch pie plate and press along the bottom and sides of the pan. Use the bottom of a metal measuring cup to create an even layer of pie crust mixture along the bottom of the pan. Press along the sides of the pan and use your fingers to pinch a scalloped pattern along the edge of the pan. Refrigerate until ready to fill.
To make the filling, place a rack in the upper third of the oven and preheat oven to 400 degrees F. Line with parchment paper. Add potato slices and toss with oil, salt and pepper or paprika. Roast until softened, about 20 minutes. Remove from the oven. Reduce oven temperature to 350 degrees F.
While the potatoes cook, melt butter in a medium skillet over medium heat. Add the thinly sliced leeks and cook until softened and almost translucent, about 5 minutes. Remove from heat and set aside.
In a medium bowl whisk together eggs, cream, milk, garlic powder, salt, and pepper.
To arrange quiche, remove the crust from the refrigerator. Arrange leeks and potatoes in an even layer across the crust. Sprinkle with cheese. Pour the egg custard over the ingredients. Place in the oven to bake for 45-55 minutes until golden and puffed across the entire quiche. When you jiggle the quiche it shouldn't shake in a wake like motion, it should shake more like jello.
Allow to cool and set for 20 minutes. Enjoy this quiche warm from the oven or chilled from the fridge. Sprinkle with chives and serve with salad.
Quiche will last for up to 4 days in the refrigerator.
---
Notes
*If you are baking in a larger pie dish, you'll want more crust dough to spread through the pan. Here's the recipe: 3 cups (384 grams) all-purpose flour, 1 teaspoon salt, 1 1/2 teaspoon granulated sugar, 3/4 teaspoon baking powder, 2/3 cup oil or melted butter, 7 tablespoons cold water.
Crust recipe adapted just slightly from King Arthur Flour.