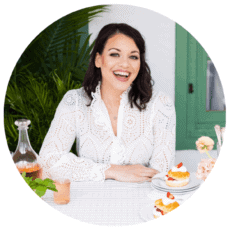 Friends, hello and welcome to your Sunday! It's me! Your old pal, Joy!  Look at us, sharing a Sunday.  It's my favorite!
I've been in New Orleans all week putting The Bakehouse back together to make it a rental during the times I'm in Houston.  It turns out, I really love living in Texas.  I feel in between so many things right now.  I'm in between Houston and New Orleans.  I'm in between moving personal things out of my New Orleans house and moving rental things into the houses.  I just feel like…. something different is next but I don't know exactly what that is.
I try to think back to other times in my life when I might have felt this nebulous uncertainty.  When I think way back, this precipice feeling always had a real anxiety around it.  Like… would it work out? Would what's next work at all?  Call it age and experience but, I don't have that anxiety these days.  Maybe I've earned the feeling that I can handle whatever is next. Maybe I'm just naive? Either way, I'll take it as it comes.
Here's our Sunday! As always, take only what you need (but def put on the Skymall playlist):
•  Our friend Amy shared this piece on  On Grief, Pizza, and the Power of Food to Evoke Memory by Adam Dalva and it's very heartfelt and earnest. Also, there is no such thing as bad pizza. (LitHub)
•  I have not been able to bring myself to watch the second season of And Just Like That because what they've done to Steve and Miranda alone is criminal.  But Who Is The Worst Man on Sex in the City? and why is the answer all of them? (Vanity Fair)
•  Have you listened to the podcast Scamanda? It's the classic tale of a scammer blogger with cancer.  Have you ever lied so much that you believe your own lies? Me neither.  (Spotify)
•  I've been feeling stuck in my own stuff all week but this playlist has my head in the clouds in the best way:  The Skymall Playlist (Spotify)
•  I peek into the  Cloud Appreciation Society for the cloud of the day.  It's a teeny tiny joy. (CloudAppreciationSociety)
•  We are creatures of shade and few things will highlight that better than 115 Degrees, Las Vegas Strip.  I loved this snapshot.   (Paris Review)
•  This week Karlee added the correct amount of too much maynnoaise to her Tomato Sandwich. (Joy the Baker)
•  Will and I are set to go live Camp Joy next week on our end of summer camping trip to Arkansas. There's a particular turn on the road into camp that I stalled on riding my motorcycle earlier this year and you know what? I'm gonna take that turn all the way up and around this time around.  Has this turn haunted me? Casually, yes.  Is this my Everest?  Also causally, yes. (Joy the Baker)
•  Speaking of camping (which, I do a lot of lately), here a list tof my favorite camp supplies from Camp Joy if you're in the market for a lil egg suitcase. (Joy the Baker)
•  Wait have you tried Joi Almond or Cashew Milk? Besides have a great name, it's the best way to make homemade almond and cashew milk if you don't have the patience to soak, blend, and strain nuts…. also, nuts are expensive y'all.  Think: blending nut butter with water and taaadaaa: nut milk! They also have Oat Milk Coffee Creamer Packets that I have packed for my camping trip with Will next weekend. (AddJoi)
•   I'll be joining the team at Alisal Ranch in the Santa Ynez Valley for their annual WILDWONDER™ women's retreat October 1-4! This is elite. I'll be cooking and horseback riding alongside chefs Jeanne Kelley and Claudette Zepeda! There's yoga and axe throwing and you can bet that I'm serving dinner in a cowboy hat in the arena on the final night.  It's luxuury and you can sign up to join us here !
•  I am embarrassed to say that I have yet to eat a peach this summer but I think I've just been waiting for homemade Peach Ice Cream. (TheKitchn)
•  I've been making a janky veggie dip all summer and I cannot get enough of it.  I mix whole milk Greek yogurt with a palmful of finely diced dill pickles and an entire package of Hidden Valley Ranch Dip powder.  Sometimes I add chopped chives or parsley but really that's gilding the lily.  I serve it with a platter full of celery sticks, sliced cucumber rounds and wavy potato chips.  Will and I will accidentally eat the entire bowl and call it dinner.  Really it's the MSG that makes this dip impossible to stop eating and I say all this to say…. don't make my janky dip, but rather, get into this Onion Dip deep dive with me because I'm about to level TF UP. (Food52)
•  I saw my dear friend Timothy this week.  We just order in and giggle it's honestly ridiculous.  BUT! Timothy put together his Vegan Guide to New Orleans that you should bookmark for your next trip, vegan or not! (Mississippi Vegan)
•  I've been reckoning with my craft-ambitious self this week while cleaning out my prop and craft closet and it's… a lot. But, not enough to deter me from taking on another craft. Am I going to make homemade bars of soap as holiday gifs this year?  I just can't help myself!   This is the easiest method and recipe I found after a very modest few minutes of googling, but if you're a soap maker, please point me in the right direction!  The older I get the more I understand the chaos of my mom's craft room.  Apparently it's hereditary. (Our Oily House)
Have a lovely Sunday, eat as many popsicles as you can.
My love to you.
xo Joy