I might have a problem.
I check the weather. I sometimes watch the news… just for the weather. I'm obsessed with the weather.
See… if it's raining then I can't go for a bike ride. If I can't go for a bike ride then I have to find some sort of other exercise to do to keep my crazy brain from going crazy. If I can't find another exercise to do then I just end up doing halfass yoga in my living room for like… three minutes, before I get bored. If I get bored then I start plucking my eyebrows and trying on random lipsticks in my medicine cabinet. If I try on too many lipsticks I walk around my house with lipstick somehow all over my, and I really hate when that happens.
… Then the day is over and all I have to show for it is smeared lipstick on my face, the wine I'm drinking in despair, my cat, and episodes of Top Chef and Teen Mom 2. See what I'm dealing with here?
I checked the weather for tomorrow. The weather icons show a sun (promising), clouds (uh-oh), rain drops (craptown) and a thunderbolt (oh, come on!). Seriously?! Who is in charge here?
What am I supposed to do with that!? LipstickWineCatlady is soooo not a good look for me.
One of the other things I do on rainy days (besides being a crazy cat lady) is make cookies.
Let's be honest… I make cookies almost every day. I need no excuse or water from the sky.
These are just like chocolate chip cookies with white chocolate and spiked with instant espresso powder. Are you with me?
Do you use instant espresso powder? I love it in baking. Instant espresso powder really kicks up the flavor in a chocolate recipe and it's a great way to sneak in a coffee flavor without crunching down on ground coffee beans. The finer the instant espresso powder is the easier it will dissolve into the cookies. I used a slightly chunkier instant powder and so my cookies had tiny bits of coffee. I loved it. Close your eyes and pretend that the white chocolate chunks are the cream in your cappuccino. Yea. Good.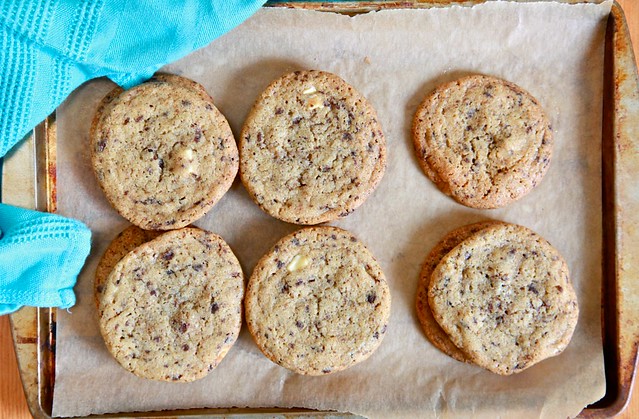 Cappuccino Cookies
Makes: about 2 dozen cookies
1 cup (2 sticks) unsalted butter, softened
3/4 cup brown sugar
3/4 cup granulated sugar
1 large egg
1 large egg yolk
2 teaspoons pure vanilla extract
2 1/4 cup all-purpose flour
1 teaspoon baking soda
1 teaspoon salt
3 tablespoons instant espresso or coffee powder
1 cup white chocolate chunks
Place racks in the center and upper third of the oven and line two baking sheets with parchment paper. Set aside and we'll preheat the oven after we chill the dough.
In a medium bowl, whisk together flour, baking soda, salt and instant espresso powder.
In the bowl of a stand mixer fit with a paddle attachment, beat together butter and sugars until light and fluffy, about 3 to 5 minutes. Stop the mixer and scrape down the butter mixture with a spatula. Add the egg and egg yolk and beat on medium speed until mixture is fluffy, about 1 to 2 minutes. Beat in the vanilla extract. Stop the mixer and add the dry ingredients, all at once to the butter mixture. Beat on low speed until just combined. Stop the mixer, add the chocolate chunks and fold together with a spatula until well combined. Cover the dough with plastic wrap and refrigerate for about 45 minutes.
Just before you're ready to bake the cookies, preheat the oven to 350 degrees F.
Scoop cookie dough by the heaping tablespoonful onto the prepared baking pans. Bake for about 12 minutes, until lightly browned around the edges. Remove from the oven, allow to cool on the baking sheet for about 10 minutes, then remove to a wire rack to cool completely. Store cookies in an airtight container. Cookies will last several days. They're yummy.