Today I was totally successful at inspiring frustration and anger in at least several people. At least several. Ooooh my goodness. Have you ever had one of these days?  It's the kind of day when you think the world (or at least all of the people around you) have gone mad, only to realize that you are the common denominator… meaning that you, in fact, are the common jerk?  I'm completely talking about myself here. You are a kind and lovely person who never loses yourself to angrybears. I am not always as kind… and that's why you inspire me.
Since I was in a crunchy attitude, I made the appropriate cookies.  These biscotti are crunchy and sweet… and I guarantee that, when served with a bitter cup of black coffee,  they inspire an attitude adjustment.  They help flip the switch.  Yes… I use food to adjust my feelings.  Welcome to my real life living.
I'd like to now entice you to make candied pecans.  This can go one of two ways.  You may want to attack me with a happy bear hug… or you may want to kick me in the shin.  These nuts are so good, they usually inspire a dramatic response.
Raw pecans are coated in a sweet and spicy egg white glaze.
It's a drippy business.
Candied pecans are crusty, sweet, and crunchy gems.
We're going to bake up two cups of pecans, but only add about 1 1/2 cups into the biscotti dough.
You see what we did there?  That leaves us 1/2 cup for snacking!
This is a 'know thyself' situation…
Biscotti dough is simple and spiced.
Cinnamon and nutmeg will do the trick.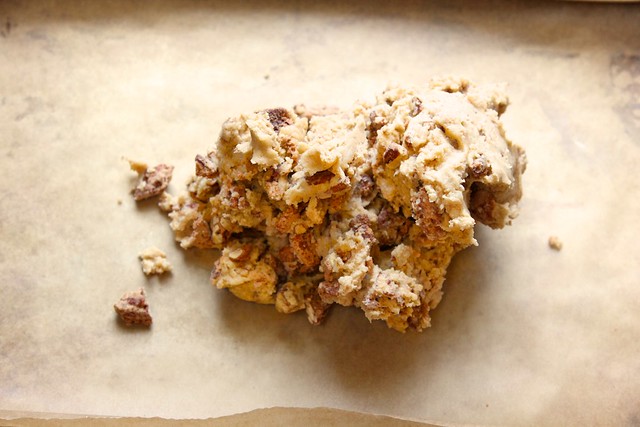 Biscotti dough is tenderly moist, but not overly wet.
Could this dough get any nuttier?  It's a good thing you snacked so hard.
Biscotti dough is shaped into a perfect and flawless rectangular log of dough.
… or you could just press it into a haphazard rectangle with finger marks all over it, and call it a ready.
Here is where biscotti magic begins.
The slicing of the cooked and slightly cooled dough.
Here we have a choice.  Flip and double bake the biscotti for a crispy cookie (perfect in you've got a crunchy attitude), or single bake them and leave the cookies soft and tender.
 Pecan studded and sweetly spiced.  These cookies are dry and hard to the tooth.  They do well with a good dip into black coffee.  The toasted pecan flavor makes them alluringly sweet with the candy coating.  Consider these crunchy (attitude adjusting) dipping cookies.
Candied Pecan Biscotti
makes about 2 dozen biscotti
2 cups flour
3/4  teaspoon ground cinnamon
1/2 teaspoon freshly ground nutmeg
1 teaspoon baking powder
1/2 teaspoon salt
1 cup granulated sugar
6 Tablespoons (3/4 stick) unsalted butter, at room temperature
1 egg
1 egg yolk
1 teaspoon vanilla
For Pecans:
1 large egg white
1/2 cup granulated sugar
1 teaspoon ground cinnamon
1 teaspoon freshly ground nutmeg
1/2 teaspoon salt
1/8 teaspoon ground cayenne pepper
2 cups raw pecan halves
Start by making the pecans.  Place a rack in the upper third of the oven and preheat oven to 300 degrees F.  Line a baking sheet with parchment paper and set aside.
In a medium bowl, whisk egg white until the whites have foamed into small white bubbles. Add sugar, spices, and salt.  Whisk until thick and opaque. Add pecans and toss to coat. Once thoroughly coated, spoon pecans onto prepared baking sheet. Leave any extra coating in the bowl.
Bake for 30 to 35 minutes, or until nuts are fragrant and toasted golden brown. Remove from oven and allow to cool completely before chopping and incorporating into biscotti batter.
To make the Biscotti:
Preheat oven to 325 degrees F and arrange two baking racks in the upper portion of the oven. Line two baking sheets with parchment paper and set aside.
In a medium bowl, whisk together flour, cinnamon, nutmeg, baking powder and salt.  Set aside.
In the bowl of a stand mixer, fit with a paddle attachment, cream the butter and sugar until light and fluffy, about 4 minutes. Scrape down the down and beat in the egg followed by the egg yolk.  Beat in the vanilla extract.
Add the dry ingredients to the creamed butter all at once. With the mixer or just with a spatula, bring all of the ingredients together until a somewhat stiff dough is formed. Fold in 1 1/2 cups chopped pecans.
Divide the dough in two on the two making sheets. Shape each half of dough into a 9-inch long and 1 1/2-inch wide log. Bake the two sheets on two different racks in the oven for 20 minutes.  Rotate the cookie sheets for even baking and bake for 20-25 more minutes until golden and firm to the touch.
Remove from the oven but keep the oven on.  Let biscotti cool until able to handle.  Using a serrated knife, cut logs into 1/2-inch wide diagonal slices.  Place biscotti cut side down on baking sheet and sprinkle with more cinnamon sugar.  Bake again until pale golden, about 10-15 minutes.
Store in an airtight container for up to one week.