I'd like to introduce you to the best thing I've ever eaten.  It's buttery, nutty, ocean salty, and comes from a place in Portland, Maine.  What follows might be considered a photographic love letter to the people and places I encountered in Maine.  I just feel so lucky to be able to recreate a piece of my memories at home, in my kitchen.
The people at Fore Street restaurant make magic (and mussels) come out of this kitchen space.  The restaurant feels like you're sitting in someone's home… with a bunch of strangers, wine, and amazing food (and you don't have to help with the dishes).  If I had a list of favorite restaurants around the country, Fore Street would top the list.  It tastes like home, elevated to its highest level.
My meal there certainly elevated my home kitchen, because I took their famous mussels and made them in my home kitchen.  Then I sat on the couch, with wine and bread and a ridiculous amount of napkins… and more bread.
Before we head to mussel-land, there's more I want to tell you about Maine.  I've said it before and I'll say it again:  Maine is special.  Inspiration falls from the sky and grows from the ground.
Gosh Portland, Maine… for a second you had me thinking your were Austin, Texas.
I think it was the surprisingly warm night air, the hospitality of Cheryl Lewis at El Rayo, the unapologetic use of the color orange, and the goat meat tacos.
Anyone who hands me a margarita (especially a well garnished margarita) is a friend (and I mean a gooood friend) of mine.
El Rayo Taquiera, Portland Maine.  It's bright, colorful, fun, inspired by tequila and tacos.
Abigail Carroll of Nonesuch Oysters taught me about spat (teeny tiny baby oysters) and some of her new oyster growing techniques.  She also insisted I taste a pale green oyster that tasted exactly like a copper penny.  Amazing.  (You can read more about Nonesuch Oysters in Sweet Paul Magazine ((super rad!)).)
Standard Baking Company is serious.  They make the bread that Fore Street serves with their buttery mussels.  The dipping of their bread in these mussels was be-yond!
Behind the scenes of Standard Bakery Company there are hard-working, morning people, and lots and lots of pans and flour and bench scrapers.
Their morning buns take two days to make!  When they're made, they're made for serious.  These are huge ropes of rolls.
I got to meet Peggy of Jordan Farms.  We walked around talking about eggplant and admiring cucumbers.
You know… totally normal.
At Jordan's Farm is a tiny restaurant called The Well.  They serve dinner, five nights a week, in these enclosed gazebos in the middle of the farm.  It's entirely too charming.  Jason, the chef and owner knows how to make simple food sing.  Most restaurants boast about being farm to table, but The Well is literally farm.to.table… because the table is actually on the farm.
Jason made Maine Wild Blueberry Cobbler and I'm so glad this has happened for me once in my life.
Broadturn Farm, run by Stacy Brenner and John Bliss is a hard-working farm.  It's home to a produce and flower CSA, weddings and events, and Flora Bliss,
I've never been to a working flower farm, and Broadturn felt intentional, yet wild and real.
Stacy helped me realize something about Maine.
Maine is beautiful, unique, totally special, a place that I would daydream about living in the picture perfect summer months.  It's possible to create the life you want for yourself in Maine.  It's possible to have a dream about nurturing land, building a barn, and growing a family that know how to milk goats and tend to chickens in a coup.  But making that dream a reality is a journey… a really tough journey every year that you decide to continue living your dream.
That's not to say that we can't make our dreams real in Los Angeles or Milwakee… of course we can and we try and try and try.  Stacy just helped me remember how hard we work for the dreams that we have.  How unromantic they can be.  How exhausting.  How full of pests and taxes… and how it's totally worth it all, but still totally hard.
And Stacy had kitties… that would come sit next to me.  I'm a sucker.
Rock City Coffee Roasters roasts their beans on-site in Rockland, Maine.
I'm currently enjoying bags of their coffee now every morning.  It's so rich and round that it's hard to share… though I never have been very good at sharing.
While in Maine, I snuck into Hello, hello Books in Rockland and signed a few of my cookbooks.
Speaking of books, I'm clearly trying to extend my vacation days by reading about Maine every night.  My favorite reading right now is The Year of the Goat.  It's about a couple, Margaret and Karl, who lived in New York City, and decided… you know… to live the dream and move to Maine and raise goats.  The book is a story of the year they took together to travel the country researching their dream.  It's a food book, dream book, love story.  I feel fortunate to be reading it, and even that much more fortunate to have shared a meal of goat meat tacos with them.
Margaret and Karl and also author and photographer, respectively, of Portland, Maine Chef's Table.  It's like a secret recipe book for some of Maine's best treats.  Goodness abound.
That was a long way to mussels, wasn't it?
Thank you for going on that ride with me.
Let's talk about flavors.  This is how we're going to celebrate our mussels. Onions, garlic (not pictured), and lemon… solid base flavors.  Butter for luxuriousness.  Parsley and jalapeno for jazz.  Almonds for… whaaat!?  Almonds are the wonderful surprise of this dish.  They're ground in a food processor with the rest of the ingredients creating a savory, chunky, toasted, spicy nut butter (literally and most deliciously).
Mussels are scrubbed and debearded.
This is the only part of this recipe that takes any extra effort.  Have you ever debearded a mussel?  Here's how.
I have a miniature food processor.  The ingredients for this recipe may seem like they're coming to the brim.  I'm just working with a small size.
Almonds are chopped coarsely using the pulsing action.
All the other goodness, butter included, is added to the food processor.
Look at this nut butter (literally).  Some pieces of the almond are pulverized, others are the size of peas.  Variety.  Butter is creamy and studded with flecks of parsley and jalapeno.  Onion, garlic, and lemon are representing.  It's so incredibly major.
Taste and season with salt and crushed red pepper flakes to taste.  Oh gosh.  So good.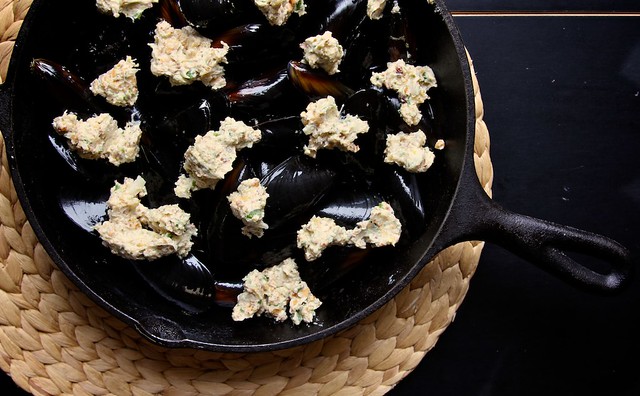 I placed my mussels in a cast iron skillet, added a touch of white wine, and dolloped the butter mixture on top.
In the oven the butter will melt down, melt with the wine, and bring together the flavors of onion, garlic, lemon, parsley, spice, and mussel.  Nothing bad happening here.
All we have to do is wait.
That's hard.
While I wait I really enjoyed the exercise of slicing bread, scooping olives, and pouring wine.
It makes the placing of this sizzling pot of buttery mussels that much more satisfying.
This is real life consumption.  Mussels are tender and seasoned.  Bread is the perfect utensil.
This dish is sexy and earnest.  It's simple , comforting, and somehow profound.  It really is one of the best dishes I've ever enjoyed and I'm humbled that I can make it come out of my oven.
I really hope you'll try this recipe and enjoy it.  Make it a date.  Make it a dinner party.  Open a second bottle of wine.  Celebrate a night of living.  This dish will make it super special.
Note:  I made a full batch of the almond butter, but I halved the mussels (only using 2 pounds instead of 4).  I froze the other half butter for a later batch of mussels.
Fore Street Mussels from Portland, Maine
serves 4
adapted from Food&Wine
1/2 cup dry roasted almonds
1/2 cup (1 stick) unsalted butter, softened
2 garlic cloves, minced
1/3 cup chopped white or yellow onion (half of one medium onion)
2 heaping tablespoons chopped parsley
2 tablespoons lemon juice
1 teaspoon lemon zest
2 teaspoons mined jalapeno (seeds removed)
1/4 to 1/2 teaspoon crushed red pepper flakes
salt to taste
4 pounds mussels, scrubbed and debearded
1/2 cup dry white wine
Place a rack in the upper third of the oven and preheat oven to 450 degrees F.
Scrub and debeard the mussels.  If any of the mussels are open and don't close after a tap or two, throw those guys away.
Place almonds in the bowl of a food processor fitted with a blade attachment.  Coarsely grind the almonds by pulsing a few times.
Add the butter, garlic, onion, parsley, lemon juice, lemon zest, jalapeno, red pepper flakes, and a few pinches of salt.  Blend the mixture until it comes together.  The mixture will be thick.  Some of the almonds will be ground up well and others will be more coarsely chopped.  Great!  This will all meld together in the oven.  Taste the butter to see if it needs any more salt of pepper.  It's totally good, isn't it?
Place the mussels in a large roasting pan.  Top with 1/2 cup white wine.  Dollop butter throughout the pan, making sure that each part of the pan has a bit of the butter mixture.
Place pan in the oven and bake for 12 minutes.  Slice baguette into slices while the mussels bake.  Take the pan out once during baking to stir the mussels and butter together.  The butter will have melted down, leaving the almonds on top of the mussels.  Stir that all together!
Remove the mussels from the oven and serve immediately with baguette and wine!  [/printable]