I have a pretty simple business model when it comes to the work that I do between the kitchen counter and the computer desk:  just keep doing things.
Oh geez…
This business model is so many things: boring and exhausting, thrilling and unexpected, and fun and so not fun sometimes.
Sometimes when I 'just keep doing things'… waffles happen.  Really delicious, really soft, really tender, really flavorful waffles.  The only downside of waffle-doings is that within my business model I'm usually eating waffles with my fingers while standing at the kitchen counter staring at the spice rack. The spice rack is dirty.  Just keep doing things!  Vicious cycle.
This morning… before I spun into 'just keep doing things', I took some time to read The Skimm.  Are you into this?  The Skimm is a daily newsletter that condenses international headlines into an informative and  manageable email.  It's news you want to read.  I REALLY love it.  What I also really appreciate is that The Skimm is run by two smart ladies who seem like they 'just keep doing things' too… and they're doing a really great job.
Let's lemon ricotta.  These are GOOD!
This is how we waffle.  It's pretty simple!  Flour and leavening.  Melted butter and eggs.  Creamy ricotta and lemony sugar.
Just a big bowl and a wooden spoon.  This is how I like food to come together.
Wet ingredients are whisked together starting with eggs and ending with ricotta and lemon.
Just a quick stir.  No big deal.
I love the tenderness that ricotta adds to baked goods.  It's perfect!
With creamy cheese and lots of lemon flavor, I added just a sprinkle-splash of poppy seeds.
Find things on your spice rack and dump em in!  What could go wrong?
I like imperfect waffles.  I don't want them to fill the mold perfectly so I just dollop a bit of batter into each waffle iron quarter.
The first reveal is always the most satisfying.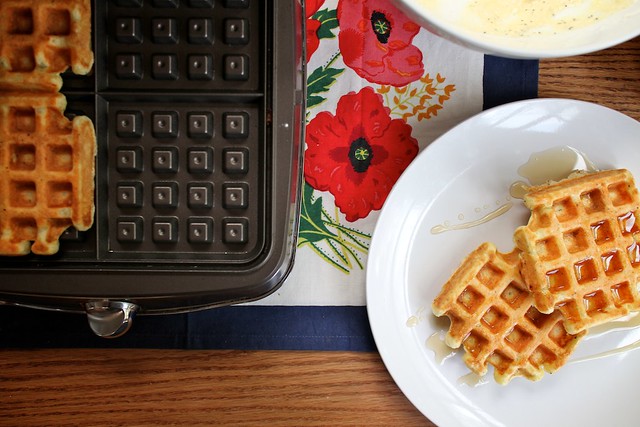 Maple syrup on hand for immediate dousing and consumption.  It's really the only way to go.
These waffles are a serious treat.  They bake up thick, but retain their fluffy tenderness.  The lemon is just like sunshine.  The ricotta is a cheese force.  The poppy seeds add just the faintest crunch.  I LOVE this happening.
I hope you waffle soon!
Lemon Ricotta Waffles with poppy seeds
makes 2 generous or 4 small servings
1 1/2 cups all-purpose flour
2 teaspoons baking powder
1/2 teaspoon baking soda
1/2 teaspoon salt
3 tablespoons granulated sugar
1 tablespoon fresh lemon zest
1/3 cup unsalted butter, melted
2 large eggs
1 teaspoon pure vanilla extract
3 tablespoons fresh lemon juice
1/2 cup part-skim milk ricotta cheese
3/4 cup water or milk (I used water)
2 teaspoons poppy seeds (optional)
In a medium bowl, whisk together flour, baking powder, baking soda, and salt.  Set aside.
In a small bowl, rub together granulated sugar and lemon zest until the sugar is scented with lemon.  Add the lemon sugar to the bowl with the dry ingredients.
In a bowl or large measuring cup, whisk together butter, eggs, vanilla, lemon juice, ricotta, and water.  Whisk until thoroughly combined.
Add the wet ingredients all at once to the dry ingredients and stir to combine.  Add the poppy seeds (if using) and stir to incorporate.  Try not to over mix the batter.  It's ok if a few lumps remain.
Heat you waffle iron according to the manufacturer's instructions.  Dollop batter into the waffle iron and cook until golden brown.  Serve immediately.  These waffles can also be individually wrapped and frozen.  They're great heated up in the toaster or in the oven.