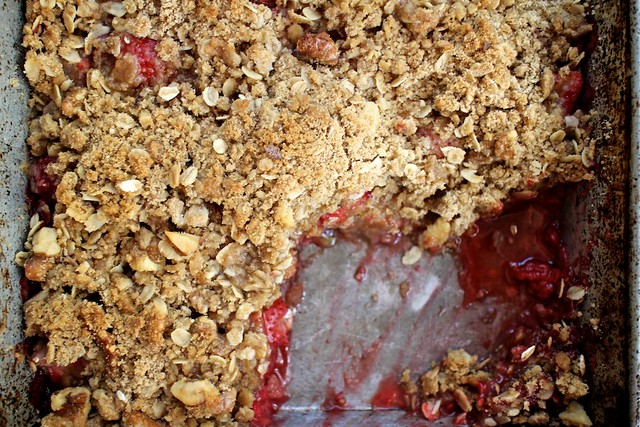 My summer love language is pink and fruity.  All I want to do this weekend is put Van Morrison in my headphones, tool down the bike path at the beach, people-watch, seagull-watch, and express my affections in strawberries and raspberries.
 Good, right?  What more do we really need?  (If your answer to that rhetorical question was: CRISP OAT TOPPING!!!… then you've totally come to the right place.)
We don't even need a bowl for our mellow summer baking.  This crisp topping can come together on a clean counter or a plain ol' baking sheet.
Pile together flour, oats, sugar, and spice and work in cold butter and walnuts.
This is totally relaxed summer baking.  Embrace it!
Flour, sugar, oats and spice.  Gather it all with your fingers.  It's totally cool.
Quickly break cold butter into the dry ingredients.  It's like we're making pie crust but much more mellow and spiced.
Gather in the walnuts and we're all the way in the game!
Combine fresh raspberries and big strawberry bites.  Add a big dose of crumble.  We're going to stir it together.
We're adding flavor and coating the fruit in a bit of flour and oats.  The fruit juices will bake and thicken beautifully.
The rest of the crisp topping is piled atop the fruit.
It's a lot of topping.  It's serious.
Baked and golden.  The more golden the crust, the more crisp the bites.  Yes!
This crisp is elegant in its comfort and simplicity.  The raspberries bake down into a jammy consistency and the strawberries become slight and tender, but still hold their shape.  The amount of oat topping rivals the amount of fruit, making this crisp extra toothsome, extra crunchy, extra delicious.
Breakfast?  Yes.  Afternoon snack?  Sure?  Dinner?  You know I've done it.
This is an anytime, summertime crisp.  Do it up!
Strawberry Raspberry Crumble
makes 1 8×8-inch pan
1 pound fresh strawberries, hulled and quartered
2 cups fresh raspberries (if using frozen, just thaw and drain)
1 cup all-purpose flour
1 cup packed brown sugar
3/4 cup old fashioned oats
1 teaspoon ground cinnamon
1/2 teaspoon freshly grated nutmeg
1/4 teaspoon ground ginger
Pinch of salt
1/2 cup (1 stick) unsalted butter, chilled and cut into small cubes
1/2 cup coarsely chopped walnuts (optional)
Place a rack in the center of the oven and preheat to 350 degrees F.  Place sliced strawberries and raspberries in a square 8×8-inch baking dish and set aside.
In a medium bowl, whisk together flour, sugar, oats, spices, and salt.  Add the butter and toss the mixture together with your hands.  Break the butter up into the flour mixture until the butter is the size of small pebbles and oat flakes.  This took me about 4 minutes.  Toss in the walnuts (if using).
Toss a generous handful (about 1 cup) of crumble topping into the strawberry and raspberry mixture.  Toss loosely with your hands.  Spread fruit evenly in the pan and top with the remaining crumble mixture.  Bake until fruit is juicy and bubbling, and the top of the crumble is slightly browned and crisp, about 30 minutes.
Remove from the oven, let cool slightly, and serve with vanilla ice cream.  Crumble is delicious served warm and can be stored, covered, in the fridge and reheated in the oven or microwave for serving.