[S]omeone in my family (I forget exactly who to blame for these memories), was very fond of adding grated carrots to the bottom of their Jell-o molds for holiday dessert.  Come to think of it, there were grated carrots and a can of fruit cocktail at the bottom of the red Jell-o mold dessert.  Criminal.  At least the Jell-o was red.
There are things better things to do with shredded carrots.  Things that are less jiggly, and frankly, less rude.  This carrot salad fits the bill.  It's hearty, sweet and spicy, salty and crunchy, durable enough to last a few days in the refrigerator, and just generally polite… not rude at all.
This recipe comes from Sara Forte's brilliant salad-brain. You know Sprouted Kitchen? Beautiful, whole, and healthy food (and a really cute baby, too). The new Sprouted Kitchen book Bowl + Spoon is a tasty collections of breakfast bowls, salads, and sides that are elevated, healthful, but still totally comforting.
Tracy made Beet + Avocado Poke Bowls from the book.  The beets are gorgeous.
This salad calls for a good amount of chopping, slicing, and dicing.  It's kitchen therapy.  Take your time and don't fight it.
Carrots should be grated fresh.  Those bags of pre-shredded carrots… no good.  Sad and dry.
Garbanzo beans for girth and protein.  Dates for perfect sweetness. Cilantro, pistachio, green onions, and lime:  a green theme.
Carrot and other salad bits are tossed together while the dressing ingredients are whisked together.
Cumin, turmeric, nutmeg, and red pepper flakes for Moroccan flair.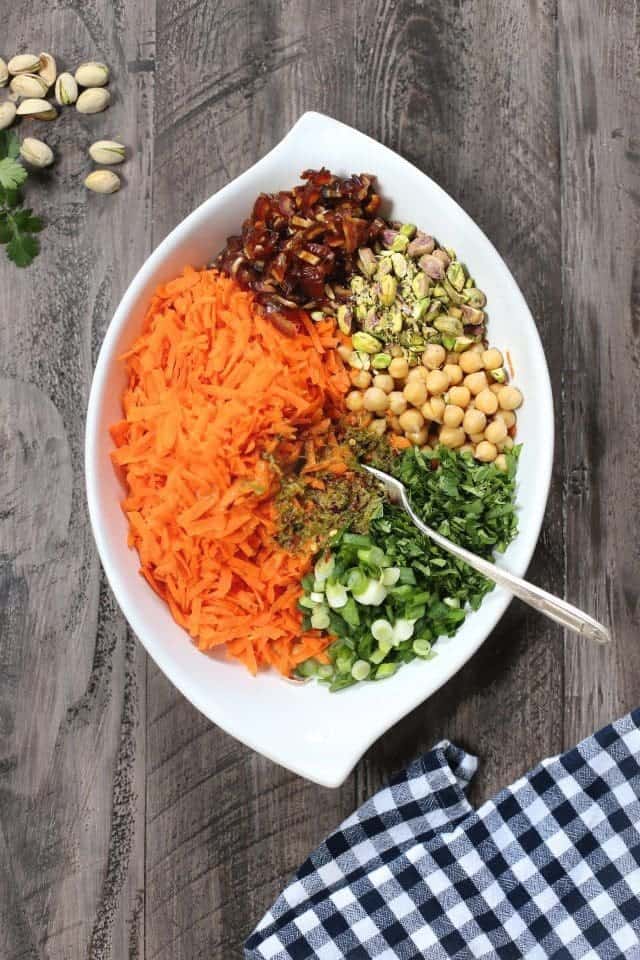 This is how a salad comes together.  Just a toss.
Crisp and crunchy.  Totally full of lime and spice.  Beans are filling and carrots are sweet and crunchy.  It's a really well-balanced salad.  It's great to make and store in the fridge for easy lunching and light dinnering.  If you're like to me though… you'll eat it all in one day.  It's that good.
Print
Marrakesh Carrots
Author:

Prep Time:

25

Total Time:

25 minutes
---
4 cups

grated carrots

1 1/2 cups

garbanzo beans, rinsed and drained

7

Medjool dates, pitted and chopped

4

green onions, white and green parts, chopped

1/2 cup

coarsely chopped fresh cilantro

3 tablespoons

olive oil
zest and juice of 2 limes

3/4 teaspoon

ground cumin

1/4 teaspoon

fresh grated nutmeg

1/2 teaspoon

tumeric

1/4 teaspoon

crushed red pepper flakes

1/2 teaspoon

sea salt

1/2 teaspoon

fresh cracked black pepper

1/2 cup

shelled roasted pistachios, coarsely chopped

1/2 cup

crumbled feta cheese
---
Instructions
In a large bowl combine the carrots, garbanzo beans, chopped dates, green onions, cilantro and chopped pistachios.
In another bowl, whisk together olive oil, zest and juice of limes, cumin, nutmeg, turmeric, red pepper flakes, salt and pepper.
Pour the dressing over the carrot mixture and toss to coat. Sprinkle in the feta cheese and toss lightly.
Serve immediately or cover and chill in the refrigerator for up to 3 days.
---
---