[I] can just smell the campfire now. I can feel that tinge of burn in my eyes from the smoke, and I can hear the John Denver.
Campfires remind me of the last nights of sleep away summer camp. When I sat with a group of girls… girls who just a week earlier had been complete strangers, now absolute best friends… bidding farewell to our Summer time together, wondering how we'd ever live without each other, without craft hour, without the flagpole song, without the knot workshop, without sliding down the big hill on a giant block of ice. Just HOW will we go on?
We'd sing Leaving on a Jet Plane and cry… all the way CRY and promise friendship and love and more summers to come. Then we'd eat these bananas gooey chocolate and marshmallow bananas, sleep one last night in our bunks, fold up our sleeping bags (impossible for child hands), and wait for our parents to come pick us up to take us back to home-summer with all of its daytime television and chores (uuugh chores).
I'm still figuring out how to recreate that campfire feeling here in New Orleans. I think it's too humid for fire. Is that a thing? I think, yes. Luckily, I have an oven that heats itself with fire and I can hustle up the most gooey part of my memories: baked bananas, in foil, with a glorious mess of toppings.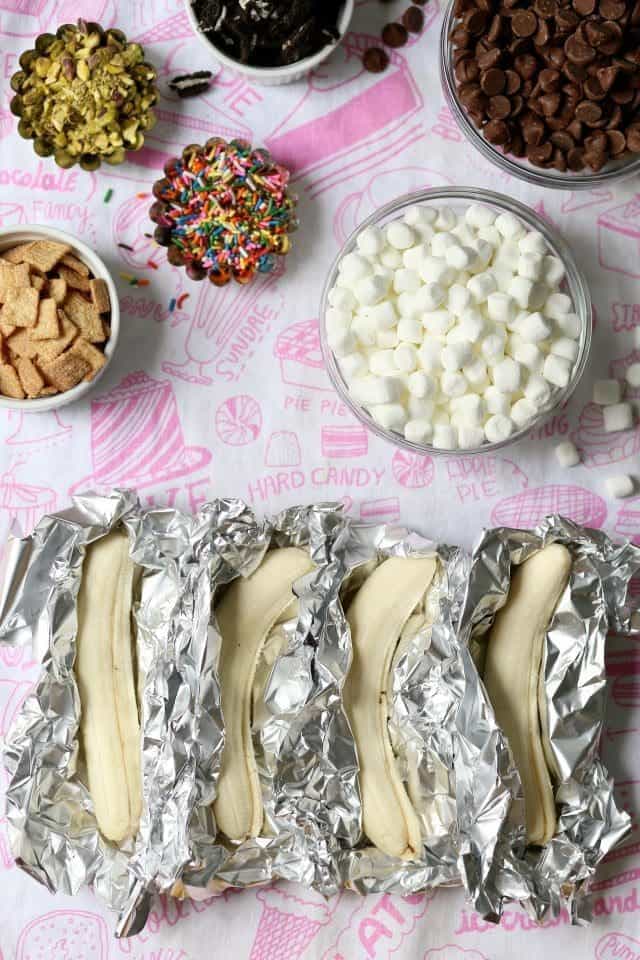 Bananas and foil, an easy place to start.
Crank the heat in your oven, chop some pistachios, crumble up some Oreo cookies, dig the sprinkles out of the pantry, and pour some of your favorite cold cereal. All em toppings! That was easy!
Bananas are sliced down the center and aggressively stuffed with milk chocolate chips and mini marshmallows.
Seal the foil around each individual banana. Seal it well so none of the melting chocolate seeps out of the corners. Throw the little banana packages on a baking sheet and bake until melted through and softened.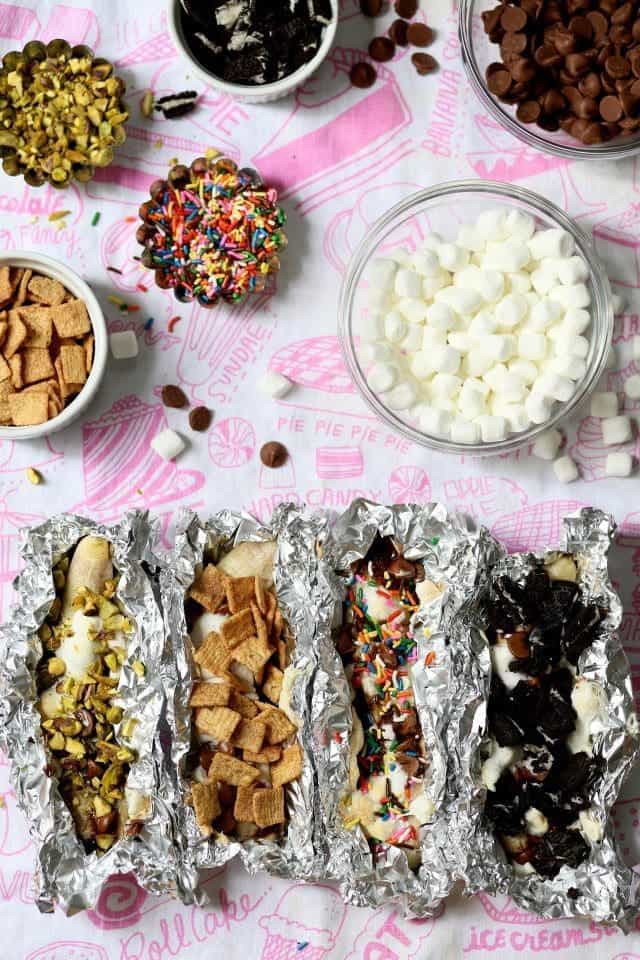 Pick your poison (not literally…). What kind of topping fiend are you? I'm a sprinkle, pistachio, Oreo kind of girl. All of em, without shame.
Carefully balance the hot banana bundle on your lap, crank the John Denver, and take yourself back to summer camp. It's a good life.
Print
Campfire Bananas At Home
Author:

Prep Time:

10

Cook Time:

10

Total Time:

20 minutes
---
What You'll Need
Bananas, ripe and peeled
Tin foil
Milk chocolate chips
Mini marshmallows
Chopped pistachios
Rainbow sprinkles
Crumbled Oreos
Sugary cold cereal
---
Instructions
Place a rack in the upper third of the oven and heat oven to 400 degrees F.
Slice bananas down the center vertically. Wrap individually in foil. Top each banana with chocolate chips and marshmallow. Seal the foil and place on a rimmed baking sheet. Bake for 6 to 8 minutes or until chocolate and marshmallow has melted and the bananas are softened slightly.
Remove from the oven, carefully open the foil and top with whatever toppings you'd like. Enjoy and Happy Summer!
---