Happy Birthday to you, and you, and you over there, and your brother, and your brother's son, and your sister's cousin. And your neighbor that just turned 30. And your favorite blogger who turns 35 (huh!?) this year (that's me). And your fiancé, Happy Birthday to that human, too.
I made us a go-to, vanilla buttermilk cake with the very best chocolate buttercream frosting. (Proof that it's the best chocolate buttercream provided here). We've got 360 days and likely a mega amount of birthdays to celebrate with friends and family.
This cake is super versatile. It makes for a happy and humble single layer 9×13-inch cake, or a 2 layer 9-inch cake, or about 2 dozen cupcakes!
There are three secrets to a great birthday cake:
Make it homemade. Not fancy-homemade. Just homemade. A single layer buttermilk cake in a glass baking dish? That's lovely.
Sprinkles. It's a party. Even if people 'hate' their birthdays, they don't hate cake and they don't hate sprinkles. If they do… just get them a kitten and a puppy and throw confetti in the air and run away quickly.
Always serve birthday cake with a greeting card. 'I'm not a card person' is a thing people say but a birthday is not a birthday without a proper, folded paper well-wishing.
Happy Birthday to you and yours, us and ours, them and theirs.
Simple, fool-proof (not that any of us are fools), buttermilk cake. Flour with baking powder, baking soda, and salt. Butter creamed with sugar and eggs. Vanilla extract and buttermilk. It's so easy. If you put on some really good music, this is as painless and far more delicious than mixing together a boxed cake mix.
Fluffy butter creamed with sugar.
Eggs are added, beating for 1 minute between each egg addition.
The creamy yolks will make the cake golden yellow.
Dry ingredients whisked with leavening and salt is added to the egg and butter mixture.
It's about to be cake!
Into the cake pans. A single layer 9×13-inch sheet cake or two round cake pans will do!
Baked to golden.
While the cake bakes, I make The Best Chocolate Buttercream. It's creamy and fluffy and exactly what you want on top of a birthday treat.
Cooled, tender cake. Fluffy chocolate frosting. Birthday letters. Sprinkles. You're so thoughtful. I hope people tell you that often.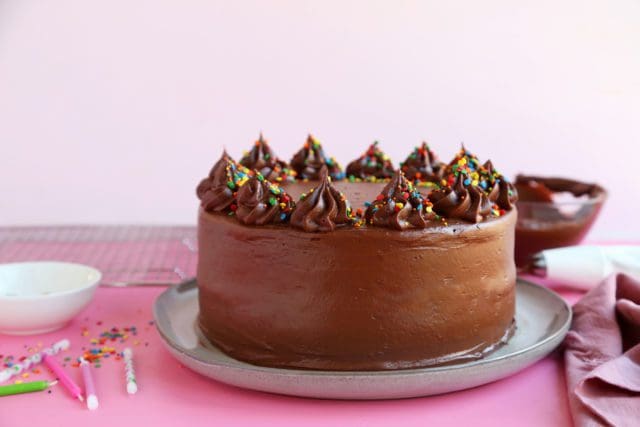 You've done it – a perfectly perfect birthday cake
Top withRainbow birthday candles and a festive sprinkle blend and it's a very happy birthday indeed!
Print
Everybody's Birthday Cake
Author:

Prep Time:

20

Cook Time:

30

Total Time:

50 minutes

Yield:

1

1

x
---
Description
A perfectly classic yellow birthday cake with creamy chocolate buttercream frosting. Makes 1 9×13-inch sheet cake or 2 9-inch layers, or about 24 cupcakes. For a layer cakes and generously frosted cupcakes – double the frosting recipe below.
---
For the Cake
1/2 cup

(

1

stick) unsalted butter, softened

1 1/2 cups

granulated sugar

3

large eggs

1 teaspoon

pure vanilla extract

2 1/4 cups

all-purpose flour

2 teaspoons

baking powder

1 teaspoon

baking soda

1 teaspoon

salt

1 1/4 cups

buttermilk
For the Chocolate Buttercream
(double the frosting recipe for a layer cake of generously frosted cupcakes)

3/4 cup

(

1 1/2

sticks) unsalted butter, softened to room temperature

1/2 cup

unsweetened cocoa powder

1/2 teaspoon

salt

2 1/2 cups

powdered sugar

1 teaspoon

pure vanilla extract

2 tablespoons

whole milk

1/3 cup

plus 1 tablespoon heavy cream

1/3 cup

Rich Chocolate Ovaltine powder
---
Instructions
To make the cake, place a rack in the center of the oven and preheat oven to 350 degrees F. Grease and flour a 9×13-inch cake pan or 2 9-inch round cake pans. Set aside.
In the bowl of a stand mixer fitted with a paddle attachment (you can also use a large bowl and electric hand beaters) cream together butter and sugar until light and fluffy, about 3 to 5 minutes.
Stop the mixer and and scrape down the sides of the bowl. Beat in the eggs, one at a time, beating for 1 minute between each addition. Beat in vanilla extract.
In a medium bowl whisk together flour, baking powder, baking soda, and salt. Add the dry ingredients all at once to the butter and egg mixture and beat on low until just combined. Add the buttermilk and beat on low for 1 minute. Increase the speed to medium and beat for 3 minutes more.
Pour batter into prepared pan or pans. Bake for 25 – 30 minutes or until cooked through and the top springs back lightly when touch. Test the cake by inserted a skewer into the center of the cake. Cake is done when just a few crumbs are left on the skewer.
Remove from the oven and allow to cool in the pan completely before frosting. If making a layered round cake, remove the cakes to a wire rack to cool completely. Let cool completely before frosting.
To make the frosting, cream together butter, cocoa powder and salt. Butter mixture will be very thick. Turn off the mixer, scrape down the sides of the bowl.
Add powdered sugar. Turn mixer on low and mix in powdered sugar while adding milk and vanilla extract. As the sugar incorporates, raise the speed of the mixer to beat the frosting. Beat until smooth, about 1 minute.
In a 2 cup measuring glass, stir together heavy cream and Ovaltine. Turn mixer speed to medium and pour half of the cream mixture into frosting in a slow, steady stream. Stop the mister scrape down the sides of the bowl. Add remaining cream mixture or until you've reached your desired consistency. Beat until soft and creamy, about 1 minute.
Store in an airtight container in the refrigerator or freezer. Bring to room temperature before frosting cakes and cupcakes.
Slather cake generously with frosting. Decorate and sing happy birthday!
---