I'm working really hard on my upcoming Brunch cookbook. I say this as I'm surrounded by pages of proofs, going over page after page, word after word, image after image, testing testing testing, in an effort to make sure the book is absolutely perfect for you. Spoiler alert: it won't be… but it will be dang good!
While you're waiting, while I'm editing, while we've got Brunch on the brain, I thought I'd share a bonus recipe from the book. Something that won't make it into print but is still delicious enough for you to have.
I've spent a lot of time in the kitchen recently continuing to test recipes and shoot photographs for the book. Apparently I won't quit until the my editor stops me and the dang thing goes to print.
As I'm testing recipes and taking some of the last photographs, I'm also working a new step into my routine! The kind people at Alcon DAILIES TOTAL1® asked me to try their contact lenses as I work in the kitchen. As a strictly glasses wearer, I thought… sure! Test recipes and test out a new kitchen tool for my eyes. Let me tell you, not having to deal with the puff of steam from the oven that fogs up my glasses has been a real treat. It's also so much easier to hold a camera up to my phase with contact lenses and I don't have to worry about flour dust or grease smears all over my glasses. It's been a game changer! My eyes are just free to see and shoot! Alcon Dailies are comfortable all day: standing over the stove frying crepes and pancakes, sticking my head halfway in the oven to test a cake's doneness, and holding my camera up to my face taking pictures. It really is freeing!
Now let's get at these crepes!
This post is in partnership Alcon Dailies, thank you!
This is an indulgent and sweet breakfast treat that's fairly simple, packed with flashy fresh ingredients, and enough of a statement to make is a true Bruncher's wow-moment.
Plus… while we're talking about taking care of our eyes in the kitchen… blueberries are packed with antioxidants that contribute to eye health just as much as they fill our bellies.
There are two ways we can start this breakfast endeavor: crepes first or curd first.
The crepes will need some time to rest in the refrigerator. Enough time to whip up the curd and serve it warm with the crepes.
Alternately, you could whisk up the curd (the night before, even!) and allow it enough time to chill and firm in the refrigerator, serving it cool with warm crepes.
Choose you're adventure. They're both delicious.
I started by working fresh lemon zest into granulated sugar creating a lemony fragrant sugar. Rubbing the citrus into the sugar releases the lemon oils in the rind, creating a depth of flavor you that's undeniable.
Next, milk, eggs, water, melted butter, and vanilla extract are whisked to smooth.
Flour, salt, and our lemon sugar are tossed together.
No baking soda or baking powder in this recipe. We're relying on eggs are lightness and a big of fluff.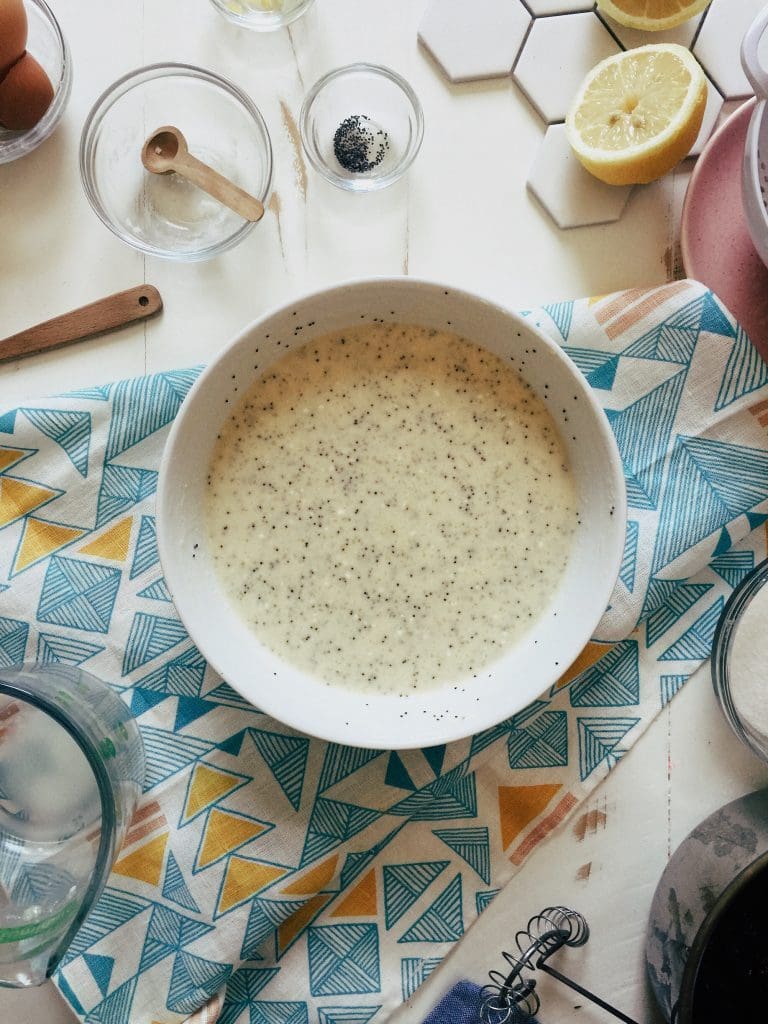 Wet ingredients are whisked together with the dry with a focus on noooo lumps. Poppy seeds are whisked in and the whole mixture is covered in plastic wrap and let to rest in the refrigerator for at least 30 minutes (or even overnight depending on your weekend breakfast needs). We let the crepe batter rest for two reasons. We need a break to make the blueberry curd, and it's best to allow the flour in the batter to absorb the liquid. We need a meld, that's what the resting is for.
I'm forever standing on a bench with a camera in my face, or with my head over a steaming skillet or halfway in the oven.
It's a baker / bloggers / food enthusiasts life. Contacts really do help!
A break from the camera and onto the blueberry curd.
Have you ever made lemon curd? It's luscious thanks to a major amount of egg yolks.
This blueberry curd is also heavy on the lemons, likely making it familiar in process but distinctly purple in color.
Egg yolks and a whole egg are whisked together until they just begin to thicken. If you need to know the right whisk for the job, I break it down here.
Granulated sugar is whisked into the eggs. We'll whisk until the mixture is voluminous, pale, and has the texture of velvet fluff. By hand this will take about 4 to 5 minutes. I'm pretty sure you can count this as a work out.
Fresh blueberries are simmered to warm and bursting in lemon juice and then strained through a fine mesh strainer leaving a sweet, syrupy, tart blueberry juice.
The warm blueberry mixture is slowly whisked into the thick egg and sugar mixture.
Just a slow pour and whisk. We're gently introducing hot into room temperature ingredients and we don't want to shock the eggs into being cooked. Once warmed and incorporated, the egg and blueberry mixture is returned to the pot, placed over medium-low heat and cooked, stirring nearly constantly until the eggs thicken the mixture to a warm pudding consistency.
From there you can strain the curd (if you think you've got some cooked egg bits in there as it happens to the best of us), and chill until ready to use. Thoroughly chilled curd needs at least four hours in the refrigerator. If you like a warm curd, well… you won't need nearly as much time.
When we're ready to make the crepes it goes something like this.
Hustle out your 8-inch nonstick skillet. It's important that the skillet be relatively small in size so we can easily flip the crepes as they cook. It's also important that the skillet be truly nonstick. We eventually want the crepes to slip and slide around the pan as they cook. We don't want to have to fight.
Lightly greased with butter, we add a thin layer (about 1/4-cup or so) of batter to the bottom of the hot pan, lifting the handle to swirl the batter across the pan as it cooks.
Cook until both sides are lightly browned and dry. Fold gently and pile on a platter for serving.
Top generously with blueberry curd. Alternately, you can unfold the crepes and place the curd in the center. Top with blueberries. Sprinkle with powdered sugar if you're feeling frosty.
And before Brunch truly gets going. Stop and take a picture. It's a small way to celebrate you breakfast making skills and accomplishments.
Print
Lemon Poppy Seed Crepes with Blueberry Curd
Author:

Prep Time:

60

Cook Time:

4

Total Time:

1 hour 4 minutes
---
For the Curd
2 cups

fresh blueberries

1/2 cup

fresh lemon juice (Meyer lemons are especially wonderful, if you have them)

3

egg yolks

1

whole egg

3/4 cup

sugar

4 tablespoons

unsalted butter, cut into small cubes
For the Crepes
2

large eggs, at room temperature

1 cup

whole milk, at room temperature (mostly)

1/4 cup

room temperature water

3 tablespoons

unsalted butter, melted

2 tablespoons

granulated sugar

1 tablespoon

lemon zest

1 cup

all-purpose flour

1/4 teaspoon

salt

1 tablespoon

poppy seeds
---
Instructions
To make the curd, in a small saucepan, combine the blueberries and lemon juice, cover, and place over medium heat. Cook until the blueberries pop and the liquid bubbles, about 5 minutes. Pass the blueberries through a strainer, pressing well with a spoon. Be sure to scrape all the brilliant purple puree on the underside of the strainer into the bowl to use. Pour the blueberry puree back into the saucepan and set aside to cool.
Whisk together the egg yolks and egg until combined. While whisking, pour in sugar and whisk until a light yellow color. Add the egg mixture to the blueberry puree in the sauce pan, and continue whisking until creamy and well incorporated, about one minute. Place over medium heat, whisking constantly, until the custard thickens and can coat the back of a wooden spoon, about 8-10 minutes. Remove the pan from the heat, and stir in the butter, one cube at a time. Strain into a bowl or jars, cover surface with plastic wrap and chill in the refrigerator for at least one hour.
To make the crepes, in a medium bowl, whisk the eggs, milk, water, and melted butter until thoroughly combined. In a small bowl, rub together the granulated sugar and lemon zest. In a medium bowl whisk together the flour, salt, poppy seeds, and lemon sugar. Fold the wet ingredients into the dry and whisk to combine until smooth. Cover with plastic wrap and place the batter in the refrigerator for about 30 minutes.
Place a crepe pan, or nonstick skillet, over medium heat. Brush the pan with a very light coating of butter. Add 2 ounces (1/4 cup) of batter to the center of the pan, and swirl it around until the bottom is coated evenly. Cook until the edges of the crepe pull away from the pan, 1 to 2 minutes. Flip and cook on the opposite side for another 30 seconds. Transfer the crepe to a baking sheet and place in a preheated 200 degree F oven to keep warm. Repeat the process with the remaining batter, adding more butter to the skillet when needed, stacking the crepes on the baking sheet.
Spoon curd over or inside of the crepes. Top with fresh blueberries and powdered sugar if you'd like. Enjoy!
---
---