There's a thing that bakers won't always tell you: the simplest baked goods are sometimes the trickiest.
That goes for things like fudgy not cakey, done but not dry brownies. You should know, I've made a lot of crappy brownies. Not for lack of practice or desire. It's just that the proportions are more fickle than you might expect from a simple mixture of chocolate, butter and eggs. Nuance.
The trick to fudgy, not cakey brownies is chocolate. Chocolate pieces, not powder… and a lot, like a real LOT of chocolate along with a not-shy amount of butter. This will keep the brownies moist and rich and right. Thank you FAT!
When it comes to additions, you can add whatever sort of madness you'd like: nuts for days, cookies just because, and today… because it's complimentary delicious (is that right?) and unexpected, stout beer.
Grab the eggs and the butter. We're also going to use a downright aggressive amount of chocolate because there's no shame in the game.
We want an earthy + bitter, almost milky sweetness from the stout beer. Guinness is everything: sweet + bitter + creamy + forward + smooth + filling. It's a wonder. We'll simmer it down concentrate the flavors into brownie proportions.
Butter is melted down with all sorts of chocolate in a double boiler. It takes a few minutes, but the end result is glossy perfection.
Granulated sugar is added to the butter and chocolate mixture.
We'll get a little grainy adding the sugar, but eggs fix everything.
Three eggs are whisked in, one at a time, helping the sugar to absorb and smooth into the chocolate.
Stout reduction, still a bit warm is fine.
Good vanilla extract too!
You know how sometimes you have to whisk all of the dry ingredients together and stir them in in batches. A little fussy. Sometimes necessary. Not in this case. Toss together flour, salt, and a decent pinch of baking soda.
Baking soda isn't traditional in brownies, but we want to make sure the eggs have support and the brownies have a little lift.
Whisk it… and if the whisk gets too thick or in the way, switch to a spatula.
The trick is… here's the thing: no flour pockets. Whisk and stir well to a thick and glossy (using that word a lot) thick batter.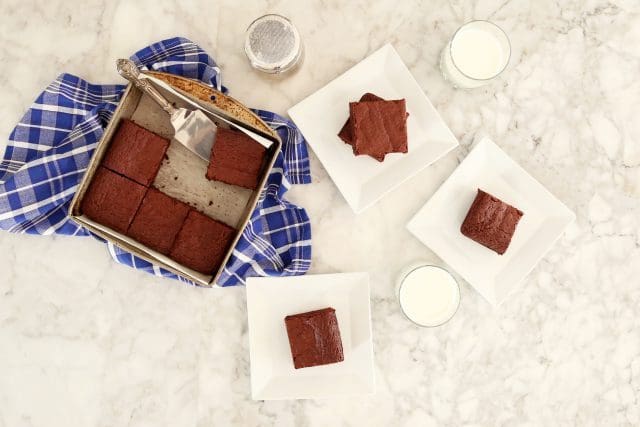 Remember how we put a bonkers amount of chocolate in these brownies? That will keep them moist and soft, but it also means they'll need a lot of quality time in the oven. About 30, likely 40 minutes.
I think the flavor is best when the brownies are cooled overnight to room temperature. They're also ease into clean slices when they're more cool. This takes will power. This means that you might need some other form of chocolate in your pantry to tide you over.
Powdered sugar for flair.
The Guinness doesn't have these brownies tasting like beer. No No.
The stout adds a depth of flavor and a richness to the brownies. Just that little bit of extra. Irresistable, really. We're talking about brownies. Add milk, for obvious reasons.
Print
Dark Chocolate Guinness Brownies
Author:

Prep Time:

20

Cook Time:

35

Total Time:

55 minutes

Yield:

9

1

x
---
1 cup

Guinness stout

10 ounces

bittersweet chocolate, chopped

2 ounces

unsweetened chocolate, chopped

1 cup

(

2

sticks) unsalted butter

1½ cups

granulated sugar

3

large eggs

1 teaspoon

vanilla extract

¾ cup

all-purpose flour

1 teaspoons

kosher salt

1/4 teaspoon

baking soda
---
Instructions
Place a rack in the center of the oven and preheat oven to 350 degrees F. Lightly grease a pan with non-stick cooking and line an 8×8-inch baking sheet with parchment paper, so that the paper hangs over the edge of the pan a bit. Lightly grease the parchment paper and set the pan aside.
In a small saucepan over medium heat, bring the beer to a simmer. Simmer until the beer is reduced to about 1/3 cup. This will take about 10 to 12 minutes. Remove from heat and allow to cool slightly.
Place chocolate and butter in a medium heatproof bowl. Bring a medium pot with a few inches of water to a simmer. Place the chocolate and butter mixture over the simmering water to melt both. Stir as they melt together.
Remove the bowl from the simmering water and allow to cool slightly, we're talking 5 to 10 minutes.
Whisk in the sugar until combined.
Whisk in the eggs, one at a time, until the chocolate mixture is smooth and almost glossy.
Whisk in the vanilla extract and the beer reduction.
Add the flour, salt, and baking soda and stir to combine, making sure there are no hidden flour pockets.
Pour into the prepared pan and bake for 35-40 minutes until a toothpick inserted in the brownies comes our with only a few moist crumbs.
Allow to cool for at least 30 minutes before removing from the pan and slicing.
Store the brownies wrapped individually at room temperature.
---