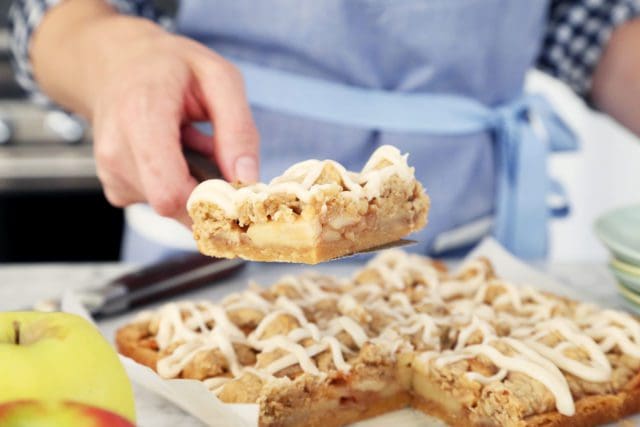 Ina knows.  It seems like Ina Garten knows just about everything she needs to know.  These Apple Pie Bars are proof positive.
You never look at an Ina Garten recipe and doubt her.  Something about her easy temperament, effortless entertaining, innumerable mentions of her husband Jeffrey, and how she'll use four sticks of butter for one recipe at the drop of a hat… you just never doubt her.
I'm currently working my way through Ina's new cookbook Cooking for Jeffrey and really…. it's all enough to make you want to peel apples, pie them, make chicken stock, and marry someone named Jeffrey all in one afternoon.
Because I think that you may have a ton of apples on your kitchen counter from either an apple picking field trip or wishful Autumn thinking at the grocery store, let's make Ina's Pretty Perfect Apple Pie Bars.  I added the "Pretty Perfect" in there because I'm sure that's what she implies in every one of her recipe titles.
We're talking about apples and pie so let's go a little deeper.
Last week, while my parents were in town for a visit, we made an apple pie. The whole family got in on the action which made the making and enjoying as sweet and charming as you'd expect.  Turns out pie tastes even better when four other people you love help make it.
BUT!  This pie making set my dad off on some deep internet research about apples for pies.
Have you ever wondered:
What Are The Best Apples For Pie?   (This was fascinating and surprising and will have you buying Golden Delicious apples!
and/or
How To Make Perfect Apple Pie Filling  (Also fascinating and surprising and will have you pouring warm apple cider over your pie apples!)
Apple Pie knowledge.
And with that… we're going to carry our Golden Delicious and Braeburn apples off to the kitchen and do what Ina says.
Here's how these Apple Pie Bars come together:
Softened butter to make a moist shortbread-type crust- enough for both crust and topping.
Apples to peel and spice and saute.
It's just the beginning.  Let's go!
Softened butter is combined with brown sugar, granulated sugar, and vanilla extract.
Beaten until supple and very well combined.
Flour and salt to the mixture to create a soft batter.
2/3 of the crust batter is added to a greased pan… you know how this works.
Fingers are very well floured and the crust is pressed along the bottom of the pan and up the sides just enough to cradle some sliced apples.
To the remaining 1/3 of crust batter… well, let's call it topping now after stirring in chopped walnuts and ground cinnamon.
I set mine in the fridge to rest while the crust baked and the apple filling is prepped.
After our apple studies (above), I chose Golden Delicious and Braeburn apples to bake in these bars.
I was maaaddd suspicious about the Golden Delicious because after being packed in my school lunch for what seemed like 9 consecutive years… I've stopped thinking Golden Delicious apples were delicious at all.  That's more of a personal problem and also, I'm TOTALLY WRONG.
Apples:  peeled, cored, sliced.
Combined with lemon, sugar, and cinnamon + nutmeg spice.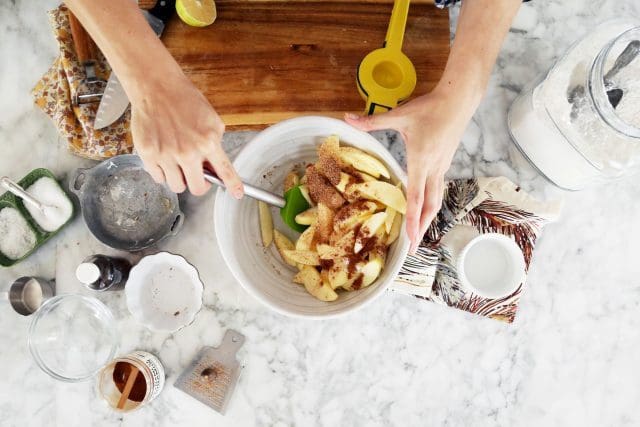 The apple mixture is tossed and cooked in melted butter until softened and it smells so good you can't help but sneak an apple slice into your mouth, about 12 minutes.
I added a sprinkling of cornstarch to my apples just as they finished cooking on the stovetop so that when they go into the oven over the crust, the apple juices thicken up nicely.
Ina's recipe doesn't call for cornstarch… this is me being a renegade.
Lightly cooked apples are spooned over the partially baked crust.
It only gets better from here, really.
Cinnamon + walnut topping pieced over the apple filling.
The topping won't cover the entire tart.  That's right.  Doing it right!
The pie bars are baked to golden brown.  You'll know they're done when they look downright irresistible.
This is when Ina ends and I begin… just because I can't leave well enough alone.  The bars are cooled completely and I topped them with a thick Brown Butter Glaze.
Sliced generously and YES.
These are BUTTERY crisp, apple sweet and spiced.  Easier than pie with all the gorgeous apple flavor.  Ina got these Apple Pie Bars right and we all knew she would.
While we're on the AutumnVibe Train, you might also consider:
Photos with: Jon Melendez
Print
Ina Garten's Apple Pie Bars
Author:

Prep Time:

40

Cook Time:

45

Total Time:

1 hour 25 minutes
---
For the Crust
1 cup

(

2

sticks) unsalted butter, softened to room temperature

1/3 cup

granulated sugar

1/4 cup

lightly packed light brown sugar

1 teaspoon

pure vanilla extract

2 cups

all-purpose flour

3/4 teaspoon

kosher salt

1/3 cup

chopped walnuts

1/2 teaspoon

ground cinnamon
For the Filling
2

  Golden Delicious apples, peeled, quartered, cored, and sliced into

1/4

-inch thick slices

1

or

2

large Fuji apples, peeled, quartered, cored, and sliced into

1/4

-inch thick slices

1 tablespoon

fresh lemon juice

3 tablespoons

granulated sugar

3/4 teaspoon

ground cinnamon

1/4 teaspoon

freshly grated nutmeg

2 tablespoons

unsalted butter

1 teaspoon

cornstarch
For the Glaze

3 tablespoons

unsalted butter, melted

1 1/2 cups

powdered sugar
splash of whole milk
pinch of salt
---
Instructions
Place a rack in the center of the oven and preheat oven to 375 degrees F. Line an 8×8-inch square pan with parchment paper so that the paper hangs over two edges of the pan about two inches. This will make the pie bars easier to remove after it's baked. Lightly spray the pan with non-stick cooking spray and set aside.
For the crust, place the butter, sugars, and vanilla in the bowl of an electric stand mixer fitted with a paddle attachment and beat on medium speed for 3 to 5 minutes, until light and fluffy.
Stop the mixer and scrape down the sides of the bowl. Add the flour and salt and mix on low speed until just combined.
Scatter two-thirds of the dough into clumps in the prepared pan, flour your fingers and press the dough across the bottom of the pan and up the sides of the pan about 1/2-inch.
Refrigerate for 15 minutes.
Bake for 18-20 minutes, until the crust is golden brown and set aside to cool while you prepare the topping and filling.
In a small bowl combine the remaining crust, walnuts and cinnamon. Stir until combined and set aside.
To make the filling, combine both kinds of apples and lemon juice in a medium bowl. Add the sugar, cinnamon, and nutmeg and toss to coat.
Melt the butter in a medium saucepan. Add the seasoned apples and simmer over medium-low heat, stirring often, for 12 minutes until the apples are tender and some of the liquid has evaporated. Add the cornstarch and toss for 1 minute more.
Spread the apples evenly over the crust, leaving a 1/2-inch border.
Pinch medium pieces of remaining dough with your fingers and drop them evenly over the top of the apple mixture (they won't cover the top completely). Bake for 25 to 30 minutes until the topping is brown.
Allow to cool completely.
To make the glaze, in a small bowl whisk together browned butter, powdered sugar, a plash of milk and pinch of salt. Whisk until smooth. Spoon into a ziplock bag and cut a tiny tip off one corner of the bag. Drizzle glaze over cooled bars before slicing into 9 slices.
Store, wrapped individually or covered in plastic wrap in the refrigerator for up to 5 days.
---
---