I did it again. I bought bananas with great hopes of probably smoothies and healthy afternoon snacks and here we are – where we always end up – at banana bread.
Honestly it's what we deserve and where we belong so why fight it?
Today's recipe offering is a must-make. While I think everything I post is delicious, go ahead and put a little star next to this recipe. Maybe let your bananas go a few extra days so you'll feel obligated.
We're bringing together tahini and flax, adding moisture and a round, nutty flavor to our bread. Not a thing wrong with it, I'll tell you that much.
Let's get going!
Here's what you'll need for this super moist and delicious bread:
• 3 very ripe bananas for the batter + 1 less ripe banana to top the bread before baking.
• Tahini, whole milk, and oil for our fats. Could you use butter, you sure could!
• Eggs and flax seed meal will help the bread bind. I have whole flax seeds on hand and grind them up in a little coffee grinder I've transformed into a spice grinder.
• Brown sugar and granulated sugar + cinnamon and allspice + leavening and salt. Sweetness, spice, flavor and leavening.
• Whole wheat flour, mostly. And a bit of all-purpose flour, too. The whole wheat will add a nuttiness and weight to the bread, bringing structure to all the moisture.
First, whisk together the dry ingredients.
Whole wheat flour meets all-purpose flour. Cinnamon, all-spice, baking soda, and salt.
Give it a good whisk and set aside to add to the wet ingredients later.
In a big bowl, mash the super ripe bananas.
I use a fork to mash the bananas very well, the less lumps the better when it comes to the fruit inside the batter.
Whisk the eggs into the mashed bananas.
We'll layer in the west of the ingredients starting with the brown and white sugar.
Sure, sugar may not read as a 'wet ingredient' but will dissolve well into the wet ingredients.
Add the oil and flax seed meal and whisk well.
Add tahini.
Tahini is a spread made from ground sesame seeds. It's more pourable than an almond or peanut butter and lends itself so easily to both sweet and salty interpretations.
To the banana bread it will add a savory nuttiness to balance the sweetness of the bread.
Whole milk to add to a moist crumb.
Would a nut milk substitute do? Yes of course!
Stir the dry ingredients into the wet.
Give this a good stir to smooth out any lumps but this also gives the flour time to absorb some of the liquid of the batter. The batter will thicken slightly as you stir. See? It's all working.
Pour the batter into a parchment lined and lightly greased baking sheet.
Pop out that ripe but firm banana and slice it in half lengthwise.
How often do we do this? Honestly, not often at all. Cool cool cool.
Gently place the banana strips atop the banana bread batter.
I dramatically held my breath as I did this. Did it help? Yes, definitely.
Sprinkle generously with sesame seeds. This feels good. This feels right.
Bake until deeply golden, lightly puffed, and cooked through.
Here's the thing – if you're anything like me, you'll check this banana bread 6 to 8 times towards the end of baking. Is it done yet? Ok how about now… is it done yet? Surely now it's done… is it done yet?
This bread takes a good while to bake – 50 -60 minutes being a 'good while'.
The first 30 minutes of baking are critical – don't stomp around the kitchen, open the oven, or rotate the pan. The leavening is going to work and the eggs and flour and working to support the bread structure. It's an important time not to jostle.
Later, towards the end of baking, the bread is sturdier and can handle the open oven, poking and prodding.
Look at this darling!
The crumb is tight and tender, super moist, and wonderfully flavorful. It's sweet with bananas, nutty with flax and tahini. It feels balanced and indulgent. Banana bread is always a win. It feels like you can add just about anything besides spinach and crawfish and be a success – but this is maybe one of my favorite banana breads yet.
See also: Browned Butter Banana Bread.
Photos with my friend Jon Melendez.
Print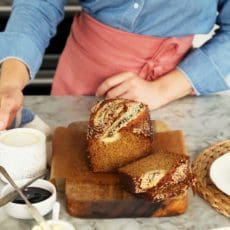 Tahini Flax Seed Banana Bread
Prep Time:

0 hours

Cook Time:

0 hours

Total Time:

0 hours
---
1 cup

whole wheat flour

1/2 cup

all-purpose flour

1 teaspoon

baking soda

1/2 teaspoon

kosher salt

3/4 teaspoon

ground cinnamon

1/8 teaspoon

ground allspice

3

over ripe bananas, mashed (

1 1/4

–

1 1/2

cups)

2

large eggs

1/4 cup

neutral oil

1/2 cup

granulated sugar

1/2 cup

lightly packed light brown sugar

1/4 cup

ground flaxseed meal

1/3 cup

whole milk

1/3 cup

tahini

1

ripe but firm banana, peeled and sliced in half lengthwise

1 1/2 tablespoons

white sesame seeds, for topping
---
Instructions
Place a rack in the center of the oven and preheat to 350 degrees F. Grease a 9×5-inch loaf pan, line with parchment paper and lightly grease the paper. Set aside.
In a large bowl, whisk together flours, baking soda, salt, ground cinnamon and ground allspice.
In a medium bowl, mash the bananas. Whisk in eggs. Stir in oil followed by sugars and flax seed. Whisk in milk and tahini.
Pour the wet mixture into the larger bowl with the dry ingredients. Fold together with a spatula until no more flour bits remain. Give it a good stir for about 2 minutes.
Pour the batter into the prepared baking pan and top with the sliced firm banana and sesame seeds. Bake for 55 to 60 minutes, or until a skewer inserted into the center of the loaf comes out clean. Rotate the pan 30 minutes into the baking process.
Remove from the oven and allow to cool in the pan for 20 minutes before running a butter knife along the edges of the pan and inverting the bread onto a wire rack to cool completely.
This bread lasts, well wrapped at room temperature for up to 4 days. It is also great to store, well wrapped, in the freezer.
---