There are truly a million ways to do carbs at breakfast. I know because I've tried most, if not all of them. I mean… there are at least a hundred thousand ways to pancake alone. We're thankful, especially on the weekend.
My latest morning carb craving has been English Muffins and as a baker, I'm more than happy to buy them at the store and skip all the work of resting, rising, pan frying and baking the little suckers. There are much faster ways to nook and cranny, ya feel?
This week, looking for ways to procrasti-bake my way through post-Mardi Gras blues, I found a recipe for an English Muffin LOAF in Shauna Server's Midwest Made. Sold. Done. Mine. Someone please note that I want Lover of English Muffin Loaf as my epitaph, thank you.
Two things to consider.
• Shauna's book is low-key / high-key a VERY solid baking book, very well tested, very thoughtful, such fun simple and creative recipes, I highly recommend.
• What makes an English Muffin an English Muffin and how to we get those qualities into this bread?
Here's what you'll need for this dream loaf:
• flour, salt, yeast, and sugar – the basics of flavor and structure.
• this yeasted recipe calls for a bit of baking soda which will get a boost from the acidic buttermilk in this bread.
• coarse cornmeal to add the English Muffin texture we crave.
• scallions and cheddar cheese for flavor throughout.
Let's bake!
Ok so – what makes an English Muffin and English Muffin?
The nooks and crannies. The cornmeal crunch on the outside. Let's recreate that – starting with a few teaspoons of instant yeast, time, and coarse cornmeal – a winning combination.
Start by blooming the instant yeast. You don't typically need to bloom instant yeast, but this is extra insurance that the yeast is alive and well before we incorporate the rest of the ingredients.
While the yeast blooms, grease a metal loaf pan.
We'll use a metal pan for this bread because it heats up quickly in the oven and helps create a golden brown crust as the bread bakes.
Grease the pan. (I like to line my pan with parchment paper and grease that for easy removal.) Dust the entire pan with coarse cornmeal. You know… like you'd dust a cake pan with flour. Cornmeal for texture!
In the bowl of a stand mixer we'll bring together the dry ingredients.
Flour + sugar + salt + a dash of baking soda.
I added cracked black pepper because that always feels like a good idea.
Toss all of the dry ingredients together with a spatula to evenly mix.
We'll add the flavor ingredients before the wet items.
Scallions and sharp cheddar cheese are really nice together. Let's get this going.
Add the buttermilk. Add the fluffy yeast mixture. Add the oil.
(I didn't have buttermilk on hand – I know, crazy. I mixed 1/2 cup plain yogurt with 1/2 cup whole milk and 2 teaspoons of apple cider vinegar)
I stir all of the ingredients with a spatula to bring them together into a shaggy dough before the dough hook goes to work. Bringing the ingredients together will help the dough hook have something to hold on to.
Beat on low speed for 4 to 6 minutes. You'll find that the dough is soft and wet. It won't form into a perfectly smooth ball – that's not what we're after.
If the dough feels too dry, add a splash more buttermilk. If the dough feels too wet – add a few tablespoons more flour.
(In my experience… likely because I didn't have proper buttermilk on hand… I needed to add additional splashes of milk to the dough as it came together.)
Soft, relatively smooth, and wet. This is our dough before it hits the pan.
With lightly greased hands (and the help of a plastic bench scraper) work the dough into the prepared loaf pan. Work the dough into each corner and edge of the pan. Not a ton of pressure, just work it in.
Sprinkle with the remaining tablespoons of cornmeal, cover with plastic wrap and allow to rest for an hour.
It's incredible, but in that hour, the dough will rise and fluff significantly.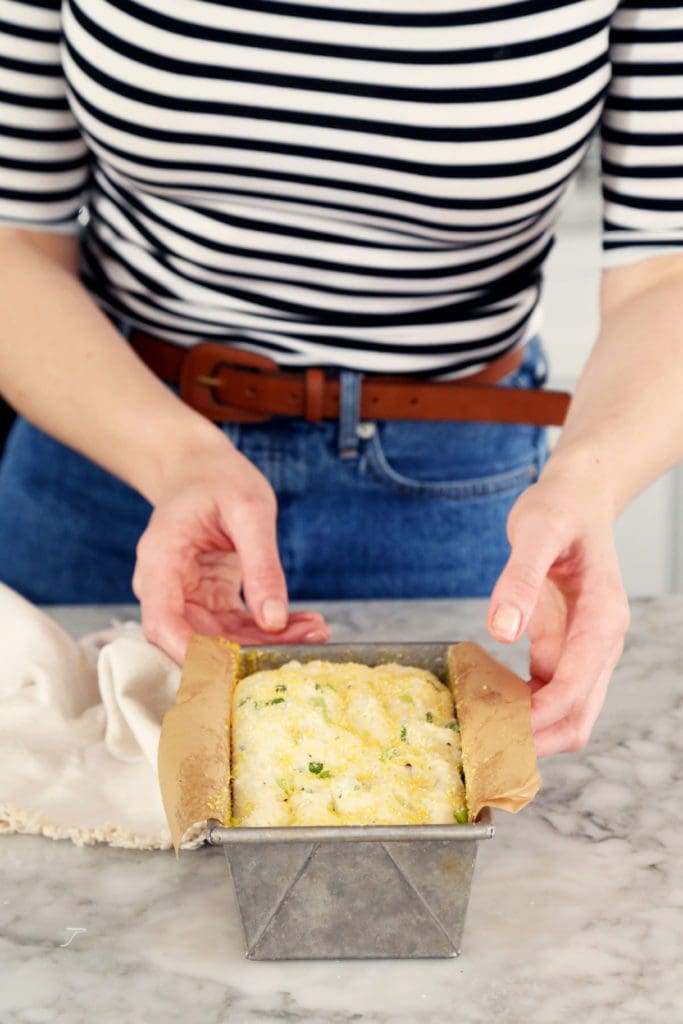 Look at all this fluff!
Don't fuss with the risen bread too much, we want to maintain all of the air pockets we've build over the hour of rising.
Bake for just past 20 minutes until the bread is risen even more, supremely golden, and sounds hollow when you gently thump it.
I let the loaf rest for 10 minutes before lifting it out of the pan and off the parchment paper to cool completely. Giving the loaf some breathing room will help it cool without steaming and sogging up the sides.
And… listen – we all want to crack into a warm loaf of bread. BUT! The bread is actually still cooking as it cools so do give it time.
Slice generously.
I love this bread toasted as it brings out the texture – balancing the tenderness of the bread with a bit of crunch.
The cheese and scallion combination surprisingly tastes exactly like a goldfish cracker and honestly WE'RE WELCOME.
Buttered. Of course.
Images with my friend: Jon Melendez.
Print
Cheddar Scallion English Muffin Bread
Prep Time:

1 hour 30 minutes

Cook Time:

0 hours

Total Time:

1 hour 30 minutes

Yield:

1

9x5-inch loaf

1

x
---
vegetable shortening or non stick cooking spray for the pan

3 tablespoons

(

30g

) coarse yellow cornmeal, divided

2 1/4 teaspoons

instant yeast

1/3 cup

(75g) warm water (

110

–

115

degrees F /

43

–

46

degrees C)

1 tablespoon

granulated sugar, divided

3 cups

(

384g

) all-purpose flour

1 1/2 teaspoon

kosher salt

1/4 teaspoon

fresh cracked black pepper

1/4 teaspoon

baking soda

1/2 cup

chopped scallions, whites and greens

1 cup

grated sharp cheddar cheese

1 cup

(

225g

) thick buttermilk, at room temperature

2 tablespoons

plus 1 teaspoon (

32g

) vegetable oil
---
Instructions
Lightly grease or spray a 9×5-inch metal loaf pan with shortening or nonstick cooking spray. Wipe away any excess that pools in the corners. Line the pan with a piece of parchment paper that hangs over the edges. Grease the parchment paper. Dust the pan with 2 tablespoons coarse cornmeal and tap around the pan and paper to coat.
In a small bowl whisk together yeast, warm water, and a pinch of sugar. Let rest and froth for a few minutes.
In the bowl of an electric stand mixer fitted with a paddle attachment, whisk together the flour, remaining sugar, salt, black pepper and baking soda. Add the scallions and cheddar and stir to combine.
Add the buttermilk, oil, and yeast mixture. Stir with a spatula to lightly incorporate. Place on the mixer with the dough hook and mix on low speed for 4 to 6 minutes. Until all of the ingredients are combined and the mixture is soft and sticky.
Lightly grease your fingers and scrape the dough out of the bowl into the prepared pan. With oiled fingers gently press the dough evenly into the pan, corner to corner. Sprinkle the top of the dough with remaining cornmeal.
Cover loosely with plastic wrap and allow to rest in a warm place until doubled in size, about an hour. The dough will come to about 1 inch or a smidge closer to the top of the pan.
Place a rack in the center of the oven and preheat oven to 400 degrees F. When bread has doubled, place it in the oven and allow to bake for 22 to 25 minutes, until golden brown and the bread sounds hollow when tapped in the center. (The internal temp will measure at least 190 degrees F).
Lift the bread onto a wire rack and allow to cool completely (it's still secretly baking) before serving. Bread is delicious within 4 days of baking – extra yummy toasted with butter.
---
Notes
It's important that the buttermilk be at room temperature so the yeast in the dough rises well. Nothing too chilly, please!