Remember last year's Thanksgiving?  That's a bit of a trick question – 2020 was a pandemic blur.  What I do remember about last year's holiday was our smaller scale gathering, big gratitude, AND the Turkey Pot Pie.
Today's Turkey Pot Pie recipe is a adaptation from last year's most popular recipe from Joy the Baker Magazine.  Y'all LOVED this pot pie because it's essentially an entire Thanksgiving feast in a single pot pie.  This year I've added dried cranberries to the stuffing crumble at the behest of a brilliant blog reader.  The result is a bigtime salty savory pot pie with an occasional bite of sweetness.
Let this pie hit the Thanksgiving spot if you're having a small holiday this year OR gather up your leftover turkey and make this pie.  Happy holiday, friends!
Here's what you'll need to make Thanksgiving Turkey Pot Pie:
•  All-Butter Pie Crust – we'll just need a single pie crust for this recipe but if you're going to make one pie crust, you might as well make two.  Why not throw a Sweet Potato Pie in the oven, too?
•  Onions, garlic, carrots, frozen peas, and green beans.  I use a mix of fresh and frozen veggies for this pie. If you're low on time and energy, a thawed bag of frozen veggies will also be dang delicious.
•  Butter, all-purpose flour, chicken stock, cream cheese and milk to create a thick and creamy gravy for the filling.  Season generously with salt, pepper, and fresh or dried herbs like thyme, sage and rosemary.
•  Let's talk about turkey! Look for either uncooked or precooked turkey breast at the grocery. I love to keep it easy for this pie and buy a pre-cooked turkey breast. This pie is also perfect for leftover turkey the weekend after your big Thanksgiving meal!
•  StoveTop stuffing – yes the boxed mix.  Have you ever had StoveTop stuffing!? It's FANTASTIC!  We'll whip up a box and add a few dried cranberries for the full Thanksgiving effect.
Let's start by making the creamy gravy for this Turkey Pot Pie.
In a heavy bottom saucepan whisk together melted butter and flour.  I know – this might feel wild.  The mixture will feel thick but whisk pretty constantly until the flour begins to brown slightly.  This will mean that the flour is toasty delicious.
Stream in the milk, whisking constantly.  You'll feel the ingredients start to seize (that's the flour absorbing the liquid) but keep streaming and whisking. The mixture will smooth.  Add the stock, cream cheese and seasoning and stir until the cream cheese melts.
Taste the creamy gravy and add more seasoning to your taste.
In a separate skillet cook down onions until just softened and translucent.  Add the garlic and stir for one minute more.
Add all the veggies and herbs and give it a toss just to heat the vegetables (they'll cook through more thoroughly in the oven).
Add the cooked and cubed turkey breast.
It's a full pot and it's going to be a full pie, too!
Stir the turkey and vegetable filling into the creamy gravy.
Give the mixture a taste and add any more seasoning you'll enjoy.
Roll out the pie crust and – for best results – chill the pie crust and chill the filling. It's ideal if everything goes into the oven cold.
If you don't have time to chill all of the components – chill them as much as you have time for.
Now let's make the topping!
Stir together StoveTop stuffing according to the box directions but stir in a small handful of dried cranberries. They'll soften along with the stuffing.
Spoon the pie filling into the unbaked pie crust.
(I don't fuss with par-baking my crust. The bottom and sides of the pie crust will cook to golden but still be a bit soft. I like it!)
Top with cranberry studded StoveTop stuffing.  And set the pie off to bake.  Place this pie on a parchment lined baking sheet in case there's any spill over in the oven.
Bake to golden and bubbling  Your kitchen should smell like a full Thanksgiving feast – it's bonkers.
Happy baking friends!  Drop any questions or comments below!
Print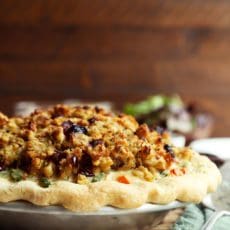 Thanksgiving Turkey Pot Pie
Author:

Prep Time:

1 hour 30 minutes

Cook Time:

45 minutes

Total Time:

2 hours 15 minutes

Yield:

Serves 8

Category:

dessert, holiday
---
Description
An entire Thanksgiving dinner in a single pot pie.
---
For the Crust:
2 1/2 cup

all-purpose flour

3/4 teaspoon

salt

1 cup

(

2

sticks) unsalted butter, cold, cut into cubes

1/2 cup

cold buttermilk
For the Filling:
1

– (approx 3 pound) bone-in skin-on turkey breast (cooked or uncooked)

4 tablespoons

tablespoons olive oil, divided
Kosher salt and fresh cracked black pepper

3 tablespoons

unsalted butter

1/3 cup

all-purpose flour

1 1/2 cups

chicken broth
 3/4 cup whole milk

2 ounces

cream cheese

1 cup

diced yellow onion

1

garlic clove, minced

1 cup

diced carrots

1 cup

diced green beans

1 teaspoon

each chopped fresh thyme and sage
 3/4 cup frozen peas, thawed
For the Topping:
2

(6 ounce) packages stuffing mix (such as Stovetop

3 cups

water

8 tablespoons

(

1/2 cup

) unsalted butter

1/3 cup

dried cranberries
---
Instructions
To make the crust, in a medium bowl, whisk together flour and salt.  Add cold, cubed butter and, using your fingers, work the butter into the flour mixture.  Quickly break the butter down into the flour mixture, some butter pieces will be the size of oat flakes, some will be the size of peas.  Create a well in the butter and flour mixture and pour in the cold buttermilk.  Use a fork to bring to dough together.  Try to moisten all of the flour bits.  On a lightly floured work surface, dump out the dough mixture.  It will be moist and shaggy.  That's perfect.  Divide the dough in two and gently knead into two disks.  Wrap each disk in plastic wrap and refrigerate for 1 hour. We'll only use one disk for this pie so perhaps freeze the other pie dough disk for another use if you don't make another pie within three days.
Cube turkey breast into bite size pieces if you bought a pre-ccooked piece of meat. To cook the turkey breast, place a rack in the center of the oven and preheat oven to 450 degrees F.
Place turkey breast in a large oven-safe skillet or cast iron. Pat the outside of the turkey dry and rub with 2 tablespoons olive oil. Sprinkle generously with salt and pepper, on the outside and inside of the skin. Allow the turkey to rest on the counter for 20 minutes or so if it's fridge cold.
Place pan in the oven and immediately reduce heat to 350 degrees F. Allow the turkey to roast for 1 hour before checking the temperature. Place a meat thermometer in the thickest part of the meat and see that the temperature reaches 165 degrees. If after an hour the turkey hasn't reached temperature, let it back for another 10-15 minutes before testing again. Remove from the oven and allow turkey to rest for 20 minutes before dicing into bite-size cubes for the pie.
To make the filling, start by dicing the onion, garlic, carrots, green beans, and thawing the frozen peas. Set aside.
In a medium saucepan over medium heat, melt butter. Whisk in the flour. Mixture will be very thick. Heat for 1 minute. Turn flame to low and slowly add the chicken stock. Whisk until no flour bits remain. Whisk in the milk and add the cream cheese. Heat over medium low heat, stirring often, until cream cheese has melted and the mixture is the consistency of warm, thick pudding. Add salt and pepper to taste. Remove mixture from heat and spoon into a medium bowl. Set aside.
In a medium skillet over medium heat, remaining olive oil. Add onions and saute until translucent, about 3 minutes. Add minced garlic and saute for one minute more. Add carrots, green beans, and peas. Cook for about 5 minutes. The vegetables will not be entirely cooked through. Add the fresh herbs and stir to combine. Remove from heat and stir in cooked, cubed turkey. Stir the mixture to the sauce. Stir to combine. Set aside and allow the filling to cool slightly.
To assemble the pie, remove one of the pie dough disks from the fridge. On a lightly floured surface, roll dough out into about a 13-inch round. Roll the dough a few strokes, then use your fingers to move the emerging circle around the floured surface. This ensures that the dough isn't sticking to the work surface. The circle won't be perfect, that's ok. Try not to get any tears in the rolled out dough, but if you do, they can be patched together with extra dough. When you roll the dough and you can see it start springing back, that means that the butter is warming and the crust shouldn't be rolled out anymore. Gently lift the 13-inch round from the floured surface and center in a deep 9-inch round pie dish. Fold an excess dough under the pie crust and crimp. Place in the fridge while you assemble the topping.
In a medium saucepan simmer water and butter. Add the stuffing mix and cranberries, cover, and allow to rest until absorbed, about 5 minutes. Remove the lid and fluff with a fork.
Place a rack in the upper third of the oven and preheat oven to 375 degrees F. To assemble pie, spoon the filling into the crust and top with stuffing. Bake until crust is golden and the filling is lightly bubbling around the edges, 35-45 minutes. Remove from the oven and let stand for 20 minutes before serving. Pie can also be cooled to room temperature, covered, and chilled in the refrigerator. To re-heat, cover loosely with foil and reheat until just warm in a 300 degree F oven.
---
Photos with Jon Melendez.