Micro batch baking – the invitation is to get all the way into it with me!  This is all very Kristin Wiig  making herself a single, sad cupcake in the movie Bridesmaids, save for the fact that there is absolutely zero sadness in me eating a single cinnamon roll over the kitchen sink in my pajamas.  This is, in fact, what I call luxury.  This single-serve cinnamon roll deserves a proper home and printable recipe here on the blog before I decide if this whole series is an ebook or a zine something – this really is something (and a proper cookbook would take too long).
This singular cinnamon roll (which can, of course be doubled for two people or just because) is gooey and best enjoyed warm with cream cheese glaze dripping down your hands. You can absolutely use a fork if you need to keep up appearances, but really what fun is that?
This is a yeasted, quick-rise cinnamon roll.  Just because we're making one roll doesn't mean we're skimping on technique and texture.  Now, let's make this perfect lil' cinnamon bun.
Here are the ingredients you'll need to make this singe serve cinnamon roll recipe:
•  all-purpose flour
•  rapid rise yeast
•  baking powder
•  granulated sugar
•  kosher salt
•  vegetable oil
•  whole milk or any milk you prefer
•  butter, either softened or melted butter
•  brown sugar
•  ground cinnamon
•  cream cheese
•  powdered sugar
•  vanilla extract
* you could make this recipe vegan by substituting an alternative milk for the dough, vegan butter spread for the filling, and an easy powdered sugar glaze for the topping.
In a small bowl, whisk together the dry ingredients:  flour, granulated sugar, baking powder, instant yeast (like RapidRise), and salt.
In the microwave, warm milk and oil until just warm to the touch.  It's ok if the two don't mix well together, it'll come together with the dough.
Add the wet mixture to the dry ingredients and use a small spatula to form a rough dough. The dough will be rather shaggy and moist but not sticky.  If you find that your dough is on the dry side (aka you're not down here in steamy New Orleans) add more warm milk a teaspoon at a time.  If you find that your dough is on the wet side, just flour the counter generously to knead.
Turn the dough onto a lightly floured counter and knead for 25 turns or so.  You'll feel the gluten start to form as the dough springs back from the pressure of kneading.  Drape a clean kitchen towel over the bouncy dough and allow to rest for 10 minutes.
Roll the dough into a thin rectangle about 9×6-inches long.  I found it easiest to roll the dough on a very lightly floured surface so the dough can stick a bit to the surface.  A little bit of traction is helpful since the dough doesn't have a ton of time to rest and relax.
Spread dough with softened butter and sprinkle with brown sugar and ground cinnamon.
To create an abundant roll, from the 6-inch side of the dough, cut three long strips.  Roll one strip into a coil.  Place that coil on the second strip and continue to roll the coil. Continue with the last strip of dough to create a generous roll.
Place the roll in an oven-safe ramekin or dish coated with cooking spray or greased with butter.
Pictured above is a 1-cup ramekin. I like for the roll to bake in something cozy so it maintains its coil shape.
Cover the ramekin loosely with a kitchen towel and allow to rest and rise for 30 minutes while the oven preheats.  I leave the covered ramekin in the warmest spot in my kitchen for this short rise – right near the back burner outside the warming oven.
Bake in the upper third of the oven until just golden around the edges and bubbling from the center.
While the roll bakes I make a quick cream cheese glaze, though you could always just make a simple milk and powdered sugar glaze if you don't have cream cheese on hand.
Remove the roll from the ramekin and coat generously with cream cheese frosting. Now, there's no time to wait – this is a sweet treat for right now.
If rolls are your jam, here's more!
Small-Batch Overnight Mocha Cinnamon Rolls – small batch but larger than one.
Biscuit Cinnamon Rolls – we're talking no yeast but still doughy delicious!
Gluten-Free Carrot Cake Cinnamon Rolls – loaded and very impressive.
Print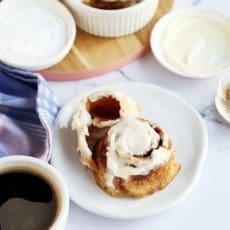 How To Make a Single Serve Cinnamon Roll
Author:

Prep Time:

40 minutes

Cook Time:

18 minutes

Total Time:

about 1 hour

Yield:

1

perfect roll

1

x
---
Description
A recipe for one very delicious, doughy cinnamon roll for one.  You can absolutely double the recipe and make two fine rolls.
---
For the dough:
1/2 cup

964 grams) all-purpose flour

2 teaspoons

granulated sugar

1/8 teaspoon

baking powder

1/4 teaspoon

instant (RapidRise) yeast
A good pinch of salt (we're talking less than 1/8 teaspoon0

2 teaspoons

vegetable oil or any neutral oil you prefer

2 1/2 tablespoons

milk (cow's milk or any kind of nut or oat milk)
For the filling:
1

–

2

tablespoons softened butter (salted or unsalted, it's up to you)

3 tablespoons

lightly packed brown sugar

1/2

–

3/4

teaspoon ground cinnamon (just sprinkle it on generously until you're pleased)
A pinch of salt if you used unsalted butter
For the glaze:
1 ounce

(about a 1/2-inch slice off a cream cheese block) softened cream cheese

2

–

3

tablespoons powdered sugar
A splash of vanilla extract
A pinch of salt
A tiny splash of milk, if necessary (a teaspoon or so)
---
Instructions
Place a rack in the upper third of the oven and preheat oven to 350 degrees F. Spray a 1-cup oven-safe ramekin with nonstick cooking spray (or smear with softened butter) and set aside. To figure out the side of your ramekin, fill a measuring cup with 1 cup of water and pour the water into the ramekin. A 1-cup ramekin will be filled to the absolute brim. Use an oven-safe vessel as close to 1-cup as you have.
In a small bowl whisk together flour, sugar, baking powder, yeast, and a pinch of salt. In a small measuring cup whisk together oil and milk and heat in the microwave until just warm to the touch (somewhere between 105 and 110 degrees F).
Stir the wet ingredients into the dry and use a spatula to incorporate well until the ingredients gather into a cohesive ball. Lightly sprinkle the counter with flour and knead the small dough ball for 20-30 turns. Lightly cover with a clean kitchen towel and allow to sit for 10 minutes.
Roll the dough to 1/4-inch thickness into a 9-inch tall x 6-inch wide rectangle (though mine is always more like an oval). You won't need too much flour on the counter because you want the dough to stick to the counter just a bit to hold its shape.
Smear with butter. Sprinkle with brown sugar. Sprinkle with cinnamon and maybe a sprinkle of salt. Use a large knife to slice the dough into 3 strips (about 2-inches each). Roll the first strip into a relatively tight coil. Place that coil on the second strip and roll again. Place that coil on the third strip and roll into a generous cinnamon roll. Place in the prepared ramekin, cover loosely with a towel and place near the oven as it heats. Allow to rest for 20-30 minutes until puffed.
Bake for 16-18 minutes until golden and bubbling. While the roll bakes, whisk together the glaze. (I zap the cream cheese in the microwave for a few seconds to super soften it.) Add cream cheese, vanilla, salt, and a tiny splash of milk to get the right consistency.
Remove roll from the oven. Allow to rest for 5 minutes before using a butterknife or large spoon to scoop the hot hot roll from the ramekin. Smear with glaze and wow, enjoy immediately.
Note: You can absolutely double this recipe successfully. Split the dough in two before rolling and coiling and do so separately.
---