When life hands you lemons, make lemon bars! This lemon bar recipe is the perfect way to add a bite of sunshine to the day. These bars boast a buttery and lightly spiced shortbread crust, and a creamy smooth lemon filling that's the perfect combination of tangy and sweet. Indulge in a square (or two) of these my favorite lemon bars and brighten up your day/week/month. They're that good!
There's an old Wilson family cookbook that I laid claim to early in my baking days.  It's one of those spiral bound, church-compiled cookbooks that doesn't quite lay flat and bunches at the seams. I took to this book for all of it's church lady baking wisdom, leaving dates and notes alongside each recipe I tried.
By far the most butter stained page in this book is the recipe Lemon Squares.  They were simple enough for a young Joy the Baker to make on her own but like… a dessert with layers? Multiple steps?  I felt like a child baking prodigy. I was really in the kitchen doin' somthin'.
Today's recipe continues our month of CLASSIC BAKES, taking it back to that floppy old cookbook.  Here's my very favorite classic lemon bars recipe.  True to its roots, with a little extra lemon and spice.
Here are the ingredients you'll need for my Classic Lemon Bars recipe:
•  fresh lemons are essential for lemon bars. Skip the jarred lemon juice.  You'll want the tartness of fresh squeezed lemon juice along with lemon zest from the skins
•  unsalted butter, at room temperature
•  large eggs
•  granulated sugar
•  all-purpose flour
•  cornstarch
•  sea salt or kosher salt
•  ground coriander, optional but lovely
•  powdered sugar
We'll start this sweet little lemon dessert in the bowl of a stand mixer fitted with a paddle attachment.  If the thought of dragging the mixer from its home in the cabinet onto the counter top is just too much, I get it – a medium bowl with a handheld electric mixer will do the mixing just as well.
Combine flour, sugar, softened butter, salt, coriander (my favorite subtle balancing spice for citrus), and lemon zest.  So much lemon flavor is hiding out in the zest, I love to double down on its powers for both the shortbread crust and the lemon filling.
The shortbread crust mixture will be rather shaggy and feel heavy with butter – that would be correct.
Prepare the baking pan by first lining two sides with parchment paper.  Allow the parchment to come up two sides of the pan.  These are little handles that will make the baked lemon bars easier to lift and remove from the pan after they're baked.
I prefer metal pans over a glass pan for this lemon bars recipe.  A metal pan will heat the shortbread crust faster, crisping the edges of the buttery crust before it has a chance to get soggy. 
Press the crust into the prepared pan and set it off to bake while you assemble the lemon filling.
The lemon filling is a simple mixture of eggs, sugar, lemon zest (we love her), flour and cornstarch (to help set the curd), and a generous pour of fresh lemon juice.  Whisk to combine.  It's really that easy.
The par-baked crust will be just golden around the edges and slightly wrinkled across the top. It won't be entirely cooked through and that's exactly right.  Pour the lemon curd filling over the warm buttery shortbread crust and pop it all back in the oven to bake until the filling is set.
You'll know the lemon bars are cooked through and set when the top jiggles slightly but doesn't have wave like jiggles. Waves mean the bars need more time in the oven.  A solid jiggle means it's done!
Allow the bars to cool completely before slicing. You can even speed up the process by sliding the pan into the refrigerator to quick chill the bars.  Use a sharp knife to cut the cooled lemon bars into squares.
We can't call these lemon bars without a generous dusting of powdered sugar before serving.
Pro Tip: If you're taking these lemon bars to potlucks or picnics, dust them with non-melting powdered sugar instead of conventional powdered sugar which can, over time, disappear by soaking into the bars.  
These really are my best lemon bars – mostly classic with a subtle hint of spice and an incredible amount of lemon flavor.  For a little twist, add poppy seeds and make Lemon Poppy Seed Bars, and for a gluten-free version try these Almond Flour Lemon Raspberry Bars.
Leave your questions, comments, and rate the recipe below! Happy baking, friends! xo
Print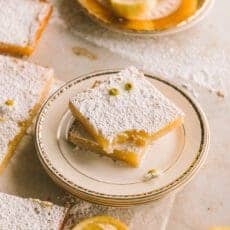 My Favorite Classic Lemon Bars Recipe
Author:

Prep Time:

20 minutes

Cook Time:

35 minutes

Total Time:

55 minutes

Yield:

9

-

12

squares

1

x

Category:

dessert

Method:

baking
---
Description
My very favorite lemon bar recipe with a gently spiced shortbread crust, cream lemon curd filling, and a generous dusting of powdered sugar.
---
For the Crust:
1/2 cup

(1 stick,

113 grams

) unsalted butter, softened to room temperature

1/2 cup

(

100 grams

) granulated sugar

1/2 teaspoon

lemon zest

1

(127 grams) cup all-purpose flour

1/4 teaspoon

sea salt

1/8 teaspoon

ground coriander
For the Topping:
3

large eggs

1 cup

(

200 grams

) granulated sugar

1 teaspoon

fresh lemon zest

3 tablespoons

all-purpose flour

1 tablespoon

cornstarch

1/2 cup

fresh lemon juice
Pinch of salt
Powdered sugar for topping
---
Instructions
Place a rack in the upper third of the oven and preheat oven to 350 degrees F. Grease a 9×9-inch baking pan, line with parchment paper (so that it over hangs slightly from the pan) and grease the parchment paper. Set aside.
To make the crust, in the bowl of a stand mixer fitted with a paddle attachment or a bowl with an electric hand mixer, cream together butter, sugar, and lemon zest until light and fluffy, 3 to 5 minutes. Stop the mixer and scrape down the sides of the bowl. Add flour, salt, and coriander. Beat on low speed until dough is incorporated. Dough may come together, but if it remains shaggy, that's fine too.
Dump the crust into the prepared pan and use your fingertips to press the dough into the bottom of the pan. Bake for 15 minutes until just browned around the edges.
You can make the filling while the crust is baking! In a medium bowl, whisk together eggs, sugar, and lemon zest until well combined and slightly thick. Add the flour, cornstarch lemon juice, and salt and whisk until blended.
Pour the filling over the still warm baked crust. Return to the oven and bake for 18 to 20 minutes, or until lightly browned on top and no longer wavy-jiggling in the center.
Allow to cool completely in the pan. Placing them in the refrigerator will help the bars cool faster and set more firmly. Run a knife around the edges of the pan. Slice lemon bars into nine squares. Use the over hanging parchment paper to lift the squares out. Dust generously with powdered sugar before serving.
To store the lemon bars, place them in an airtight container separated by wax paper layers.
---
Keywords: lemon bars, lemon, shortbread, easy recipe, lemon dessert