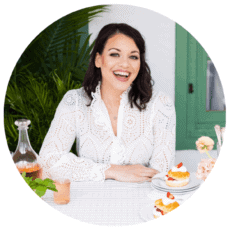 I'm slowly morphing into my parents with every year that passes and boy howdy, these years keep sneaking by. This morph can show itself as a quick glance – the one my mom uses instead of saying something less than kind.  It's revealed itself in the way I  recently said, "Well, who said life was fair?" to a friend, echoing my mom's painfully true sentiment to us as kids.
Lately, I've been in my There's Food At Home Era which was a thread through every chapter of the Cliff and Patty Parenting Manual. There's Food at Home, or You Can Eat an Apple, or There Are Tums in My Purse (which, for years I thought were actual candy) and if you don't want those things you must not be really hungry and again, THERE'S FOOD AT HOME.
I suppose, in some ways, life is about learning how to parent ourselves in the healthiest most compassionate ways and maybe morphing into our best examples is part of that process?  What a trip, honestly.  But also, what an honor.
I've been There's Food At Home-ing myself for weeks now.  Mom and Dad are both in my head as I stare at the can of beans I bought with such high hopes. There's Food at Home isn't a glamorous lifestyle but it's certainly one to be deeply thankful for.  It calls for energy and a bit of creativity. Some days I just don't have it, but if I pause and really think about it – I can scramble some eggs and heat a few tortillas and oh look! There's salsa hiding in the back of the fridge! It's about making something simple and warm with exactly what's on hand.  It's not necessarily aspirational, but it's very adult.
Please also know to fully flourish in my There's Food At Home Era, I have to put food from home in the bag I take out in the world. The way I've taken celery sticks in a paper towel and a full jar of peanut butter in the car to run errands is just me taking care of me.
This week, the food at home is two cans of black beans, a fridge-wilted onion, handful of weary baby carrots, one bendy stalk of celery, cumin (though I used Danielle Walker's Burnt Broccoli seasoning), chicken stock, a random sweet potato (peeled and diced), and crushed red pepper flakes.
Here's how to soup it:
Place a large saucepan over a medium flame and add a few glugs of olive oil.  Dice an onion (I used just half an onion), enough diced carrots to fill the palm of your hand, a diced celery stick or two and a diced potato (if you have one).  Stir around the pan until it all smells good.  Smash a garlic clove or two and add to the veggies and stir around the pot until just warm.
Add a scant teaspoon of cumin and a few pinches of salt and red pepper flakes.
Drain the black beans (though white beans would be nice, too!) and add both cans.  Add 4 cups of chicken stock or really any stock you have on hand. I keep a bottle of Better than Bouillon in my fridge for just these occasions.  You can also just use water in which case, rummage around the spice cabinet and add a few sprinkles here and there.
Bring to a low simmer, uncovered, until the potatoes and carrots are fork tender.  Turn off the flame and allow to cool slightly before carefully blending to smooth in a blender or with an immersion blender if you have one.
I served my soup with leftover braised collard greens (the recipe will be in tomorrow's blog post recipe and it's a good one!), a spoonful of yogurt, hot sauce, and a few random cilantro leaves. I've also served this with the last corn chip crumbs in a bag, grated mozzarella cheese and salsa. This soup has no pretenses.
It's not soup season but there is food at home.  What a blessing that is.
What's on your plate this week?