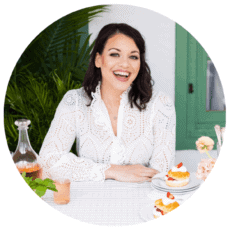 Friends, hi! Hello it's Sunday!
What started as a sweet and easy Friday morning motorcycle ride with Will somehow evolved into window shopping for new motorcycles, and quickly escalated into me trading in my beginner motorcycle for this real deal Harley Davidson. Can you even believe!?  She's so beautiful. I'm taking her for a ride this morning and wow can I just say – the fact that I learned how to ride a motorcycle in my 40's and now ride a Harley surprises the heck out of me.  Life is full of surprises in the place past fear, doubt, and the few tears I shed learning how to ride.
Today's gathering of links evolved over the course of the week.  I've been thinking about habits this week.  I'm looking closely at my own habits and daily routines as a casual, mid-year check in.  Do I really need that third cup of coffee? Lol, no.  Am I hydrated? Am I moving my body? Am I who I want to be?
Here are just a few links I've gathered to that end.  It's short and sweet and I hope you find a little something here that serves you.
•  I've listened to this episode of On Purpose with Rick Rubin twice now. Rick Rubin, as I'm sure you know, is a LEGENDARY record producer and creative mind. I'm always fascinated by a creative person who can get to the very soul of other people's creativity.  To hear Rick Rubin talk about changing creative habits and swapping mindset to dig deeper – there's so much value in this conversation. Do listen! (Jay Shetty)
•  10 Habits People with Nice Smelling Kitchens Swear By.  Apparently it's more than just emptying the trash. (The Kitchn)
•  Let's talk about the habit of money.  This is a deeply realistic question:  How Do I Get Better About Money Without Overhauling My Whole Life? (The Cut)
•  Remember this song along with me:  Sins of My Youth (Spotify)
•  I've made a habit of taking a shot of the most intense and delicious lemonade every morning.  It's that viral TikTok lemon concoction thats a whole lemon (peel and all), quartered, blended with 2 cups of water, 2 tablespoons of olive oil, a knob of ginger and a few tablespoons of honey.  Blend until smooth, strain and store in the fridge. It's so tart and creamy it's DELICIOUS!   It also reminds me of Brazilian Lemonade which is made with sweetened condensed coconut milk and might just be the bevy of the summer. (Brazilian Kitchen Abroad)
•  We've made these Sunday posts a whole habit. Here's where we were this time last year: Let It Be Sunday, 375.  It's totally worth a revisit because you share some of your favorite podcasts, music, and books! (Joy the Baker)
•  I'm allowing myself a drugstore level glowup this summer and I'll tell ya, this L'Oreal Pre-Shampoo Treatment has surprised me in how much it's strengthened my hair. Highly recommend if you're balling on a budget like me.   (Amazon)
•  One of my favorite Sunday habits is to make a dinner large enough for leftovers that will feed us into the week, paired with a movie on the couch. Tonight it's roasted chicken and veggies and the Gordon Lightfoot: If You Could Read My Mind documentary. (Amazon)
Enjoy this day. Go easy on yourself, and turn towards the sun.
My love to you.
xo Joy