Amping up the classic egg salad recipe with fresh herbs, crunchy celery and red onion, and a few hearty spoonfuls of extra protein. This egg salad is extra rich and creamy and absolutely my new favorite!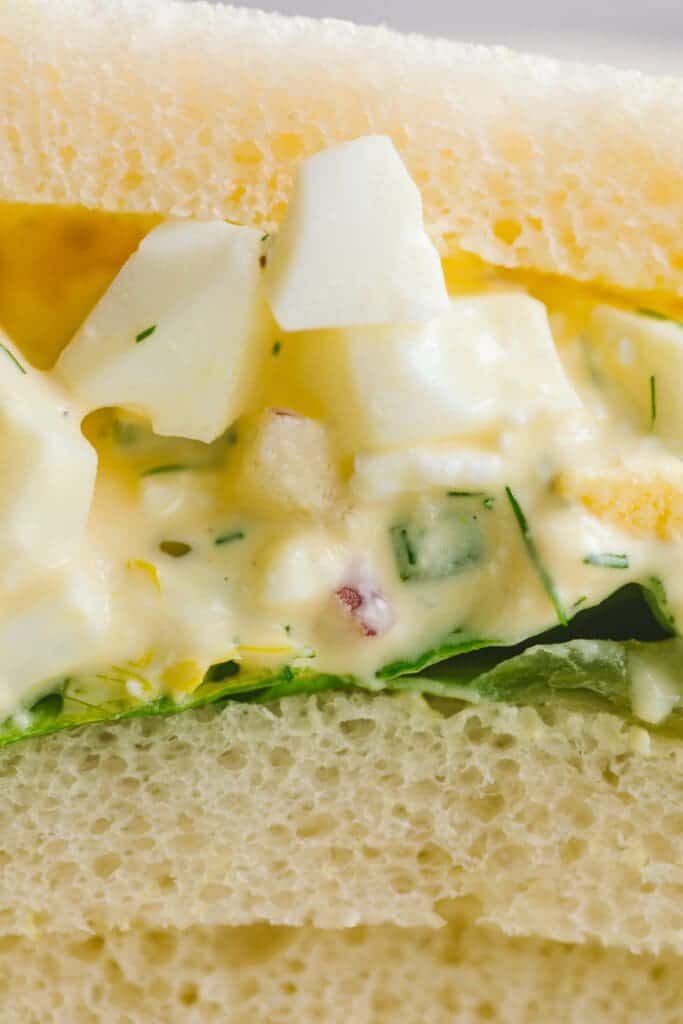 Friends welcome to our second installment in our Summer Sammie Series in which I made a very good Egg Salad Sandwich.
If I have my finger on the pulse correctly, egg salad is pretty divisive.  Isn't it?  I feel like, there are egg salad people and then there are real and true HATERS OF EGG SALAD.  Listen, everyone is right, I just happen to be a person that loves this rich, creamy sandwich.
Like all delicious things in my life, the best version is always the version my dad makes. Because I'm me (with a chaotic Gemini sun and a stubborn Aquarius moon), I can't rarely leave well enough alone and I'm prone to tinkering, in the kitchen especially.
Dad's egg salad is thick and substantial.  My version is a has a spoonful more of Duke's (the only) Mayo (that matters) and a bigtime protein bonus from secret ingredient: cottage cheese.  Get into this with me, skeptics and all!
Here are the ingredients you'll need to make this egg salad sandwich recipe:
•  hard-boiled eggs, cooked, cooled, and peeled (I always have large eggs in the fridge for baking so that's the size I use in this recipe)
•  cottage cheese (though greek yogurt is also a nice substitute)
•  celery, finely chopped
•  red onion, also finely chopped
•  dijon mustard
•  fresh dill (though other fresh herbs like chives or fresh parsley are also really nice!)
•  fine sea salt and black pepper
•  Bibb lettuce
•  In this, my other best egg salad recipe I add a squeeze of fresh lemon juice – we want a hit of brightness from somewhere
First boil the eggs in a saucepan until cooked through.  I spoon eggs into boiling water and let them bubble around for 11 minutes. Once boiled, drain the boiling water and run cool water over the eggs to bring the temperature down.
Crack the eggs and run them under cool water to separate the membrane from the egg white. Peel the eggs and rinse off any shell bits.
Have you seen that trick of pressing hard-boiled eggs through the grates on a cooling rack into a bowl? I tried it and can confirm it's a great trick.  Totally worth washing the cooling rack, especially if you don't have this very specific egg slicing contraption.
Add mayonnaise, I measure with my heart.  Add a heaping teaspoon of dijon mustard.
Add the secret ingredient: cottage cheese for a little extra protein and a little extra tang.
Very finely chop celery and onion.  They'll add crunch and a bite of flavor to the egg salad.
Fresh dill is iconic but you either love it or hate it.  I like fresh dill in egg salad.  It gives pickle vibes without pickles.
Add a good pinch of salt and pepper.  Stir and taste. Adjust seasoning until it's perfect to you. The flavors should be balanced and bright.
I prefer to chill the egg salad before assembling the sandwiches. Spoon the egg salad mixture onto soft bread slices (spread with mayo or mustard if you'd like!) and layer with tender lettuce slices.
Egg salad has a mush factor, that's a fact.
Wrap tightly in wax paper and refrigerate if you're not going to enjoy them right away. If you are going to enjoy them right away, I recommend paper plates and barbecue potato chips.
That's the sandwich for today, friends! Leave any questions or comments below!
Print
This Egg Salad Recipe Has a Secret Ingredients
Author:

Prep Time:

20 minutes

Cook Time:

12 minutes

Total Time:

32 minutes

Yield:

Serves 4

Category:

lunch, sandwich
---
Description
Lately, this is my favorite egg salad sandwich recipe. Creamy and crunchy from celery and chopped red onion. Amped up with Duke's mayo and a few big spoonfuls of cottage cheese!
---
8

hard-boiled eggs

1/4 cup

Duke's mayonnaise

3 tablespoons

cottage cheese

2 teaspoons

Dijon mustard

2 tablespoons

very finely chopped red onion

1/4 cup

finely chopped celery

1 tablespoon

chopped fresh dill
Salt and pepper to taste

8

slices of bread (I like white bread or a country loaf)
Bibb lettuce leaves (optional)
---
Instructions
Peel and crumble the hard-boiled eggs in a mixing bowl.
Add mayonnaise, cottage cheese, Dijon mustard, red onion, celery, and chopped dill (if using) to the bowl. Mix everything together until well combined. Season with salt and pepper to taste.
Lay out the bread slices and evenly spread the egg salad mixture onto 4 slices. If desired, you can layer lettuce leaves and tomato slices on the bread before adding the egg salad.
Place the remaining 4 slices of bread on top of the egg salad to complete the sandwiches.
Trim the crusts from the sandwiches and cut them diagonally into halves for a more appealing presentation, if desired.
Serve the egg salad sandwiches immediately, or you can wrap them tightly in wax paper and refrigerate until ready to serve.
---
Keywords: duke's mayo, egg salad, sandwich recipe, sandwich series, cottage cheese