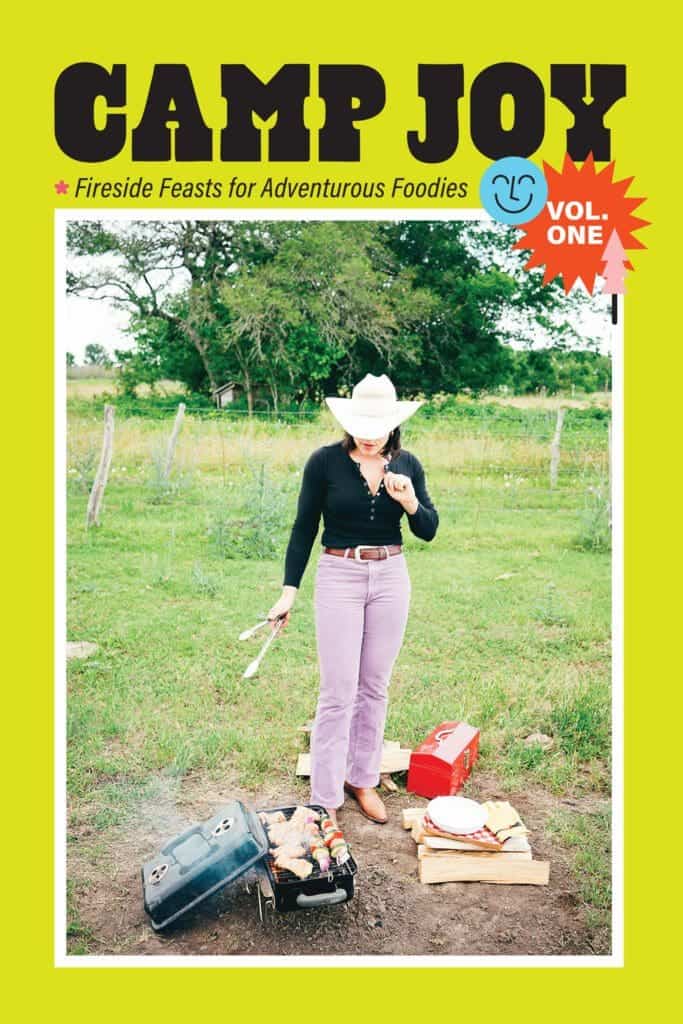 Friends! Welcome to Camp Joy!
Camp Joy started in the summer of 2020 when we were all, like it or not, Indoor Pandemic Kids.  If you've been here for more than a few years you know that I took to the backyard with my video camera (lol my iPhone) to make a 90's era summer camp for us.  We made peach cobbler.  I raided the craft closet and we made the daisy chains.  It was A Whole Thing.
Over the past few years I've been slowly been morphing into a camp counselor.  Okay, I'm mostly just wearing a scarf and cowboy boots and I love building a fire and making crafts, but it's all feeling rather campy.  To make matters even better, Will and I get out camping as often as we can.  Often in his trailer, often with a few motorcycles, and most definitely with a cooler full of food I want to cook over fire.
It was on our last big camp of 2022, a pretty epic trip to Devil's Den, Arkansas, that I roasted a big ol' pork butt in a dutch oven over coals while Will caught baby trouts to show me and throw back in the river that it hit me – I needed to write a camp cooking book.  So… I SURE DID.
Did you ask for this? I mean… not specifically.  But I'm in the habit of making what I love in the hopes that you love or will learn to love it too. That's what camp counselors do, right?
CAMP JOY is 62 insanely colorful pages with 18 cutie new recipes meant to inspire your summer! This little zine is exactly what I want it to be thanks to the joyful design of Megan Dekok, the masterful editing of our Abby Mallett, editing and consultation from our favorite dad, Clifford Lesley, and the photo editing skills of our dear Karlee Flores.  I casually went out into the wild, made food, took pictures of it, and wrote everything down.
Can I tell you how proud of this zine I am? It's the best thing I've ever made.
I'm going to tell you the whole truth.  If you're here for a Sunday post, we're obviously friends.
Camp Joy is a self-published endeavor for one reason.  I got sick and tired of having my work watered down by traditional book and magazine editors only to have them come back to tell me how disappointed they were in my sales. Not making what I want AND disappointing large corporations who haven't made enough money off my hard-fought creativity? PASS.  Y'all.  I'm so over that.
So I took to the out of doors and made Camp Joy under the Texas sun, with people I love working with.  It feels really special to me and I know, when you get your copy, you'll think it's special too.
The recipes are designed to be prepped at home and then finished at camp but let's be real.  Maybe you're not into camping.  I get that. Listen, I love room service too. If you want to call grilling out on the deck "camping" – be my guest.  No judgement from me!  The recipes in Camp Joy could just as easily be car snack for your next road trip or special treats for your next picnic.
All of this is to say, I made this for you especially, and I hope you love it. When you hold a copy you're holding a piece of my heart in your hands.
As a special treat, virtually camp cook with me this Tuesday, June 27th at Central Market. You get a fun mini camp cooking sesh with skillet flatbreads, veggie sloppy joe's, and campfire roasted bananas that sometimes I make at home just cuz. It'll be a good time, and I can't wait to hang with all of you!
Get your copy of Camp Joy here, and don't forget the merch! Even if you don't head out upon the very wild, you'll be in style any and everywhere. Let's go out and make some memories this summer!
I love you a lot.
xo Joy