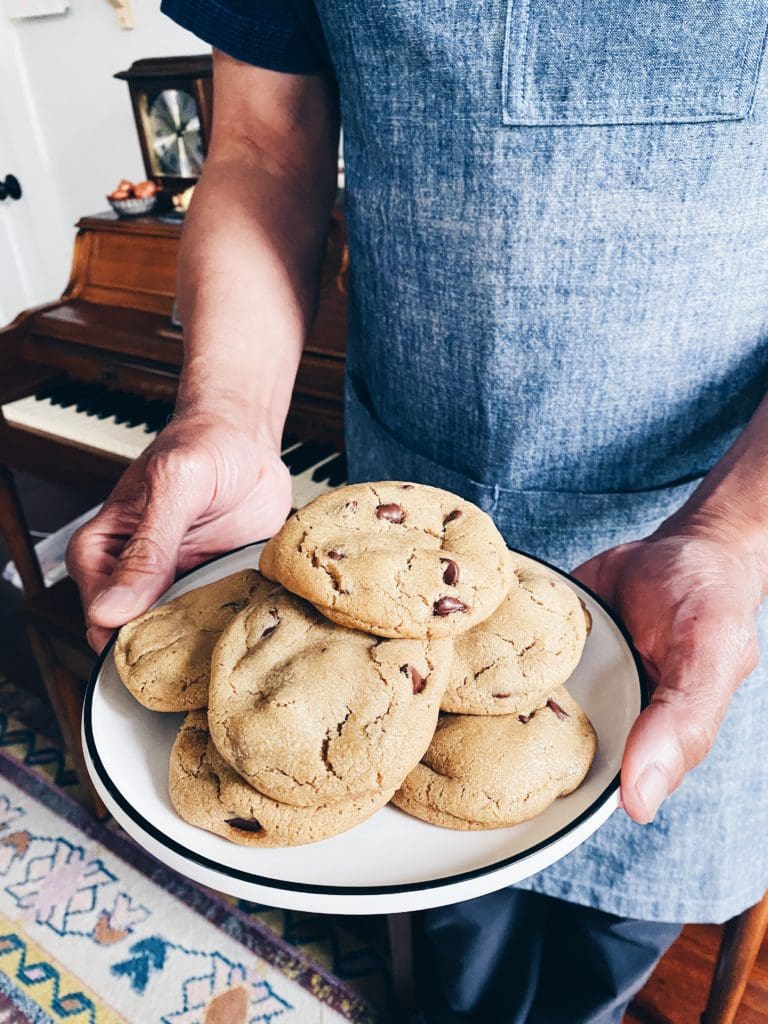 Emergency Saturday dispatch, friends! We have an update! We're talking urgent Browned Butter Chocolate Chip Cookies!
My parent's are visiting New Orleans this week which means I've convinced my dad to make my favorite cookies (twice now and once more before he goes) – his Browned Butter Chocolate Chip Cookies.
I've made hundreds of dozens of cookies in my day but none better than these.  Two things make these cookies so special: 1) browned butter, and 2) dad making them for me.  Now… when I make them for myself they're still absolutely delicious. The effort barely decreases the pleasure at all.  But ya know… it just feels nice to have dad bake cookies and mom help with dishes after a year long pantene pro-v.
I have this supremely fine recipe for Browned Butter Chocolate Chip. It's been up for ages (7 years to be exact) and it feels high time for an update from our Virgo Baking Legend, Clifford Lesley.
The key to this recipe – the things that will make your cookies as good as Dad's version:
•  Brown the butter (a step-by-step here) and allow it to cool back to room temperature.  You can speed this process up by placing the browned butter in the refrigerator to cool but bring it to a softened room temperature before combining with the sugar and other butter.
•  Allow the cookie dough to rest for 1 hour (at least) before baking. This will allow the dough to meld and rehydrate.
•  Portion the dough into 60 gram (about 2 1/2 tablespoon) round balls before baking.
Just the way dad does it and he seems to have the perfect touch.
Happy baking, friends. Let there be cookies in your future.
Print
Dad's Very Best Browned Butter Chocolate Chip Cookies
Author:

Prep Time:

2 hours

Cook Time:

12-15 minutes

Total Time:

6 minute

Yield:

18

cookies

1

x
---
Description
Dad's perfectly chocolate chip cookies. Chewy inside, crisp around the edges, deep buttery caramel flavor.
---
1 cup

(2 sticks,

226 grams

) unsalted butter, divided. 1/2 cup softened, 1/2 cup browned and cooled to room temperature

1 cup

(

200 grams

) lightly packed light brown sugar

1/2 cup

(

100 grams

) granulated sugar

1

large egg

1

large egg yolk

1 teaspoon

vanilla extract

2 1/2

–

2 3/4

cups (Dad uses

365 grams

) all-purpose flour

1 teaspoon

baking soda

3/4 teaspoon

kosher salt

1

heaping cup chocolate chips
---
Instructions
Place half the butter (8 tablespoons) in a medium skillet. Melt the butter over medium heat, swirling it in the pan occasionally. It'll foam and froth as it cooks, and start to crackle and pop. Once the crackling stops, keep a close eye on the melted butter, continuing to swirl the pan often. The butter will start to smell nutty, and brown bits will form in the bottom. Once the bits are amber brown (about 2 1/2 to 3 minutes or so after the sizzling stops), remove the butter from the burner and immediately pour it into a small bowl, bits and all. This will stop the butter from cooking and burning.  Allow it to cool until absolutely room temperature. Speed this step up in the refrigerator, but don't skimp on this step.
In a medium bowl combine softened butter, room temperature browned butter, brown sugar, and granulated sugar.  Using an electric hand mixer, beat on medium speed until well incorporated, lightened in color, and fluffy – 3 to 5 minutes.
Add the egg and yolk plus the vanilla extract and beat on low speed for 1 minute, until well incorporated.
In a medium bowl whisk together the flour, baking soda, and salt to incorporate the leavening evenly through the flour.
Add the dry ingredients all at once to the butter and sugar mixture and beat on low speed or incorporate with a wooden spoon or spatula until no dry patches remain.  Stir in the chocolate chips.
Wrap the cookie dough in waxed paper or plastic wrap and refrigerate for 1 hour.  Dough can also be refrigerated overnight. Just allow the dough to rest on the counter while the oven preheats.
Line two baking sheets with parchment paper. Place a rack in the upper third of the oven and preheat oven to 350 degrees F.
Roll dough into 60 gram portions (about 2 1/2 tablespoon balls). My dad rolls the dough into perfect balls and place about 2 inches apart on the prepared baking sheet.
Bake one cookie sheet at a time for 12 to 15 minutes, rotating the pan halfway through baking.
Allow to cool on the pan for 10 minutes before transferring to a wire to cool further before storing.  Eat as many as you can while they're warm.
Store in an airtight container at room temperature for as long as they last.
---
Notes
Cookie dough can be frozen in rolled portions and baked from frozen for an additional 3 minutes.