I've entered my kolache era.  Here's a classic kolache recipe using an enriched dough made with yogurt for  a super tender, extra fluffy bun.  Its filling is cream cheese and apple butter, but any fruit spread you love will be delicious!
I've been in Texas well over a year and… I can't believe it took me so long to get here. I've learned a few things the hard way and Will (my Texas sponsor) has always been quick to gently correct me.  Like when I hold a horse's lead in such a way that could break my hand, or I'm the only person standing for the national anthem with my cowboy hat still on.  I don't want a broken hand or people staring at my bad manners so, let a gal know! I've also learned that:
•  Real gentlemen take their hats off indoors. Baseball caps and all.  Unless it's the rodeo then everyone wears the biggest cowboy hats they can find.
•  Real belt buckles are earned, usually on the back of a horse or bull.
•  Everyone is extremely cordial unless you're driving together down I-10 in which case everyone is your enemy and this is a race.
•  If you're from California, no you're not.  Just say you're from somewhere else.
•  Texans will categorically NOT accept beans in their chili unless you get them behind closed doors where they will begrudgingly admit that they actually do want beans in their chili but they've just dug in too hard and can't go back.  Which… I get that.
•  Most donut shops also sells kolaches but not every kolache shop sells donuts.  Go for the kolaches every time. There is no bad kolaches. It's just that some are better than other.  The best? Fluff Bakery who only sells them on Saturday morning between 10am and 11am because they sell out they're so good.
I didn't have much experience with kolaches until I moved to Texas.  Kolaches are synonymous with central Texas especially, as Czech immigrants settled throughout that rural land in the 1880's.  Kolaches are a made from yeasted sweet dough and often filled with fruit, poppy seeds, or sweetened cheese.  The fruit compote or cheese are dolloped in the center of the yeasted dough and as they bake, the dough rises up around the filling.  They're a delight. Apricot especially.  If you're driving through central Texas and don't stop at a mom and pop kolache shop – you're doing it wrong.
Just like it took me years of living in New Orleans to make a proper pot of gumbo, it's taken me time to dare make kolaches.  This recipe is based off a King Arthur Baking recipe who cites its source as a Dorothy Kubena, a long-time participant in Caldwell's Kolache Festival.  You know we're workin' with the good stuff if this recipe made into a kolache festival.
Two key elements of this recipe:  the yogurt added to the dough makes for the most light and tender kolaches. And the dough rests overnight in the refrigerator adding flavor to the dough with a slow rise, making the dough easier to work with when shaping and filling.
Now, let's make kolaches!
Here are the ingredients you'll need to make this kolache recipe:
•  all-purpose flour, just the regular stuff
•  instant yeast though you can use active dry yeast if you activate it in a bit of the warm water before incorporating into the dough
•  full-fat Greek yogurt helps makes this dough super tender – think Yogurt Pita if you've tried them. They're masterful.
•  warm, melted unsalted butter
•  granulated sugar, just enough to balance the dough
•  kosher salt
•  warm water
•  two large eggs for richness
We'll start by mixing some of the wet ingredients together in a large bowl.  Whisk yogurt, sugar and salt, along with the  melted butter.  We're doing a few things here — sure, we're combining ingredients, but we're also using the heat of the melted butter to warm the yogurt.  Taking the chill off the yogurt makes sure the cold doesn't mess with the efficacy of the yeast.
Whisk the mixture to a smooth, thick sauce.
I do think this kolache recipe is best made in a stand mixer.  You can see it's a wet dough – a little sloppy at the sides.  It's the sort of dough that might be fussy to make by hand without adding additional flour.  We want the dough to be soft and sloppy.  It'll make for a really tender kolache.
In the bowl of a stand mixer combine the flour, yeast, eggs and warm water.  Add the yogurt mixture and use a spatula to quick combine the mixture into a shaggy dough.  Place the bowl on a stand mixer fitted with a dough hook and work the dough around the bowl on medium speed.
I occasionally the mixer and use a spatula to scoop through the bottom of the pan, just to make sure everything is evenly mixed.  The dough won't wrap itself entirely around the dough hood. Much of it will stick to the bottom and just up the sides of the bowl. That's right. That's a wet dough.  Knead for 5 to 6 minutes.
PRO TIP: Transfer the dough to a medium bowl and cover with plastic wrap.  Refrigerate the dough overnight.  Don't skip this – it's a critical step in the dough's rise, flavor, and making the dough easier to portion and fill.
We're making these cream cheese kolaches.  I'm a sucker for cream cheese coffee cake, so that's how we're playing this.  In a medium bowl whip together a softened brick of cream cheese, an egg to help the filling set, powdered sugar, and a splash of vanilla bean paste.
This buttery crumble isn't essential for this kolache recipe, but we've come this far so let's just gild the lily.  Stir together flour, sugar, and melted butter to a sandy mixture to sprinkle over the kolaches before baking.
PRO TIP: Any leftover crumble can be sealed in a ziplock bag and stored in the freezer for future kolaches or any muffins you might bake in the future!
After a night in the fridge, topple the cold dough onto a lightly floured counter and divide the dough into 20 pieces.  I find it easiest to use a scale to weigh the dough portions to ensure they're all simpatico – about 50 grams each.
Roll each dough portion in a ball, any seams kept on the underside of the ball.
Line a rimmed baking sheet with parchment paper and lightly spray with nonstick spray for good measure.  Place each dough ball on the prepared sheet, pressing the dough into a small circle about 1/2-inch thick.  Leave about an inch of space between the dough pieces.  They're fun when they bake together.
Use your fingers to create a wide, deep indentation in the center of the flattened dough.  Don't be she about creating this indentation or the dough will bake over any filling you add.  Just don't pierce through the bottom of the dough.
Poppy seeds, prunes, or apricots are traditional for a kolache recipe but it's fall, let's mess around.  Paired with our cream cheese filling is a spiced apple butter.  If you aren't a farmer's market girlie, raspberry or blueberry jam would also be delicious!
Grab your tablespoons and spoon one generous tablespoon of cream cheese filling into the indentation and cozy up a generous tablespoon of apple butter right next to it.
Sprinkle generously with the butter crumble just before they set off to bake.
When the kolaches come out of the oven they'll be puffed and lightly golden.  They're perfection served slightly warm though still wonderful at room temperature.  As with most yeasted bakes, these are best enjoyed the day they're made but also good toasted in a toaster oven a few days after baking.
I also tested this dough stuffed with boudin sausage, jalapeno and mustard.  It's been a crowd favorite so far – like the best pigs in a blanket we've ever had.
Let me know if you have any questions before you set off to bake these sweet little Texas pastries! Find the full kolache recipe below!
Print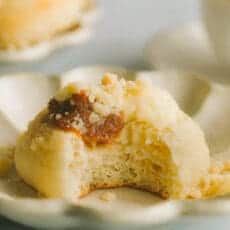 Apple Butter and Cheese Kolaches
Author:

Prep Time:

1 hour 30 minutes plus overnight

Cook Time:

20 minutes

Total Time:

overnight plus about 2 hours

Yield:

about

20

kolaches

1

x

Category:

breakfast, brunch

Method:

baking
---
Description
A classic Texas kolache dough filled with sweet cream cheese and sweet spiced apple butter
---
For the kolache dough:
1 cup

(

228 grams

) full fat Greek yogurt, resting at room temperature for 30 minutes

1/2 cup

(

100 grams

) granulated sugar

1 1/2 teaspoons

kosher salt

8 tablespoons

(

113 grams

) unsalted butter, melted

2 1/4 teaspoons

instant yeast

1/2 cup

(

113 grams

) warm water

2

large eggs

4 cups

(

485 grams

) all-purpose flour, plus a bit more for sticky dough and flouring the counter
For the filling:
1

heaping cup great quality apple butter

8 ounces

cream cheese, softened

1

large egg

1/3 cup

(

35 grams

) powdered sugar

1/4 teaspoon

kosher salt

1/2 teaspoon

vanilla bean paste
For the crumble topping:
3/4 cup

(

90 grams

) all-purpose flour

3/4 cup

(

175 grams

) granulated sugar

6 tablespoons

(

85 grams

) unsalted butter, melted
---
Instructions
To make the dough, in a medium bowl whisk together yogurt, sugar, and salt. Melt butter in the microwave or in a small saucepan and whisk the warm melted butter into the yogurt mixture to combine.
In the bowl of a stand mixer fitted with a dough hook, use a rubber spatula to combine flour, yeast, warm water, and eggs. Add the yogurt mixture and use the spatula to roughly combine. Knead the mixture with the dough hook on low speed for 5 minutes. Dough should pull away from the sides of the bowl but be very tacky too the touch. Add up to 1/2 cup more flour as necessary but really, you want the dough to be sticky. The overnight rest in the refrigerator will make the sticky dough easy to work with.
Transfer the dough to a lightly greased bowl, cover the bowl with plastic wrap, and refrigerate overnight.
While the kolache dough rests, make the cheese filling and the crumble topping.
For the cheese filling, in a medium bowl using hand beaters or in the bowl of the stand mixer with a paddle attachment, beat together all of the cheese filling ingredients until a smooth paste forms. Place in a small container, cover and refrigerate.
For the crumble topping, combine all of the ingredients in a medium bowl and use your fingers to incorporate the ingredients into a sandy mixture. Cover and place in the fridge until ready to fill.
The following day, remove the dough from the fridge, and divide it into about 20 pieces and use a bench knife to divide the dough into balls that are 1 3/4 ounces (or 50 grams) each, about the size of a golf ball.
Place the pieces on lightly greased or parchment-lined rimmed half sheet pans, leaving about an inch between them. Flatten the balls until they're about 1/2″ thick, cover them with lightly greased plastic wrap, and allow them to rest for 10 minutes.
Using your fingers, make a wide, deep indentation in the center of each flattened dough ball. Don't be afraid of being decisive here; you want to make a deep enough indentation that it doesn't just disappear as the buns rise and bake.
Place about 1 tablespoon of the cheese filling and 1 tablespoon of the apple butter into each bun side by side; crumble a little of the streusel on top. Cover the kolaches, and allow them to rise for about 45 minutes. They won't necessarily double in bulk.
Uncover the kolaches, and bake them in a preheated 350°F oven for 15 to 20 minutes, until they're golden brown.
Remove the kolaches from the oven, and serve warm, or at room temperature. Store any leftovers airtight at room temperature for several days; freeze for longer storage and reheat covered in foil to serve warm.
---
Keywords: kolaches, texas, yeast, apple butter, breakfast, bread, brunch