I got pulled over by a cop today.  He gave me a ticket.
Strangely enough… it was just about the nicest interaction I've had all day.
In California, drivers are not allowed to talk or text while driving a car.  Nice rule, right?  In California, drivers generally talk and text while driving a car.  If they have two cell phones… they talk aaand text.  It's just a thing.  It's horrible.
I answered my phone just as I was passed a police man on a motorcycle.  I didn't see him as I was breaking the law… obviously.  Not but moments later, there he was behind me.  There were lights and such.  I dunno.  I didn't pull over until I got a good dose of the siren.  See… I've never actually been pulled over.  The only thing I know about getting pulled over is advice given to me by my uncle when I was 13.  He said… always keep your hands on the steering wheel as a cop approaches your car so the officer doesn't think you're searching your purse for your lady gun to shoot him in the belly.
I kept my hands on the steering wheel.  Window up.  Radio (accidentially) blasting.  Awkward.
I rolled down the window, he told me what I had done wrong, I agreed (because I was totally doing a wrong thing)… and then somehow we ended up talking about his son, my parents, driving in Los Angeles, and whether or not I had a family of my own.  Seriously.  It was genuinely awesome…
And then he gave me a ticket.  That part sucked slightly… but really, I was in the wrong.  Do the time, pay the crime… that sort of thing.
Lessons learned:  don't approach the phone while driving.  It's illegal because it's dangerous… and not like wearing 4-inch heels dangerous… but actually dangerous.  I get it.  Learned.
The truth of the matter is it was a lovely, $150 conversation with a stranger… with a gun.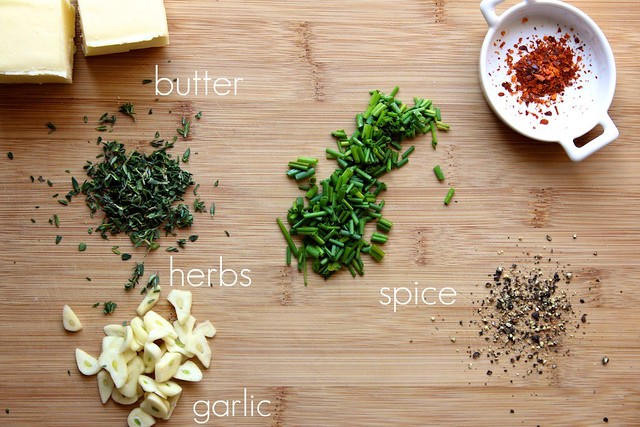 This is some good ole Sunday supper bread.
It's the kind of bread you start Sunday afternoon (just before your accidental nap) and throw in a pot to bake just before the stew is ready.
Yes… the stew.
Yes, it's bread.
Yes, there's yeast.
Yes, you might find this intimidating.
I promise that this bread is nearly fool-proof.  Not that you're a fool.  That's just an expression.
The dough is studded with fresh chives and thyme, butter and garlic, and red chili flakes.
Salt and pepper make nearly everything better… so they're in here too.  The more the merrier.
After some kneading and resting, and a bit more kneading… the dough is shaped into a ball, set on a bed of olive oil, and slashed.
The slashing is really fun.  Swish!
The pouring of the olive oil is absolutely mesmerizing.
We've entered dreamland.
This little love dough is sprinkled with coarse sea salt and red pepper flakes.  When baked, the dough rises, blossoms, and browns beautifully.
It bakes up into a dense, beautifully flavored bread.
Ok… maybe it tastes a little like pizza, but I wouldn't' go so far as to call this pizza bread.  Let's keep it classy.
This bread uses bread flour which is important in creating the structure of the bread.  Using an all-purpose flour won't quite give you the same result.  The bread may be a bit more chewy.
Also!  This bread is baked in a Dutch oven.  You'll need an ovenproof pot and lid to bake up this dough.  The big reveal (when you take the lid off the pot) is a big deal.  Just don't hover over the pot as you open the lid for the first time.  The steam is super intense.  Trust me.  Learn from my face full of too hot steam.
Easy Spicy Garlic Bread in a Pot
makes 1 loaf of bread
recipe adapted from The Pioneer Woman
1 cup (8 ounces) of warm water (between 110 and 115 degrees F)
2 1/4 teaspoons active dry yeast
pinch of granulated sugar
4 ounces unsalted butter, melted
1 tablespoon chopped fresh thyme
1 tablespoon chopped fresh chives
3/4 teaspoon dried red chili flakes
2 or 3 cloves of garlic, peeled and sliced
about 4 cups (20 ounces) bread flour, plus more for dusting the work surface
a few big pinches of coarse ground black pepper
2 teaspoons salt
olive oil, coarse sea salt, and chili flakes for topping
Sprinkle yeast over warm water, add pinch of sugar and stir gently.  Allow yeast and warm water to rest, foam and froth for about 5 minutes.  If yeast does not foam and froth after 5 minutes, toss it and start over again with new yeast.
Melt butter in a small saucepan.  When butter is melted, remove from heat and add herbs, chili flake, and garlic.  Set aside.
Place flour in the bowl of an electric stand mixer, fitted with a bread hook.  Add salt and pepper.  Pour in activated yeast mixture, and butter mixture.  Stir on low speed, with the dough hook, for about 10 to 12 minutes.  The dough ball should clean the sides of the bowl and not stick to the bottom of the mixing bowl.  The dough will be relatively smooth and supple, with some firmness from the bread flour.
Place dough in a large greased bowl.  Cover with plastic wrap and allow to rest in a warm place until double in size, about 1 hour.
Preheat oven to 450 degrees F.
When doubled in size, place on a lightly floured surface and knead by hand for about 2 minutes.
In a large Dutch oven, add about 2 tablespoons olive oil, to coat the bottom of the pot.  Place dough in pot and use a large knife to slice a fairly deep cross into the dough.  Drizzle about 3 more tablespoons of olive oil atop the bread.  Sprinkle generously with coarse sea salt and pepper flakes.
Cover with tight fitting lid and bake for 30 minutes.  Reduce oven heat to 400 degrees F, remove lid, and allow to make for about 15-20 minutes more.
Remove from oven and allow to cool until easily removed from the pan.  Bread will last, well wrapped at room temperature, for up to 3 days.