Mornings that look this apricot-sweet and cherry-studded are lovely indeed… especially since summer is just starting to really show off.
We're in the middle of a holiday weekend here, so it seems like we should all just take it easy on the breakfast front.  Let's mellow out, roast our fruit, and serve it with sweet yogurt and crunchy granola.
It's called LIVING, and we're really good at it.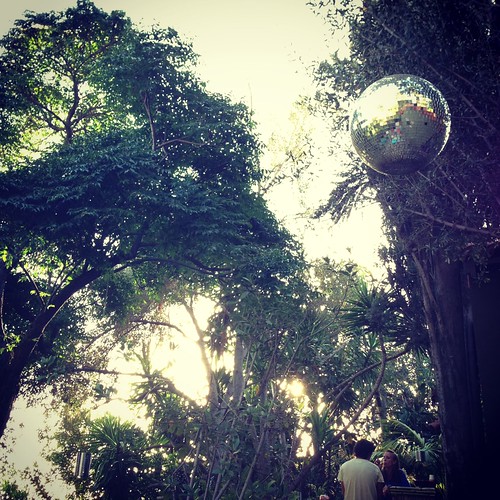 Not food related but very important:
If you see a disco ball in the wild, stop and stare.  It's good.
Somewhat food related and medium important:
If you see a giant orange cat eating your breakfast… ugh.  I'm sorry.  I understand.
Summer breakfast should be easy.  Fresh fruit does most of the work for us.
Here's how it works:
Turn the oven on to broil.  It's hot.  We'll only broil for a bit.  Slice a few apricots in half and sprinkle the cut-side with a bit of granulated sugar.  Throw (not literally) the apricots onto a sheet pan and place them under the broiler.  Loiter around the oven for a few minutes while the apricots roast.  Remove the apricots when they're browned and bubbled a bit.
Place a few big spoonfuls of sweet yogurt atop a small plate.  Top with warm roasted apricots and sprinkle generously with granola.  Add fresh cherries and enjoy!
If we're feeling ambitious and want to linger in the kitchen a bit longer, this homemade Maple Pecan Granola is one of my favorites.
I love you!  Enjoy this Monday!