[C]ookies for the sake of cookies, for the sake of December, for the sake of Christmas, and just so we can stand at the kitchen counter and count how many of these warm, nutty, powdered sugar bites we can shove into our mouths.
The answer is 3.5. That's how many cookies fit in a mouth. Be careful.
I'm thinking about upcoming holiday parties, possible cookie swap situations, and general winter cookie desires. These buttery walnut bites totally fit the bill. Tender, crumbly, two-bites, powdered sugar clouds.
These cookies are deliciously buttery and crumbly.
Yes, of course these cookies have butter in them, but their tender crumble is due, in great part, to the fact that these cookies have more finely chopped walnuts than flour. The lovely fat in the nuts lends to the rich and buttery flavor of these cookies. Essential fats. Totally the way to go.
The dry ingredients come together in a large bowl. Flour, sugar, and a good pinch of salt.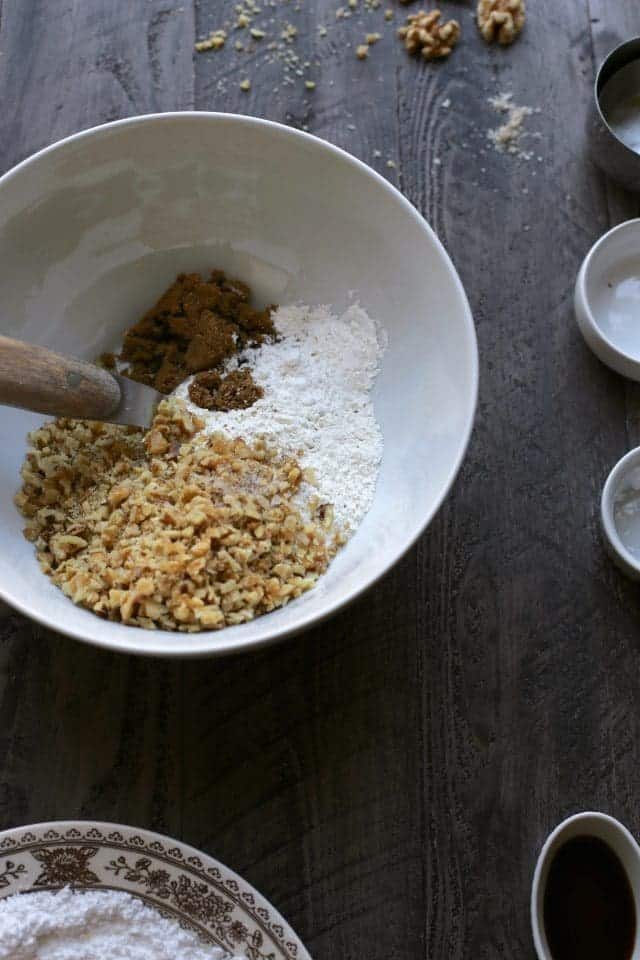 Finally chopped walnuts too. All together in the bowl.
I wanted to add a bit of baking powder. I forgot, but it's not too late.
Softened butter is added to the nutty dry ingredients. It's soft so just toss it in. Start to mix the ingredients together with a spoon. Eventually you may graduate to using your hands to mix the dough together.
This buttery dough isn't a traditional cookie dough. It will be much more crumbly than something like a Chocolate Chip Cookie dough. Not to worry.
To bring this dough from crumbles to cookies, we press a heaping tablespoon of dough together. Gently but with intention. Walnut sized balls of dough. They won't rise or puff much in the oven so cozy them up on the baking pan.
It will all work out in the oven.
Perfectly imperfect. No need for a mixer or a cookie scoop for these little balls… just a spoon and your hands.
These babies bake for about 25 minutes. Seems like a long time for tender little cookies, but they bake at a low temperature and need a bit of time meld and cook through.
As the cookies come out of the oven they're completely doused in powdered sugar. Just as soon as they're cool enough to handle. Actually… even before they're cool enough to handle. Pop them in the sugar.
The heat will ensure that the powdered sugar adheres to the cookies, coats extra thick, and is utterly delicious.
Print
Butter Walnut Cookies
Prep Time:

0 hours

Cook Time:

0 hours

Total Time:

0 hours

Yield:

about

24

cookies

1

x
---
1 cup

all-purpose flour

1 tablespoon

cornstarch
big pinch of salt

1/4 teaspoon

baking powder

3 tablespoons

packed brown sugar

1 1/2 cups

finely chopped walnuts

1 teaspoon

pure vanilla extract

1/2 cup

(

1

stick) unsalted butter, softened

2 cups

powdered sugar
---
Instructions
Place a rack in the upper third of the oven and preheat oven to 325 degrees F. Line a baking sheet with parchment paper and set aside. Place powdered sugar in a medium bowl and set aside.
In a medium bowl, stir together flour, cornstarch, salt, baking powder, brown sugar, and walnuts.
Stir in the vanilla extract. This might feel weird but just throw it in and stir.
Add the butter and use a spoon to work the butter into the dry ingredients. Use your hands to mix the dough until it's a coarse meal with lots of nut bits.
Press heaping tablespoons of dough into walnut-sized balls and place an inch apart on the prepared baking sheet.
Bake for 25 to 27 minutes. The cookies won't brown very much but will appear to be dry on the outside and will feel fairly firm to the touch.
Remove from the oven and allow to cool for 5 minutes before placing in powdered sugar bowl to coat. Coat generously in powdered sugar.
Store in an airtight container at room temperature for up to four days.
---