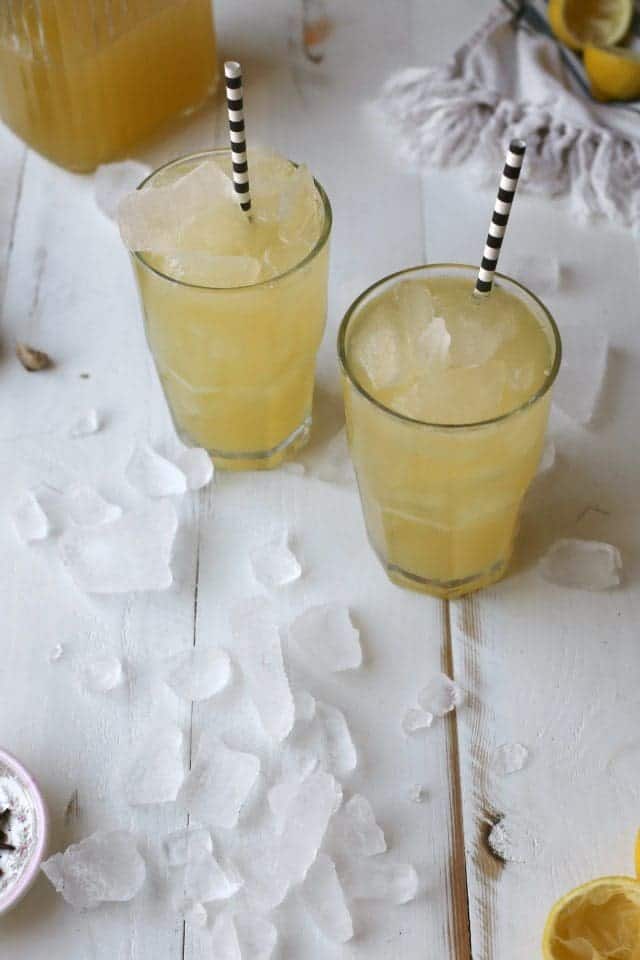 [G]ood morning, Monday. Good morning, January. Good morning, thick socks. Good morning, extra-hot tea. Good morning, chilly ears. Good morning, Winter.
We're in it.
My nose has been perpetually sniffly these days, and as the sun diminishes early, I feel my energy slagging.
I'm trying to keep my refrigerator stocked with all sorts of comforts and boosters to keep my eyes up and on the prize.
This spicy, sweet Winter Lemonade is my winter elixir. This.. and bourbon, because DUH.
Here's what we need: good sense, a positive attitude, fresh lemons, honey, fresh ginger, whole cinnamon, cloves, and cardamom. Water, too. Bourbon is optional.
Fresh lemon juice, all tart and tangy.
Combined with honey, cinnamon sticks, whole cloves, and cardamom pods.
Combined in a pot. Simmered with fresh ginger and left to steep.
This lemonade is tart and round. It's soothing on the throat and spicy on the tongue. It's such a mellow and comforting winter tonic. Here's to us!
Print
Winter Lemonade with ginger and cloves
---
Description
Mellow, spiced and soothing Winter elixir.
---
1 cup

fresh lemon juice

4 1/2 cups

filtered water

1/2 cup

honey

2

inches fresh ginger, unpeeled and coarsely chopped

5

whole cloves

2

cardamom pods

1

cinnamon stick
---
Instructions
In a medium saucepan combine lemon juice, half of the water, honey, ginger, and spices. Bring to a simmer, stir until honey is dissolved, and remove from heat.
Cover and allow to steep for 15 minutes.
Strain through a fine mesh strainer into a pitcher. Add the remaining water.
Refrigerate until chilled through. Serve over ice! Enjoy!
---